Ten years ago, I became a special education teacher. I started teaching with the strong belief that all students deserved access to the best education - that with the right support, all kids could learn, regardless of their personal challenges. That I could help young men and women of the next generation learn and grow, in order to access life-changing opportunities. And as a teacher, I have had the pleasure of working with students and families in the New Jersey suburbs, in Los Angeles, and now in the New York City public high school that I helped found.
Across the country, I saw the struggle our children face on a daily basis due to poverty, due to racism, and due to a failing national education system.
And across the country, I saw our kids searching for opportunities and believing in dreams that simply may never come.
But I'm no longer sure that I can accomplish my goals within the walls of a classroom. The lives of my students aren't defined by those walls -- and so much of each of their lives is beyond the illusory control of a teacher or mentor.
Too many of my kids come in each morning without eating, and yet we expect them to be able to perform at the highest level. Too many of my kids come in from shelters and foster care, and too many come in without knowing where they will lay their heads when they leave school. Too many experience the loss of a loved one or friend to violence as a rite of passage -- not a shocking tragedy. I've been in emergency rooms when parents are told their children have passed and held grieving mothers begging for nothing but their son or their daughter. I've sat in the waiting room as new lives came into the world, hoping against hope that that new parent will come back to school, come back to my classroom.
I go to school every day with the hope that I can inspire my kids to dream big and take risks; to see themselves in those that have made it. I am inspired every day by each of my students that continue to persevere against the odds -- searching for opportunities and dreaming dreams, no matter where they come from. My life has been forever changed because I have had the opportunity to love and be loved by the students and families I serve each and every day. And I have to make the best of this opportunity.
I have spent years blaming others for the failures of our system while encouraging my students to fight back, to take action, to believe in the power of one person to make the changes we need. But I've failed to stand up myself -- until now.
As a candidate for New York City Council, I want to take the next step. I think about my students with every door I knock, every call I make, and every person I meet on the street. I am constantly reminded of what we are truly facing as a city, because I face it in the classroom every single day - and I'm determined to fight for the future, and make the changes I've been waiting for others to make.
Everything in our society is interconnected. A lack of housing means it's difficult to stay in school, get the education you need, and support a family in the future; it means it's difficult to hold a job and ensure your family has the support they need. Stop and frisk means further disadvantaging our most disadvantaged, and leads to repercussions that will echo across our neighborhoods for decades. Rising rents mean parents working extra jobs, not being able to be there for their kids when they need it most, and their kids not getting the future they deserve. A lack of support for homeless youth and LGBT youth in upper Manhattan means kids out on the street and lives ruined. City budget cuts, misused funds, and regressive taxation means food that isn't on the table, a roof that isn't over our heads, and opportunities that don't exist.
It's all interconnected, it all starts with our kids, and it all starts with education.
For me, this is personal. My students, their parents, and the generations to come are depending on me -- and they are depending on all of us. I entered this race as an outsider, without any establishment support, and many would have me believe that I'm on an idealistic journey- - but they haven't seen what I see every single day in New York City schools. They don't have students like Raphael and Roany and Jose to inspire them when the going gets tough, and they don't have parents like Ms. Pena and Ms. Edwards to answer to when they go into work in the morning.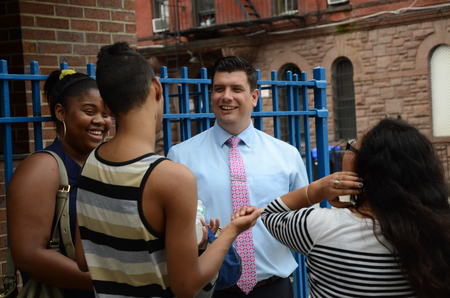 The issues we face -- and the reasons I'm running -- are personal, not just political. Affordable housing isn't just a catchphrase -- it's an essential component of my students achieving success. Stop and frisk isn't just something that affects the black and latino community at large; it is something that endangers the lives and future livelihoods of my students every single day. For me, every issue has a face, and every loss has a very real cost.
It's time to make the lives of Raphael, Roany, and Jose a little better, so they can keep dreaming, keep believing in a brighter future for themselves and their families. It is to time to act -- to lead, to inspire. I will not stop, and I will not back down, and one day my students will be able to dream without any hesitation -- because we will have made a better community, a better city, and a better country.
So to my students -- thank you. Thank you for teaching me. Thank you for inspiring me. Thank you for supporting me. I am doing this for you, and the generations to come - and together, we'll get there.
For more information visit markotto2013.com.