Jennifer Aniston's glowing, Brad Pitt's frowning, Jessica Simpson misses Daisy, Katherine Heigl's baby, the Travolta's continue to grieve, and a Kardashian Wedding: It's the new celebrity weekly covers!
Vote for your favorite and least favorite at CoverAwards.com.
Let's take a closer look.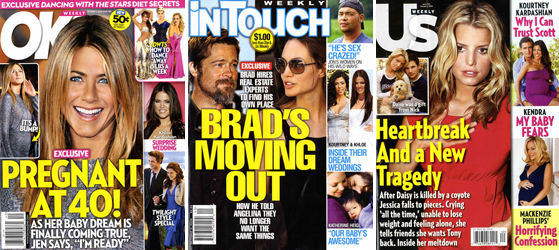 OK! Magazine's cover is Jennifer Aniston pregnant at 40 and shows the actress with a noticeable bump. Her baby dream is finally coming true!
Meanwhile, Jen's ex-Brad Pitt is moving out on Angelina Jolie, reports InTouch. He's even hired a real estate expert to find his own place -- and it appears the couple has grown apart.
Us Weekly covers Jessica Simpson looking quite despondent over the loss of her dog Daisy. Making matters worse? She can't stop eating, she's feeling alone and wants Tony back.
Vote for your favorite and least favorite at CoverAwards.com.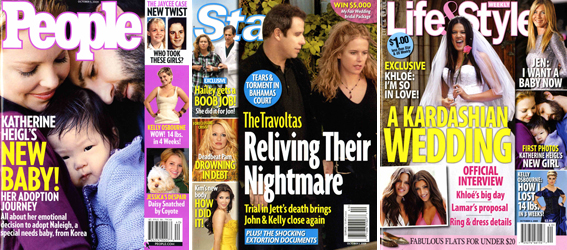 In baby news, Katherine Heigl's new adopted girl covers People Magazine. Inside, you'll find out about "her emotional decision to adopt Naleigh, a special needs baby, from Korea."
Star Magazine covers the Travoltas and the "trial in Jett's death" and how this is bringing them closer together.
Finally, Khloe Kardashian is getting married this weekend and Life & Style serves up an interview and details on Lamar's proposal.
Mark Pasetsky is the editorial director of CoverAwards.com, an editorial consultant to OK! Magazine, the editorial director of Taraci.com, and the former editor in chief of Life & Style.