Kate Gosselin is striking back against Jon - and Octomom Nadya Suleman. Brad Pitt & Angelina Jolie are fighting while Brad's ex-wife Jennifer Aniston is revealing her slim body secrets. John Travolta continues to grieve for his son Jett. Plus, Kourtney Kardashian and Kendra Baskett share a cover.
Let's take a closer look!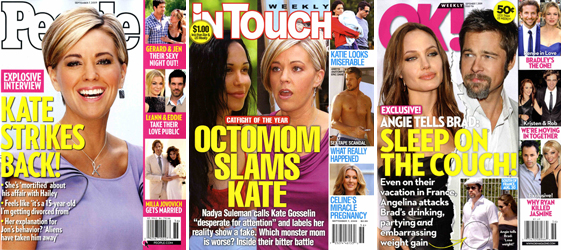 Nadya Suleman says Kate Gosselin is "desperate for attention" and labels her a reality show fake, according the new issue of In Touch Weekly. (Pot meet kettle!) The larger question is who is the bigger reality star monster? That's a tough question!
Kate Gosselin strikes back - again (and again, and again!). Looking fresh-faced on the cover of People Magazine, Kate dishes about her soon-to-be ex-husband Jon Gosselin. She's mortified about his affair with Hailey and compares Jon to a 15-year-old. Do readers still care what Kate has to say about her crumbling marriage?
Meanwhile, Angelina Jolie told Brad to go sleep on the couch, according to the new issue of OK! Magazine.* This latest dispute went down in the South of France during the couple's summer vacation. Angie is fed up with Brad's drinking, partying and even Brad's embarrassing weight gain. Can the couple get past this latest rift?
Check out celebrity magazine covers from around the world at CoverAwards!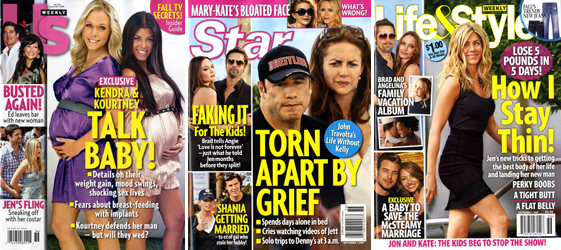 Us Weekly covers E!'s pregnant reality stars Kendra Baskett and Kourtney Kardashian, and reveals everything about their pregnancies. The tab features the basics on the cover, e.g. cravings, mood swings, as well as Kourtney's rocky relationship with Scott Disick. But the gem on this cover is this line: Kendra & Kourtney's "fears about breast-feeding with breast implants." That's a cover first!
In other news, John Travolta is living without wife Kelly Preston, according to Star Magazine. The actor appears to be still grieving from the shocking death of his son Jett. He's spending days alone in bed, cries watching videos of Jett and takes solo trips to Denny's at 3 in the morning. This is one sad story.
Finally, Jennifer Aniston lost 5lbs in 5 days, according to Life & Style Weekly**. Not only did she lose weight - Ms. Aniston now has "perky boobs, a tight butt and a flat belly." Inside the tab, you'll discover her tricks for her steamy bod as well as landing a new man.
Which magazine do you believe readers will buy this week? Sound-off below in the comments section.
Check out celebrity magazine covers from around the world at CoverAwards!
Mark Pasetsky is the editorial director and founder of CoverAwards.com, which is best known for analyzing magazine covers from around the world. Pasetsky is also a consultant for OK! Magazine and the editorial director for Taraci.com. Previously, Pasetsky served as the editor in chief/gm for Life & Style Weekly** and was the VP Communications for MTV Networks' online division.