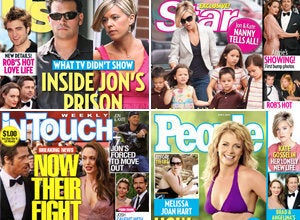 The celebrity weeklies are once again all about Jon & Kate Gosselin's marriage problems. Us Magazine goes inside Jon's prison while Star Magazine features the kids begging Jon not to leave the family. Plus, In Touch, People and Life & Style feature the reality couple as an inset.
In Touch's cover story features an explosive argument between Brad Pitt and Angelina Jolie while Life & Style reveals Robert Pattinson is torn between two women.
People Magazine rolls yet out another star weight loss cover and OK! Magazine continues its soft push with a happy Ashley Tisdale cover.
Now, it's time to critique the covers!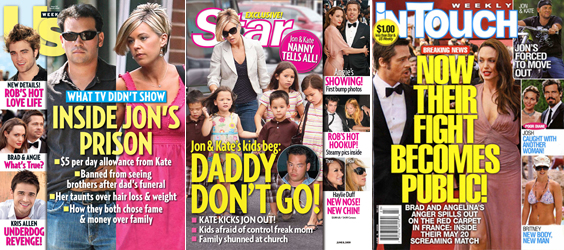 It looks like Us Weekly and its readers HATE Kate Gosselin. How can I tell? It's the second week in a row the magazine has made her look like a nasty human being. Last week, she was a monster and now she's keeping her husband Jon in prison. BTW - this is the fifth cover in a row from Us Weekly on this crazy story!
Click HERE for the larger size of Us' cover and the full cover critique!
Star Magazine goes for the emotional angle and uses the Gosselin kids as a way to sell magazines. Topping it off is the gushy line "Daddy, Don't Go!" Haters - don't blame Star Magazine for exploiting the kids. That's exactly what Jon & Kate Gosselin are doing by keeping this reality show on TLC while they are allegedly having marital problems!
Click HERE for the larger Star Magazine cover and the full cover critique!
Meanwhile, In Touch Weekly is reporting on an explosive red carpet fight in Cannes between Brad Pitt and Angelina Jolie. What will make this cover sell? Many readers believe that there is trouble between the most-famous couple in the world. That coupled with this tension filled cover photo will make this cover hop off the newsstand. Sorry Brangelina lovers!
Click HERE for the larger In Touch cover plus the full cover critique!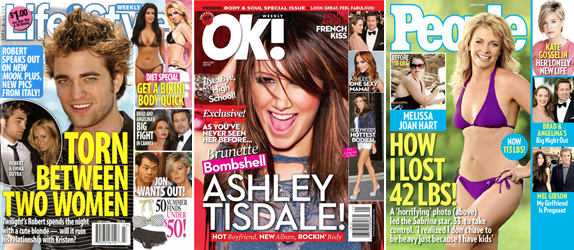 Looking for your Robert Pattinson fix? Life & Style serves up its latest R-Patz cover and this time he's torn between two women. Apparently, Pattinson spent the night with a woman besides Kirsten Stewart. Juicy! And, that's what Pattinson fans want!
Click HERE for the larger Life & Style cover image and the entire cover critique+!
OK! Magazine has changed its tune recently and is trying to play nice with the stars. The latest happy cover features High School Musical Star Ashley Tisdale. Why feature her now? Good question. There is no rationale answer. Plus, Ashley is completely unrecognizable on this cover, which will make this a tough week for OK!
See the full OK! Magazine cover HERE and the in depth cover critique!
Finally, People Magazine has made another star pose on its cover in a bikini. How do they convince everybody to do this. Would you pose in a bikini if People Magazine asked you to do so? I digress. This week's victim is Melissa Joan Hart who lost 42 lbs. The problem for People is that there is not a lot of heat on Hart. No heat equals bad sales.
Click HERE for the full cover image of People Magazine as well as the cover critique!
My best cover of the week goes to....Us Weekly. Making Jon & Kate feel fresh after five weeks is quite an accomplishment.
Which cover would you buy this week? Vote HERE! And, tell the editors what you think about their covers below!

Big Ratings for Jon & Kate BUT Are they Faking Their Marriage Problems?
Check out my recent post HERE, which explains why I believe the Jon & Kate marriage scandal is completed fabricated.