Kate Gosselin is really sad about her divorce! Want proof? She's the cover star of both In Touch Weekly and People Magazine.
Robert Pattinson continues his run on the cover of OK! Magazine -- and this week he's tempted by another woman!
In other news, Jen Aniston's new romance with Bradley Cooper covers Star. Life & Style is counting the days since we last saw Brad Pitt and Angelina Jolie's twins. And, Us Weekly (surprisingly passes on Jon & Kate) reveals NJ's Real Housewives' Dirty Secrets.
Let's take a closer look!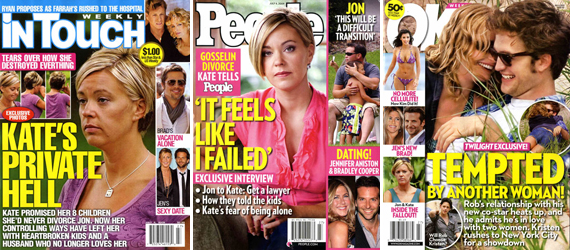 Kate Gosselin's "private hell" is the big story for In Touch -- plus the mag scooped up exclusive photos. Kate looks like she's taking this whole divorce thing pretty hard -- and appears to be shedding some tears. After the way Kate has been portrayed in the media, it's hard to believe that Kate is such an emotional person.
Do you believe Kate Gosselin is really upset about her divorce? Vote here!
Kate Gosselin found time to sit down with People and conduct this exclusive interview about her divorce drama. She says, "It feels like I failed." She also reveals the following: that she and Jon both have seen lawyers; how they told the kids; and that she fears being alone! Kate -- your biggest fear should be about your poor kids and how they may be screwed up for life!
Do you feel bad for Kate Gosselin? Vote here!
Robert Pattinson continues filming in NY and appears to be getting closer to his new co-star Emilie de Ravin. He even admits he's in love with two women, according to OK! Magazine (full disclosure: I consult for OK!). Now, Kristen Stewart appears to be waking up and is ready for a showdown in NYC.
Who will Robert choose? Vote here!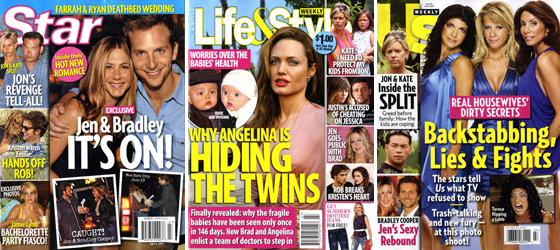 Jennifer Aniston and Bradley Cooper get the official "It's On" from Star Magazine. Where's the proof? Two photos captured the couple on a date in NYC on June 19th.
Now the big question is: Will it last? Vote here!
It's been quite a while since the public has seen pictures of Angelina Jolie and Brad Pitt's twins -- 146 days, according to the new Life & Style. Apparently, the babies are fragile and the couple has brought in a team of doctors! Very scary stuff, if it's true.
Why do you think the twins are in hiding? Vote here!
The reality show that everybody is talking about -- New Jersey's Real Housewives -- is featured on the cover of Us Weekly. For those that watch the show, they're very familiar with the backstabbing, lies & fights. For those that don't watch, now is your chance to catch up! Plus, you'll find out more about Teresa flipping a table in a restaurant -- which can be seen on YouTube and is pretty funny.
Have you ever watched the Real Housewives of NJ? Vote here!
Check out all the celebrity weekly covers -- plus much more -- by clicking here!
Sound off below about this week's covers! Do you feel bad for Kate? Who will Robert choose? Will Aniston's new romance last? Which is the best cover -- and which is the worst cover of the week?