The tabs hit newsstands today and there is a cover for everybody.
Jennifer Aniston and Brad Pitt's "bond" makes the full cover of both In Touch and Star. The Jon and Kate Plus 8 marriage crisis is on only one cover this week -- down from three last week. In a surprise move, OK! Magazine features The Hills Star Lo Bosworth as its main cover star. Twilight fans get their fix this week with Life & Style's Robert Pattinson Kristen Stewart romance cover. And, People magazine comes out of nowhere with its Bristol Palin and baby cover.
What were the editors of the magazine's thinking when they put these covers together? Let's take a closer look at each pub!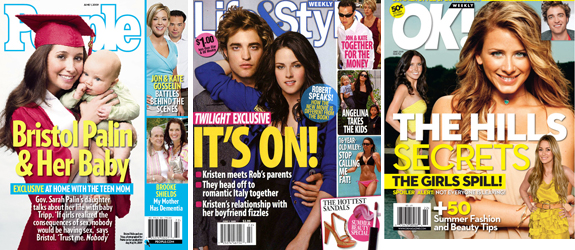 People Magazine's Bristol Palin cover is quite remarkable. They managed to get Bristol to pose with her baby while wearing her graduation outfit. Brilliant! What's even smarter? The main headline features Bristol's name in big type -- just to make sure you recognize her. (Otherwise this could appear to be a teen pregnancy cover featuring an unknown student.) The quote on the cover from Bristol is tragic. She says "If girls realized the consequences of sex, nobody would be having sex. Trust me, nobody." Who would say that when they are holding their baby on the cover of a national magazine? That poor kid is going to need a ton of therapy!
Click HERE for more on People Magazine's cover!
In Twilight news, Life & Style delivers what fans have been craving! It confirms that there is indeed a relationship brewing between hottie Robert Pattinson and his co-star Kristen Stewart. The strong line "It's On" coupled with the best picture I've seen of them together, will make this a big seller on the newsstand. Is the relationship really on? Time will tell -- but Life & Style is offering readers want they want which is the key to success on the newsstand.
Click HERE for more on Life & Style's cover!
Meanwhile, OK! Magazine, which is attempting to build stronger relationships with stars releases one of the worst covers I've seen in a long time. The magazine held a photo shoot with Lo Bosworth, who is the least recognizable person on the once hot show -- The Hills. When it comes to bonehead moves, this once takes the cake. The tab also dishes about some sort of surprise and says "not everybody is leaving." Did anybody really believe that Lauren Conrad was going to abandon the best thing that has ever happened to her? I don't think so!
Click HERE for more on OK! Magazine's cover!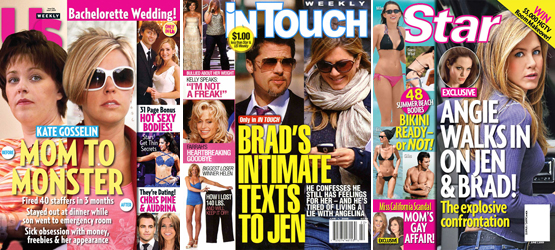 Surprise! Kate Gosselin is back on the cover of Us Weekly again! Well, it's actually not that surprising as the magazine has experienced exceptional sales with its previous three Jon and Kate covers. However, this one will end the magazine's winning streak. Why? At first glance, this cover appears to be about Kate's physical transformation. That's usually why you would show a before and after picture. But then, it's about her being a monster. CONFUSING! If the mag had focused on Kate's maniacal obsession with her looks, it would have been a much stronger, clearer cover.
Click HERE for more on Us Weekly's cover!
Moving on to In Touch Weekly, which brings Brad Pitt and Jennifer Aniston back to its cover. The tab had success with its recent Brad and Jen reunion cover. However, this latest version is a major step backwards. It is all about Brad sending intimate text messages to Jen. Are they kidding? In Touch makes this cover even more unbelievable by using a photo of Jen looking at her blackberry and smiling. Is anybody going to believe that Jen is really reading messages from Brad? This cover is so bad it could mark the end of the road for Jen and Brad covers for a very long time.
Click HERE for more on In Touch Weekly's cover!
Oh wait! Star Magazine is also on the Brad/Jen/Angie train wreck this week. Star claims that Angelina Jolie walked in on Brad and Jen -- most likely having sex (that's what they want you to think!). If readers believe this story, they should immediately have their IQ checked. This is the most incredibly, unbelievable story of the year. On a very positive note -- AWESOME picture of Jen. It appears as if she's looking back at Angelina. And, the twisted looking Angie inset is strong as well.
Click HERE for more on Star Magazine's cover!
And there you have it! What do you think of this week's celebrity weeklies? Sound off below and hold nothing back!
My big winner of the week goes to People Magazine for its shocking photo shoot of Bristol Palin -- followed very closely by Life & Style's Pattinson/Stewart cover!
For larger images of each cover visit CoverAwards HERE!