Us Weekly offered its competitor In Touch Weekly either the biggest insult or compliment this week - depending on how you look at it.
In its current issue, Us magazine ran a two page spread featuring In Touch's covers of Brad Pitt, Angelina Jolie and Jennifer Aniston for the last 4 years.
On the one hand, the dek screams "Bogus breakups! Phony pregnancies! and Sham reunions!" On the other hand, In Touch does get the award for most inventive coverage," according to Us.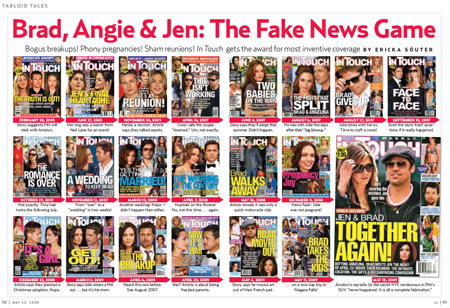 When I spoke to Richard Spencer, editor in chief of In Touch, he said, "We're flattered they pay such attention to In Touch Weekly...and we stand by our reporting."
Us Weekly is "letting the piece speak for itself."
Why is In Touch obsessed with Pitt, Jolie & Aniston?
When you look at the spread, it appears that In Touch cannot get enough of the lives of Brad Pitt, Angelina Jolie and Jennifer Aniston.
Spencer explained why In Touch offers its readers this type of continuous soap opera like coverage:
"The exciting component of celebrity weeklies, like In Touch Weekly, is that we get to talk about the story as it unfolds."
Spencer points out that other magazines wait until there is a final moment - but that's not the way celebrity readers want to receive the news. They want to know about every twist and turn.
"It's very similar to how you are interested in news even with your family and friends," explains Spencer. "Some magazines could take the approach that we will only tell you when somebody is officially divorced. Is that how you would like to be kept up to date on, say your sister's marriage trouble? Absolutely not. You want to know all the details.
Did her husband come home late last night? Did he refuse to go to the office party with her? We are the weekly barometer of what's happening in celebrities lives - and it keeps our readers just as informed about celebrities as they are about their own families. And let's be honest, most of the time the stars are a lot more interesting!"
Is In Touch going too far in covering Brad Pitt, Angelina Jolie and Jennifer Aniston? Who do you believe is telling the truth -- In Touch or Us Weekly? Sound off below!
Visit CoverAwards HERE for all of the latest celebrity weekly covers!