Envision Miami and you probably see white sandy beaches, guys with a boombox on their shoulder blasting reggaeton, voluptuous women in thong bikinis, fancy cars, extravagant night clubs filled with cocaine and a man who chokes at the end of basketball games. But that's not all the magic city has to offer. Awesome New Republic (ANR) is a Miami-based rock band that will make you think differently about what's coming out of South Beach.
Brian Robertson (keyboard, vocals) and Michael John Hancock (drums, vocals) were out-of-towners who traveled south to attend University of Miami's music school and mixed so well with the locals that they decided to stay. More than 10 years later ANR is a crafty SXSW veteran with six albums under their belt and another on the way. Their music is energetic, drums-heavy rock and roll with a touch of electric keyboard. This time around they've added a third band member, Luke Moellman, to add some depth to their sound and will be attending the SXSW Movie festival in support of two films they helped score.
Just in case you won't be in Austin for SXSW and decided to go to Maimi instead, the band provided a few insider local secrets on what to see and do while you're on the tip of the peninsula.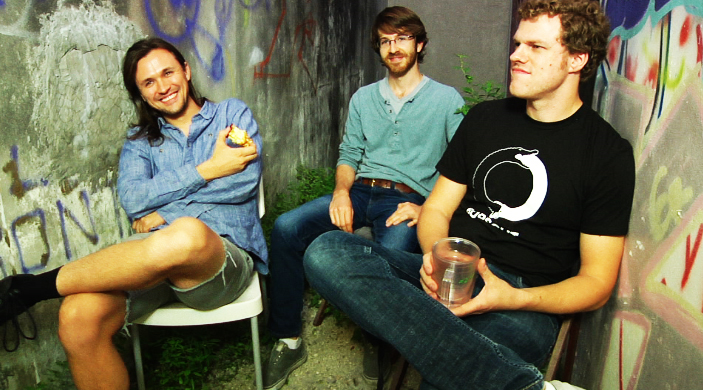 Photo by Greg Raposa.
Mark Collins: Last time you were in Austin Brian was wearing a cast and using crutches. What happened?
Michael John Hancock: Our friend Jillian made this video for "It's Around You" right before we left on tour. It's all babes dancing and getting wet and stuff. She had Brian twirling a girl like a rag doll.
Brian Robertson: In the storyboard I was twisting two girls like a propeller, but it ended up being only one girl. I was really tense because I didn't' want to let go of the girl and kill her. When you're tense you become rigid and that's when bones break and that is exactly what happened. I was totally being a man about it. We did two more takes but then it got real swollen. Finally my wife told me to get an x-ray, turned out I had a displaced metatarsal fracture.
MC: There is a heavy Miami influence in the music videos you've been releasing.
MJH: The video stuff is really fun. We started working with our friends at the Borscht Film Festival to make a lot of videos, which is something the band never used to put any time or effort into. Then we help them with their videos, making music for them and scoring their films.
BR: You get a great community vibe watching film people work. When we're in the studio we work for a couple hours, go grab some beers, go to the beach. For them, they have 30 people on set and only eight hours to get the shot so they gotta do it. It's really inspiring.
MJH: We also work with Coral Morphologic. Pay attention to them. They discovered a super coral in the bay where it doesn't make any sense that coral should exist. We can learn a lot from that coral, maybe introduce it to areas that were ruined by the oil spill. But it's in danger getting dredged up so there is a movement to save the super coral.
MC: Are you involved with local issues and movements?
BR: We write about what is happening locally. A lot of our stuff has an angsty local government vibe. Like, "lets get together and change this bike law" kind of thing. We've always had a lot of songs about Miami, like 'Kill South Beach Dead' and 'Magic City.' It's a beautiful place, but there is plenty of stuff to rag on and get frustrated with.
MC: What is the Miami music scene like?
MJH: There's a history in Miami of disco and dirty bass and Gloria Estefan. Of course. But there is an art scene that is starting to blow up and the music scene is starting to come together. It is a good time to be there.
MC: Where are some of your favorite places to eat in Miami?
MJH: I gotta shout out El Pub in my neighborhood. It's not the best but it's the one I go to a lot. Exquisito is three buildings down. There are a number of amazing Cuban restaurants and cigar places on that same block. I'm not a cigar guy you just kind of feel like a gangster smoking a cigar with your friends and drinking coffee.
Versaille is where every tourist goes but it's not that great. Chef Creole is in a lot of tourist books but it deserves it, that place is awesome.
BR: And if you just drive around Little Haiti you find dudes on the side of the street selling really good barbecue. There is a dude next to the grocery store on North Federal Highway between CVS and the Publix. I don't think he even has a name but he's out there every day during lunch.
MC: What advice do you have for people wanting to visit South Beach?
BR: Stay away from South Beach.
MJH: Miami Beach has better water. They have the little rock formations that create still pools where you can chill in the water. Plus it is cheaper to stay in that area.
There's also Crandon Park, they have an abandoned zoo you can walk through. They moved all the animals before Hurricane Andrew but there are still birds and lizards. A couple crocodiles here and there. You can swim with harmless barracudas. They keep it maintained but nobody really goes there.
There are so many cool things on Key Biscane. Jimbo's is a staple. This guy squatted there decades ago and they let him have the land. You get smoked fish, drink beer out of a cooler, play bocce ball and this guy tries to sell you fake dollars. It's that kind of vibe. Not Haitian, not Cuban, thats the deep south country aspect of Florida.
BR: You probably also want to take a trip to Everglades National Park. And Bill Baggs State Park has a really cool lighthouse.
MC: How is the bug situation?
BR: Terrible. There are a lot of cockroaches. A lot of palmetto bugs. But take out your trash, do your dishes and you won't have a problem. You just have to deal with bugs being in your house for two months.
MJ: It's sounds really bad but we have all those beaches to make up for it!
MC: What's something unconventional you'd recommend to visitors?
MJH: Miami's art museums are pretty sweet, especially the galleries. Go to the Dorsch Gallery and David Castillo Gallery. The Museum of Contemporary Art in North Miami always has a good show. And the Miami Art Museum in downtown and across from it is the South Florida History Museum. Even the library usually has something interesting. So you could make a museum day out of it.
BR: Tower Theater plays a lot of cool Spanish movies. Mostly foreign films but not artsy. These are foreign movies for people who are foreign and want to go see a movie.
MC: Do you speak Spanish?
BR: I still don't speak Spanish.
MJH: I live in a neighborhood where you kind of have to. I can get my point across but I can't express profound thoughts.
MC: Any local secrets about Miami you'd be willing to share?
BR: Wear sunscreen.
MJH: The biggest secret, especially for young people, is Miami might be the most affordable major metropolitan area to harness your craft. All the rap songs about how much money is in Miami is just about the beach. It's a really cheap place. So if you're trying to start a band or be an artist or make a movie or write a book or whatever, it's probably half the cost. That's the secret. If that secret gets out that would probably be really good for Miami.
Go see ANR in Austin during SXSW:
Friday, March 16 - Sonicbids Official Showcase - Maggie Mae's @ 3PM
Friday, March 16 - Neon Gold Records Official Showcase - Karma Lounge @ 7PM
Saturday, March 17 - SXSW Sanctioned Showcase - Headhunters Lounge @ 9:30PM