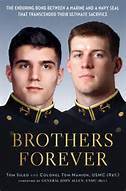 On April 29, 2007, 1st Lt. Travis Manion made the ultimate sacrifice in the Al Anbar province of Iraq. He and his fellow Marines were ambushed. While leading a counterattack against the enemy, drawing fire away from his wounded comrades, Travis was fatally wounded by a sniper. His actions allowed ever other member of his patrol to survive. He was posthumously awarded the Silver Star and Bronze Star with Valor.
On September 21, 2010, Navy SEAL Brendan Looney, Travis' Naval Academy roommate and best friend, was killed in a helicopter crash in Afghanistan.
The two men are buried side-by-side in Arlington. On Memorial Day, 2011, President Obama said "The friendship between First Lt. Travis Manion and Lt. Brendan Looney reflects the meaning of Memorial Day, brotherhood, sacrifice and love of country."
Tell us about Travis as a boy.
We moved around a lot because I was on active duty in the Marines for 11 years. He and his sister, Ryan, acclimated easily and learned to make friends quickly. He did well in virtually any environment. He cared about people, the environment, and those sorts of things. He was a very determined young man. He wasn't a natural athlete but nobody could outwork Travis. After he died, people told us things we'd never known about him. Those who knew him in high school said he'd gone out of his way to make them feel they were part of things. He was really connected to people. We saw that after he died, when I went over to talk with the Iraqis. They spoke about how he really cared about them as people.
What motivated him to become a marine?
It was probably exposure to me. I was on active duty for 11 years and then in the reserves for 19 years. My friends were mostly marines. So it was what he was exposed to.
During Vietnam there was no embargo on seeing bodies coming home from the war. We now have such an embargo. What thoughts do you have about that?
It really depends on what works for the families. If it's not politicized, the families should be the ones to make the decision. For us, it was a welcome home. We wanted people to know Travis had served proudly. But not everyone feels that way; some would rather have it done quietly and privately. Everyone grieves in a different way.
We now have an all-volunteer military. What thoughts do you have about a universal draft for all men and women?
I'm not sure that would work well. I think an all-volunteer force works better. We do have to figure out a way to get people more connected to those who are serving in the military so we don't have such a disconnect. I'm not a proponent of bringing back the draft. We should think about some kind of mandatory service, whether it's the Peace Corps or some other activity.
Would mandatory service be for both men and women?
Yes, absolutely.
What thoughts do you have about the concept of sacrifice and giving back to the country?
It's very important to me. Before Travis went back for his second tour of duty, when he was asked why he wanted to go back, he said, "If not me, then who?"
How do you see military combat changing in the 21st Century?
It's far more complex and challenging than before. When Travis was in Iraq, he had to work closely with the local people. His job involved as much understanding them as it did helping them get rid of the guys terrorizing their streets.
There's a crisis in Ukraine right now. What thoughts do you have about it?
I'm not in favor of jumping into those types of situations without a great deal of careful thought. From a military standpoint, I don't think we need to be there. Hopefully, diplomacy will help solve the problem.
With President Karzai in charge, and the questionable loyalty of some Afghan soldiers, what about our stay in Afghanistan?
I don't really know enough about that to give an authoritative opinion. We sacrificed a great deal and I hope if we made any gains there, we won't just walk away from them. I hope the President and our military leaders will make the right call.
We hear about returning veterans not receiving the medical and psychiatric care so many of them need. Any thoughts about that?
That's inexcusable. We have to do everything we can to take care of the men and women who've served. I'm not sure why we can't seem to get it right with the Veterans Administration, but the politicians ought to be able to get together and figure out how to make it work.
Tell us about the Travis Manion Foundation.
It's based on the concept of service, not necessarily military in nature. We talk to high school students about making a difference, whether at home, in schools or their communities. We try to encourage young people to go out and make the world a better place.
When we lost Travis, we were in a state of shock. It was suggested we set up a memorial fund, which we did. Before we knew it, we had a few hundred thousand dollars. My wife took Travis' five words, "If not me, then who?" and set up the Foundation. We're now seven years into it. My wife passed away two years ago and my daughter has taken over running the Foundation. We're active in various communities. We've had fifty-five 5-K runs nationwide. We have veterans talking to high school students about serving their communities and making a difference in some way. We say at the Foundation, "If you want to honor the fallen, then challenge the living."
It must have been difficult for you to write this book.
Since we lost Travis, we have pushed forward and have gotten a great deal out of Travis' words "If not me, then who?" The Foundation's work has helped us get through the loss of our son and has helped us channel our grief in a positive way. I thought about writing the book soon after we lost Travis, but then when we lost Brendan, I knew there was a bigger story here -- one I wanted to share with the rest of America. I thought it might be an opportunity to close the gap between those who serve and those who have not.
When President Obama talked about Travis and Brendan in 2011, he was covering the entire period between 9/11 and today. The President talked about Iraq, Afghanistan, about Arlington cemetery, the friendship and brotherhood between these two young men; their character and our families. He was also talking about the resiliency of the American people. I felt it was important for the rest of the country to hear their story.
Thank you for writing Brothers Forever. It should be especially meaningful to people as we approach Memorial Day.
--
Mark Rubinstein is the author of Mad Dog House, Love Gone Mad and The Foot Soldier.