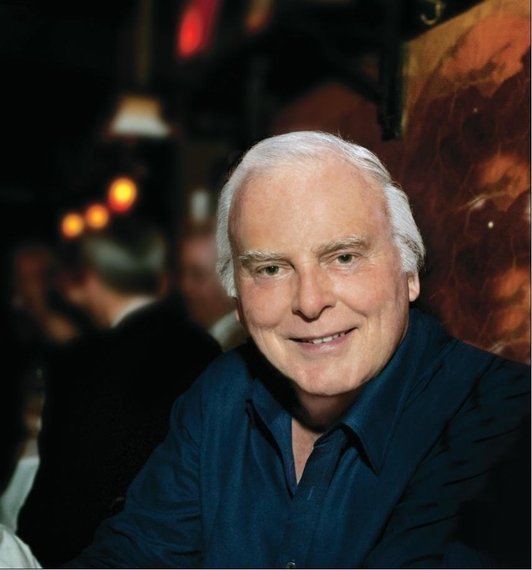 Photo: Harry Benson
Stuart Woods is the bestselling author of 57 novels, including the Stone Barrington and Holly Barker series. In fact, he's had 41 consecutive New York Times bestsellers.
In Paris Match, Stone Barrington goes to Paris to take care of some business matters. While in France, his life is endangered by an old enemy who stalks him relentlessly.
This is your fourth novel this year. How do you remain so prolific?
I suppose my writing life has evolved into a system that works for me. I write in an improvisational way. I begin with a scene. The next day, I reread it and make small corrections. That catapults me into the next chapter, and I keep writing a chapter a day until I'm done. When I get about fifty chapters into the story, I start looking for a way to get out of the corner I've painted myself into. So far, I've always found a way out.
So you're not a writer who outlines the plot?
I gave up outlining a long time ago. It seems to me that going by the seat of my pants is a more interesting way to write a novel. If I can't figure out what's happening, then I don't think the reader can, and that's very important to me. There's that old adage, 'No surprise for the writer, no surprise for the reader.'
What are the sources for your ideas?
I don't really know. It can involve almost anything. It can be a story in a newspaper. I'm using drones in my next book because drones have been in the news lately. I've never had any trouble coming up with ideas. I can go online, or use any thoughts or fantasies for ideas. All of them combine in my imagination and are rich sources for me. The world is filled with ideas. They grow like weeds, and it's just a matter of doing some weeding.
You mentioned drones. How do you keep your novels so contemporary?
My novels are not technologically oriented, except when it comes to airplanes. Then, I just use the airplane I'm flying myself. Stone has an iPhone and airplane as well as some nice cars, but there's nothing terribly advanced in the novels when it comes to technology.
You have homes in New York City, Florida and Maine, pilot and own a Cessna Citation M2, and are an avid sailor. How do you find time to write?
Well, if you're only working an hour a day, it's not that tough. We spent a month in Paris last year, and I managed to write twenty-five chapters there. Wherever I go, I take the laptop and I do some work. A day's work for me is from eleven in the morning until twelve noon. I keep a fairly rigid writing schedule. Someone once said, 'You should think like an artist and work like a farmer.' With my schedule, it takes me about two months to write a novel. If you add it up, I'm working about eight months a year.
How much of Stone Barrington's life mirrors the life of Stuart Woods?
Well, there are a few similarities. We once shared a tailor. I think Stone and I share fantasies more than anything else. His life is quite different from mine, except in small ways. Flying airplanes is the biggest similarity between Stone and me.
He's quite a ladies' man.
It would be pretty dull if he wasn't. (Laughter). I was a confirmed bachelor for quite a while. I didn't get married until I was forty-seven. I think I was still too young for it at the time. (More laughter).
Having penned so many novels, what about writing has surprised you?
I was surprised that things actually turned out the way I'd planned them. The biggest surprise for me has been my success. Everybody has dreams and I managed to make most of mine come true.
My first novel wasn't published until I was forty-three. By then, my contemporaries had well-established careers. I was a straggler. On the other hand, I was having an awfully good time before I stopped straggling, and before I got married. I lived in various places and did things I could never have done if I had been married.
And you've incorporated those things into your novel writing?
Yes, a lot of them have found their way into my novels. I also wrote a memoir, Blue Water, Green Skipper, about my sailing adventures. I began writing it while I was living in Ireland, and finished it when I got back to the United States. That was before I began writing novels.
What do you love about writing?
I love the freedom. I like not having a boss. I like being able to pick up and travel somewhere, if that's what I want to do. Or, even move somewhere, if I want to. I don't have to worry about finding a job. My work is portable. It moves as easily as I do.
If you could have dinner with any five people, living or dead, who would they be?
For a start, I would have Mark Twain. I wouldn't have to do much talking if he were my guest. Jack Kennedy would be very interesting. It would be great to talk with Clark Gable, and David Niven, too. He was a wonderful raconteur. Eleanor Roosevelt would be at the table. Of course, I wouldn't be doing much talking; I'd be listening and learning. Afterwards, I'd probably write about them.
Do you watch much television?
I do. My wife and I watch television on a fairly regular basis. We really love the Roosevelt series. I saw the first two seasons of Breaking Bad and it wore me out. One of these days, I'll catch up. We're big fans of the series, Ray Donovan. I think Jon Voight is tremendous. Mickey Donovan is probably the best character he's ever played. And we finally caught up on House of Cards.
What's next for Stuart Woods?
Another Stone Barrington novel will be coming. Part of my deal with the publisher is that all my novels will be Stone Barrington novels. However, I've tricked them by bringing my characters from the Holly Barker series into Stone's novels. My wife and I are spending a month in different countries. This year, it's Rome; and Stone will be going with us. I'm just going to keep writing as long as I can think and move my fingers, and just hope people will keep reading.
Congratulations on writing Paris Match, another Stone Barrington novel that will surely shoot to the top of the bestseller lists.
________________
Mark Rubinstein is author of Mad Dog House and Mad Dog Justice