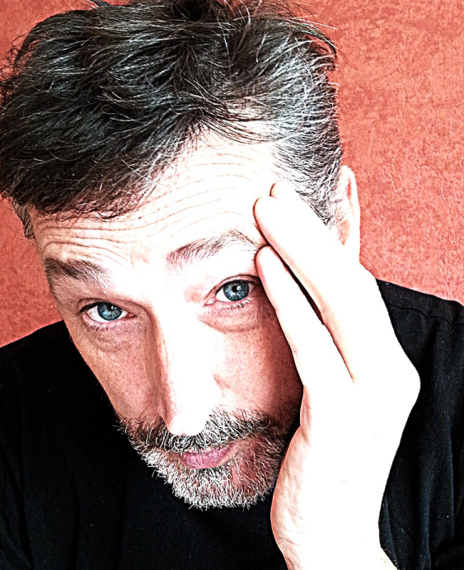 Photo: Tony Schumacher
Tony Schumacher has written for The Guardian and the Huffington Post. He is also a regular contributor to BBC Radio and London's LBC Radio. His debut novel, The Darkest Hour, reimagines history in a chilling way.
It's 1946. World War II is over. The Nazis have won the war. They occupy Great Britain. John Rossett, a former war hero and now an alcoholic, has been recruited by the Nazi SS in their Office of Jewish Affairs. He's tasked with rounding up Jews for deportation to concentration camps. With his family having perished as a result of a Resistance bomb, Rossett's life is devoid of meaning. That is, until he finds an eight year old Jewish boy named Jacob. At that point, the novel becomes a thriller, with Rossett realizing the shocking truth about conquerors, the conquered, trust, hope, and the possibility of redemption.

How did you get the idea for this novel of alternative history?
The whole book boils down to a slightly out-of-date tuna sandwich. I was driving a taxi for a living, and stumbled into doing a bit of writing for a local magazine, usually writing about stuff that happened in the taxi. One night, I'd been driving the taxi until about 4:30 in the morning. It had been an awful night. I'd made no money and was fed up. I was wondering if I'd done the right thing by giving up my previous job to drive a taxi.
On the way home from the garage, I bought a sandwich. It was one of those awful late-night kind of sandwiches you get wrapped in cellophane, and the label said it was nearly out of date. I was on the verge of tossing it in the trash, but took it home and decided to eat the thing. I'd left the TV on to keep my dog, Boo, company. If I hadn't bought the sandwich, I'd have gone straight to bed, but because I'd bought the thing, I sat down to watch a bit of TV while I ate. A documentary was on the television. It showed a photograph from the Second World War of an English policeman in the Channel Islands, just off the coast of France. Those islands were occupied by the Germans. This policeman was holding a car door open for a German officer, and he was smiling. The German officer was smiling, too. It was a propaganda picture taken by the Germans to show they weren't such bad guys.
When I saw the photo, I was momentarily angry at the policeman. I'd been a policeman for ten years, and to me, this officer had disgraced the uniform. But almost immediately, I realized I couldn't think like that. This guy was probably told 'Open that door and smile. If you don't, you'll get shot. So, open the door.' And to stay alive, he'd done what he was told to do. After all, he might have a family at home and wanted to live. So I began wondering what I would have done in that circumstance.
As I was eating this sandwich--actually, I was feeding a good part of it to Boo-- I realized once you open that door to stay alive, you have to ask yourself, 'What other doors would I open to survive?' Once you cross that line, the line begins to recede. Each time you're told to do something abhorrent, that line moves back a bit more. You compromise your values, your integrity. And you have to weigh how much you want to stay alive against doing something you find despicable. That night, with the tuna fish sandwich, was how the idea for the book originated.
You've had such a varied background. Tell us a bit about it.
I've never been fired from a job, but I've had so many of them. I love the idea of constantly trying new things, and then moving on. I left school when I was sixteen. I couldn't take it anymore. I became a roofer. That was a seminal moment for me because I worked for a man who taught me so much about life. The thing about Dave--he owned the company--was that he would constantly challenge me with questions. It's a brilliant thing to have happen so early on, when you're still in the process of becoming a person. One thing Dave taught me was that nothing's really worthwhile unless you're enjoying it and learning from the experience.
When the weather got cold, I quit being a roofer. I became a jeweler, working in sales. From there, I became a driver; then a forklift operator; a warehouse man; and then, if we fast-forward a few years, I ended up working on cruise ships out of Miami. I sold underwear on the ships. On those cruise ships, I also ended up presenting fashion shows for the passengers. I always tried new things. If I had a good job and moved on to a bad one, I never saw it as a step backwards. I just viewed it as something different. I traveled a bit more and worked in bars. For a while, I was a bouncer. I did some acting, and for a brief period, was also a stand-up comedian. I sold trucks and eventually became a policeman in Liverpool. What struck me about being a policeman was the need to communicate capably with people. But after a while, I felt I was standing still. So, I quit the force and became a taxi driver.
Driving a taxi was great because it was interacting with different people all the time. As a policeman, it was difficult to be completely open and honest with people. When I was driving a taxi at night, it was very different. The passengers and I didn't really look at each other. It's almost like a confessional. People open up to you because it's dark, and any eye contact is made in a mirror. People don't see that as being real. But being a policeman helped me learn to question people about their lives; and in a way, that led me to writing. It was so interesting, because when people were asked questions by a stranger sitting in the front of a taxi, they opened up. I guess they thought they'd never see me again, so they would say all sorts of things. The anonymity opened them up. They couldn't know it, but in a few hours' time, they'd be in one of my blogs. I'd write stories about them, which became a series in a local newspaper. The column was called Rear View Mirror. I learned from the experience as a taxi driver, that everyone has an interesting story to tell. Everyone. In the process, I learned how to write clearly and edit my own writing.
Which elements of your varied background did you draw most heavily upon in writing The Darkest Hour?
Being a cop was definitely one. It's easy to write about how people react to a policeman when you've been one. I dipped heavily into those experiences. I worked at a garbage dump for a while, and met an eclectic group of people there. I've drawn from that experience. Actually, I think I've drawn from every job I've ever had. I've had jobs that are looked down upon, and others that are respected. I've tried to take something from every one of them for my writing. The main thing is, I've tried to make my characters real people. I even tried to make the Nazis human in The Darkest Hour.
How does writing non-fiction compare with writing fiction?
While I was writing The Darkest Hour, I didn't write any non-fiction. Only recently, I again began writing blog posts and feature articles. It's as though I've had to switch that part of my brain back on, after writing fiction. When I'm writing non-fiction, I'm more of a planner and formulate the writing's direction. I have a destination in mind.
With fiction, I don't know what's going to happen next. I just bang it out. I didn't know what would happen at the end of The Darkest Hour until the last few words were written. With fiction, I may not even know what the next word is going to be. I love it because it's like watching a movie in my head. I find it so exciting to write something where I don't know what's going to happen next. As you know, there's a scene in the book where Rossett is imperiled. When I wrote that scene, I felt very scared for him. When I finished writing that scene, I literally punched the air. I never felt anything like that in any other job.
Is there anything about writing fiction that has surprised you?
Definitely. I always thought writing would be a monotonous slog. But it's not. It's actually great fun. I find writing fiction is absolutely exhilarating. It's like nothing else I've ever done.
What do you love most about writing?
The element of the unknown. In my life and writing, I'd just hate to know what's coming next. I love having an entire universe in which I can make anything happen. Absolutely anything. I might have a vague idea about what's coming, and that may prompt me to ask a question. I know that's what happened to me with The Darkest Hour. There was a question I wanted the reader to ponder.
And what was that question?
'What would I do under those circumstances?'
What's coming next from Tony Schumacher?
A sequel to the first book is coming. All I'll say is this: not all the characters in the first book will be in the second. I don't want to hit you with a spoiler.
Congratulations on writing The Darkest Hour, a thrilling novel that poses some very challenging questions to the reader, and tells a fascinating story.
Mark Rubinstein
Author of Mad Dog House, Mad Dog Justice and Love Gone Mad