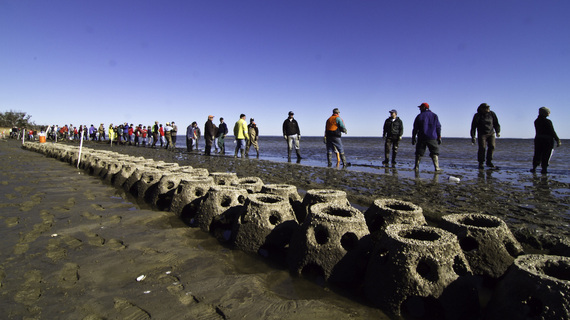 By Jane Lubchenco, Former Administrator, National Oceanic and Atmospheric Administration and Mark R. Tercek, President and CEO, The Nature Conservancy
This article first appeared on Ensia Online.
For the past 25 years, every U.S. president beginning with George H. W. Bush has upheld a straightforward, three-word policy for protecting the nation's sensitive and valuable coastal wetlands: No Net Loss. And for a quarter of a century, we have failed in this country to achieve even that simple goal along our coasts.
According to a recent report from the National Oceanic and Atmospheric Administration, the United States is losing coastal wetlands at the staggering rate of 80,000 acres per year. That means on average the equivalent of seven American football fields of these ecosytems disappear into the ocean every hour of every day. On top of that, we're also losing vast expanses of sea-grass beds, oyster reefs and other coastal habitats that lie below the surface of coastal bays.
This isn't just an environmental tragedy; it's also an economic one. Coastal wetlands and other coastal habitats provide buffers against storm surges, filter pollution, sequester carbon that would otherwise contribute to climate change, and serve as nurseries to help replenish depleted fish, crab and shrimp populations. The result is reduced flooding, healthier waterways, and increased fishing and recreational opportunities. To reap these benefits, we must reverse the trend of coastal habitat loss and degradation by protecting remaining habitats and aggressively investing in coastal restoration.
The good news is that such investments can pay off handsomely. To determine the extent of the economic contributions of these fragile and fading ecosystems, the Center for American Progress and Oxfam America analyzed three of the 50 coastal restoration projects NOAA carried out with funding from the 2009 American Recovery and Reinvestment Act. The results were very positive. All three sites -- in San Francisco Bay; Mobile Bay, Ala.; and the Seaside Bays of Virginia's Atlantic coast -- showed strong average returns on the dollars invested.
Only part of this benefit came from construction jobs. Real, long-term benefits also accrued to coastal residents and industries in the form of increased property values and recreational opportunities, healthier fisheries, and better protection against inundation. Rising sea levels make coastal wetlands increasingly important as a buffer from erosion and. Under the right circumstances, wetlands are even capable of building up coastal lands, as they trap sediments coming downstream from rivers, creating new land where additional marsh vegetation can grow.
In the Virginia Seaside Bays project, carried out by a coalition of partners including The Nature Conservancy, a $2.2 million NOAA grant allowed workers to plant millions of sea-grass seeds, reconstruct oyster reefs, and use aquaculture to begin reintroducing native bay scallop populations that had essentially disappeared from the region nearly a century ago.
The Center for American Progress and Oxfam America research found that even without accounting for potential commercial harvest of scallops or oysters, the economic benefit of restoring 22 acres of oyster reefs and 133 acres of sea-grass beds (projected to cover 1,700 acres) would generate between $35 million and $85 million over the expected 40-year life of the project, thanks to fisheries enhancement and increased coastal resilience.
The restoration project in Virginia has already exceeded expectations: sea grass now covers over 5,000 acres that previously were barren bay bottom, restored oyster reefs are approaching 50 acres, and the reintroduced scallops are showing signs of reproducing in the wild.
Such investments also benefit broad sectors of the economy, such as insurance markets, real estate, tourism and recreation. Their benefits span immigrant Vietnamese fishing communities on the Gulf Coast to golf course owners losing land to coastal erosion. As our understanding of the economic payoffs of ecological restoration improves, some private firms may begin to mobilize their capital toward restoration, but certainly governments at every level should be investing in coastal restoration.
For centuries, wetlands were considered worthless, regularly filled and paved; the values of habitats like oyster reefs and sea-grass beds were not understood. But a mounting body of research is demonstrating that coastal habitats are vital, valuable components of healthy coastal communities and economies.
It's time for a new paradigm -- one that views coastal wetlands and other natural features as essential infrastructure with quantifiable economic values derived from the real services they provide to coastal communities. To achieve these benefits, habitat restoration must be done at an unprecedented scale -- one that matches the greatness of our country. Restoring this natural infrastructure should be an important component of our nation's strategy for building a sounder, safer future in a changing world. Doing so would be profitable for both people and the planet.
Jane Lubchenco is a former administrator of the National Oceanic and Atmospheric Administration and a marine ecologist at Oregon State University.
Mark R. Tercek is the president and CEO of the Nature Conservancy and author of Nature's Fortune: How Business and Society Thrive By Investing in Nature.
[Image: Volunteers line the shore of Mobile Bay, Alabama as part of the 100-1000: Restore Coastal Alabama project, which aims to restore 100 miles of oyster reef and 1,000 acres of seagrass and marsh over the next five years. © 2011 Erika Nortemann/The Nature Conservancy]