Curitiba was honoured today at an awards ceremony in Mexico City. The C40 Cities Awards recognize the world's most inspiring and innovative cities tackling climate change. Sponsored by Bloomberg Philanthropies and BYD, the C40 Cities Awards ceremony was held during the C40 Mayors Summit, where more than 40 mayors from around the world gathered to create sustainable and liveable cities for citizens.
"On behalf of C40, I want to congratulate all the winning cities for their commitment to their citizens and their dedication to tackling climate change," said outgoing C40 Chair and Rio de Janeiro Mayor Eduardo Paes. "Throughout my tenure as C40 Chair, I have been increasingly impressed by the calibre of the C40 Cities Award winners, and I look forward to seeing other mayors around the world adapting and implementing these models in their own cities."

"The C40 Cities Awards recognize the best and boldest work being done by mayors to fight climate change and protect people from risks," said C40 President of the Board and U.N. Secretary General's Special Envoy for Cities and Climate Change Michael R. Bloomberg. "The winning projects show that great progress is being made on every continent, and they serve as an inspiration to other cities. They also show how cities can help the world meet the ambitious goals set a year ago in Paris."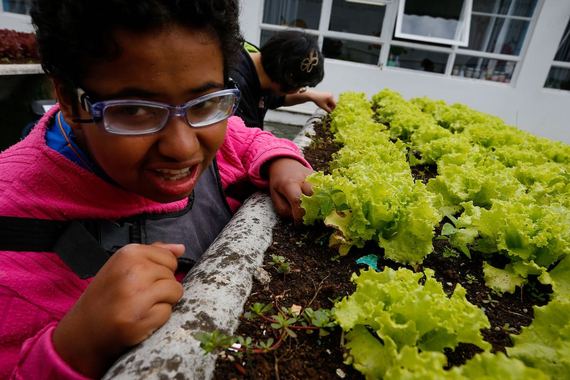 Curitiba's Urban Agriculture Project won this year's award in "Sustainable Communities." Urban Agriculture in Curitiba aims to reduce greenhouse gas (GHG) emissions through urban agriculture: directly through carbon sequestration in soil, biological nitrogen fixation by legumes and non-use of chemical nitrogen fertilisers; and indirectly by reducing food and waste transport distances, composting organic waste, reduction of "heat islands" and creating environmental awareness.

An expert jury panel comprised of former mayors, climate experts and others, selected ten winning urban sustainability projects based on excellence in urban planning and dedication to reducing greenhouse gas emissions and improving resiliency. The selected cities exemplified the best policies, projects and programmes globally, and for the first time included a category recognizing social equity.
"Today, we celebrate some of the projects that are key to delivering on the world's climate ambition and will help put us on a path to a carbon-safe future," said Chuanfu Wang, Chairman and President of BYD Co. Ltd. "We recognise the incredible human power and thoughtful consideration that goes into making these projects reality. BYD is extremely proud to support the Awards and help to accelerate the implementation of these truly innovative programs."
C40 has partnered with Associated Press Images to capture compelling images from each of the winning city projects. These can be downloaded by clicking here, and are free to use. Winning city projects are:
Earlier in the day during the C40 Mayors Summit, C40 unveiled a report, Deadline 2020: How cities will get the job done, outlining a vision to reduce emissions by 2020 and help meet the Paris Agreement targets.
For more information on the Awards and the winning projects, visit: http://www.c40.org/awards. You can download images from the winning cities here.

For the most up-to-date details about the 2016 C40 Mayors Summit, please refer to the website: http://www.mayorssummit2016.c40.org.
Follow the C40 Cities Awards on social media with #C40Awards and the C40 Mayors Summit with the hashtag #Cities4Climate.