This is a story I've been covering for Huffington Post for months. Arizonans have told me why they would never vote for John McCain, giving first-hand accounts of his terrible temper and expressing frustration over his lack of support for his own constituents.
A number of noted Arizona conservatives have told me off the record they'd never vote for the man because they've never considered him a true conservative. And the most prominent conservative family in the state just made it public: CC Goldwater, granddaughter of Barry Goldwater, threw her support behind Barack Obama in a piece for Huffington Post.
Now the rest of the nation is starting to pay attention. Two recent and well-publicized polls confirm what Arizonans have long known to be true: John McCain is not popular in his home state and may not carry it on election day.
The lead article in Sunday's Arizona Daily Star by political reporter Daniel Scarpinato, titled "Red, but how long?" chronicled what could be the significantly changing nature of Arizona's voting demographics. Scarpinato discusses two recent polls: "A statewide poll taken by Tucson-based Democratic pollsters Carol and Pete Zimmerman two weeks out from the election suggests McCain's lead over Obama falls within the margin of error: 43.5 percent to 41.5 percent, with 10 percent of likely Arizona voters undecided. Merrill is conducting a similar poll this weekend and predicts that the economic downturn will have narrowed McCain's advantage from the 8-percentage-point lead he enjoyed in a previous poll." Another soon to be released poll from Arizona State University in Phoenix supposedly shows similar data.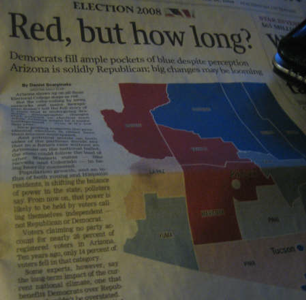 The evidence is big and small, anecdotal and hard copy. Jeff, an independent voter from California who just visited Arizona, echoed many casual observers when he remarked: "Just looking around, I'd never guess your senator is running for president. There are Obama bumper stickers and signs everywhere, and I haven't seen one for McCain. I find that amazing."
Huffington Post's OffTheBus team from Arizona just reported on the remarkable differences between the bustling Democratic offices and the eerily quiet Republican headquarters across the state.
The Daily Star also just conducted an interview with Arizona's junior senator, John Kyle, in which he expressed doubt about McCain's chances of prevailing on election day; the Arizona Daily Star has posted audio of the interview.
Tomorrow, exactly one week before Election Day, I'll be doing a follow up interview with professional pollster David Paleologos from Suffolk University in Boston. In our first interview three weeks ago, Paleologos said he wouldn't poll Arizona because of Suffolk's concentration on what he characterized as true swing states.
Recent evidence seems to suggest that Arizona now fits in that category. Look at the Real Clear Politics map below. One week out, the home state of the Republican presidential nominee is pink.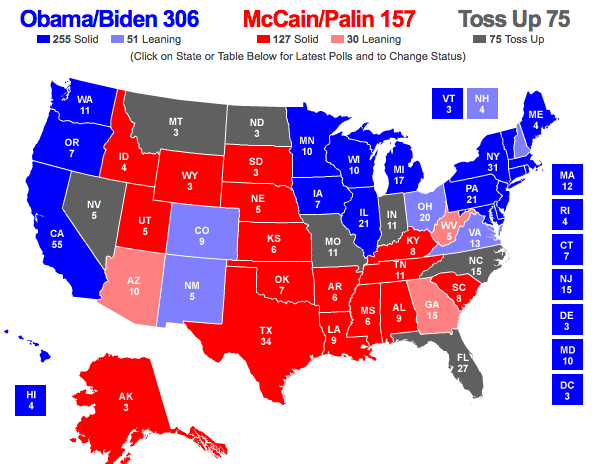 ---