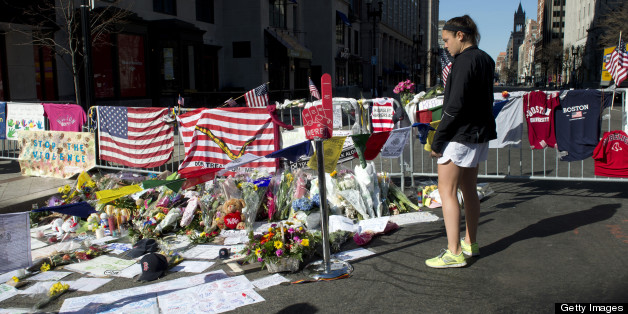 I love the New York Yankees, but I'll be honest with you. After this week's tragedy in Boston, I began to wonder if it would ever feel safe to attend a game again. If the Boston event confirmed one thing to us, it's that mass violence has officially entered the public square, and that we can never know who -- or what -- the next target will be. That's the whole purpose of terrorism -- whether it be domestic or international: To put us on edge. To keep us guessing. To frighten us.
Looking at the photos and videos of those who were injured, and the three who lost their lives, breaks our hearts and reminds us all of how vulnerable we are.
I needed to understand: What do the rest of us, who were not in Boston that day, do with our feelings? And what is the psychological impact of crises like the Boston Marathon bombing? Across the country this week, experts have been weighing in about the emotional and psychological distress that the attack left in its wake, and according to them, what we are experiencing now is to be expected.
"It's a horribly difficult thing to process an event that most of us haven't encountered before in our lifetimes." --Wynn Schwartz, professor at Massachusetts School of Professional Psychology

"As in any disaster, the emotional wounds and the emotional injuries far outweigh the physical ones in terms of number of people affected. Though not life-threatening, the trauma can affect the way we function." -- Josh Klapow, associate professor, University of Alabama at Birmingham School of Public Health

"People become apprehensive. Some feel numb emotionally and some feel overwhelmed. Some feel it's best to withdraw and isolate themselves. We want to know what's happening, who's behind it. That helps us deal with some of the uncertainty." -- Emanuel Maidenberg, Ph.D, director of the cognitive behavioral therapy clinic, UCLA's David Geffen School of Medicine.

"It's very difficult. The first thing you do is check in with your own emotions. Because you can guarantee whatever you're feeling, your kids are feeling as well." -- Dr. Janet Taylor, community psychiatrist, Clinical Instructor of Psychiatry at Harlem Hospital

"I think this is the new norm now." -- Patricia Saunders, Clinical Psychologist, John Jay College of Criminal Justice
Knowing that our feelings of worry and fear are normal, however, doesn't stop us from constantly asking ourselves questions: How can we cope with that nagging sense of helplessness? Will we continue to jump every time we hear a siren? When will these terrible feelings go away?
Thankfully, we can be proactive about this -- both for ourselves and our friends and family. Psychiatrist, author and television commentator Gail Saltz, M.D. has been on a tear this week, appearing on TV and lending her voice to the national discussion about coping with the emotional aftermath of the Boston tragedy. I was fortunate enough to have Gail on a special edition of "Mondays with Marlo" on Thursday, and she not only assured us that our nationwide post-traumatic distress will pass, but also provided some invaluable tips that might make the process a little easier.
Know The Facts: It is important to know the reality of the crisis. Facts are often less frightening than the rumors you hear on the street. Take comfort in the basic statistics -- namely, that this is truly a rare event.

Minimize Media Overexposure: Once you have gotten the facts for the day, do not continue to watch and read the same details stuff over and over. Repeated exposure will likely increase your feelings of anxiety.

Share the News With Older Children: Avoiding conversations about the tragedy with older children will only make them frightened, as they'll believe that the details were so awful that you kept it secret. With younger children, explain what happened, but don't let them watch the news. It might make them believe the event is happening over and over again.

Talk to Friends: Talking things over is helpful and better than staying isolated and worried. But avoid anyone who is very panicky and wants to pump you up with anxiety.

Distract Yourself: Occupy yourself with tasks that you can have control over, such as your work, organizing your home or even going to the movies. Read and watch more positive and fun things.

Stay Healthy: Avoid caffeine, which can increase that jittery feeling. Exercise to relieve stress, and minimize alcohol, which disrupts sleep.

Get Help: If you experience the following symptoms, seek professional help: inability to function in daily life, two weeks of sleeplessness, loss of concentration or enjoyment of anything, loss of appetite, overwhelming feelings of worry and panic.
I hope you'll take a look at Gail's and my conversation-- her strategies for coping with distress are both and calming and wise. You can also click onto the slide show below, which provides equally helpful tips from the American Red Cross.
In the meantime, our thoughts continue to go out to those in Boston who suffered this awful tragedy up close. Our prayers are with you and your families.
PHOTO GALLERY
Red Cross Tips for Stress Management