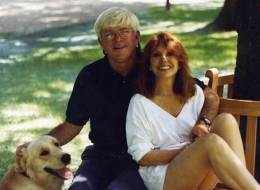 When my good friend, author David Tabatsky, asked me if I would contribute an essay to his charming new book, Beautiful Old Dogs: A Loving Tribute to Our Senior Best Friends, I was more than happy to oblige (or, as a dog might say, I wagged my tail). For my whole life, I've enjoyed the company of pups and pooches -- our house was literally crawling with them when I was little. There were my adorable cocker spaniels, Inky and Dinky (one was black, the other tan -- and together they were a gorgeous twosome). Then there was our boxer named Bunny (and, no, we didn't have a bunny named Boxer). And, of course, there was our German shepherd, Quilda -- who, like all sheps, was elegant and loyal. Quilda was a good buddy.
But it wasn't until I was an adult that I really understood the deep companionship that can be shared with a dog. My first pup, Knichi, was a tiny Yorkie, and he was my true sidekick. One of the great things about Yorkies is that they're portable, so Knichi went everywhere with me -- to the theatre, to the studio, on airplanes and in hotels. I even took him into restaurants (I hid him inside my bag). He was my secret love, that pup.
But my truest bond came with the arrival of Phil's and my beautiful golden retrievers, Huey, Louie and Dewey. Each one possessed his own sparkling personality, and together they were an unbeatable team -- warm and funny and frolicking (like the Marx Brothers, but with tails). We had gotten them when they were just puppies, so to witness the arc of their happy lives -- fourteen years each, to be exact -- was like raising children, and no less a joy.
But it was when they grew old (and, sadly, sick) that I got a good look into their hearts. Just like people, older dogs have a peaceful wisdom about them -- a special gentleness -- and I became very attached to that. So when they passed, my world grew dark.
As I wrote in my story:
"It's very emotional when you lose your dog; they're part of your family. When the heart loves, it loves -- it opens up wide and loves them. And when they leave you, it cracks and breaks. But the great thing about the heart is: it heals and makes room for love again."
After writing about Huey, Louie and Dewey, I got dog fever again, and Phil and I have begun talking about expanding our family one more time (we're thinking about two more retrievers -- we're suckers for that breed). I'll certainly keep you posted on our progress. But for the time being, let's celebrate the lives of dogs -- from the frisky puppies to the stately seniors. Here's a slideshow of some of our favorite pet photos from over the years.
PHOTO GALLERY
Beautiful Old Dogs
Add Marlo On Facebook:
Follow Marlo on Twitter:
Sign up to receive my email newsletter each week - It will keep you up-to-date on upcoming articles, Mondays with Marlo guests, videos, and more!