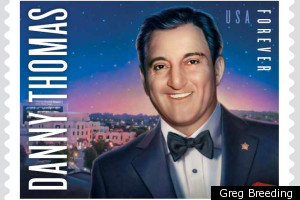 It's not every day that the federal government issues a postage stamp with your dad's picture on it. But our dad was not your every day kind of guy.
On February 16, the U.S. Postal Service will officially release the new Danny Thomas stamp, just six weeks after what would have been his 100th birthday. And fate being the sly gal that she is, this week our family -- and families worldwide -- will be celebrating another big day: the 50th anniversary of St. Jude Children's Research Hospital, which was certainly the crowning achievement of our father's life and career.
The story of St. Jude reads almost like a fable. Dad was a struggling young nightclub comic who needed $50 to get his newborn daughter Marlo and his young wife Rose Marie out of the hospital. He only had $10. He was scared and went to church and prayed to St. Jude -- the saint of hopeless causes -- for a sign showing that he was on the right path and should stay in show business.

Placing seven of his ten dollars in the collection box, he said, "I need that back, times ten, tomorrow. If you give me a sign, one day I will build a shrine in your honor."

The next day, Dad got a call to play a singing toothbrush in a radio commercial for $75. He had his sign.

Movies, headline engagements in Las Vegas and an iconic TV series called Make Room For Daddy quickly followed, and by the late 1950s, Dad had definitely made it in show business. It was time, he decided, to repay his promise to St. Jude. And he knew exactly who would be the beneficiary of that promise -- the most hopeless of all: helpless children with devastating diseases.

Fifty years later, St. Jude Children's Research Hospital is the largest and most successful pediatric research hospital in the world, and has effectively changed the way the world treats pediatric cancers, brain tumors and sickle cell. Its pioneering protocols have helped push the overall survival rates for childhood cancers from less than 20 percent when the hospital first opened its doors in 1962 to more than 80 percent today.

Many people wanted the hospital to be built near a large medical center -- in Boston or St. Louis -- but Dad had read a newspaper article about an eight-year-old black child who was hit by a car while riding his bike on a Mississippi street. No hospital in the area would admit the child, so he died. From that moment, Dad decided he would build his hospital in the south, a research and treatment center under one roof, the first of its kind, for the study of disease in children, where no child would ever be turned away for race, religion or a family's inability to pay. He also promised that the hospital's discoveries would be freely shared with the scientific community worldwide.

None of these choices were random. Our father had grown up in an impoverished, immigrant Lebanese neighborhood in Toledo, Ohio, where no one ever saw a doctor. (Dad and his nine siblings were all delivered at home.) He saw firsthand the terrible injustice of inadequate health care for children, and he was determined to change it. But the vision he held for St. Jude would require money -- lots of it -- and that's where Hollywood made her entrance. Dad turned to the people he knew best, his pals in the show business community, to help raise the funds for St. Jude through benefit concerts and star-studded galas,

The list of those who lent their time and talent to this effort reads like a Who's Who of entertainment history: Frank Sinatra, Bob Hope, Sammy Davis, Jr., Dinah Shore, George Burns, Jerry Lewis, Jack Benny, Red Skelton, Nat King Cole, Jackie Gleason, even a young Elvis. Then Dad took it one step further, tagging onto the end of his hit TV show a personal plea to viewers to send in money (something that would be impossible today!). He called himself "a proud beggar" and was audacious about it. He put his reputation on the line for his belief in what he was doing.

And a half century later, Hollywood, continues to support the work of St. Jude, with a new generation of stars -- from Jennifer Aniston and Robin Williams to Morgan Freeman, Antonio Banderas, Alan Alda and more. The legacy continues.

Danny Thomas passed away on February 6, 1991, just two days after joining patients, parents and St. Jude employees to celebrate the hospital's 29th anniversary. He was laid to rest in a garden on the grounds of the hospital. The city of Memphis came out to say goodbye. By the thousands they stood in line -- citizens, doctors, scientists, bald-headed children whose lives were being saved -- to pass his casket and say thank you to a man who made a promise and kept it.

Happy Birthday, St. Jude!
VIDEO: See some of the truly remarkable children who have come to St. Jude
PHOTO GALLERY
St. Jude's 50th Anniversary