Hi, Marlo and Jennifer here--posting together!
For a few years, we had a great time playing mother and daughter on Friends. Not only did we share tons of laughs together (and who couldn't laugh on the set of Friends?), but we also discovered that our most famous TV characters had a shared legacy as women. In a way, Friends' Rachel Green was not all that different from That Girl's Ann Marie -- they were both independent, strong-minded and funny. So I guess you could say that, in the annals of TV history, we're cross-generational soul-sisters!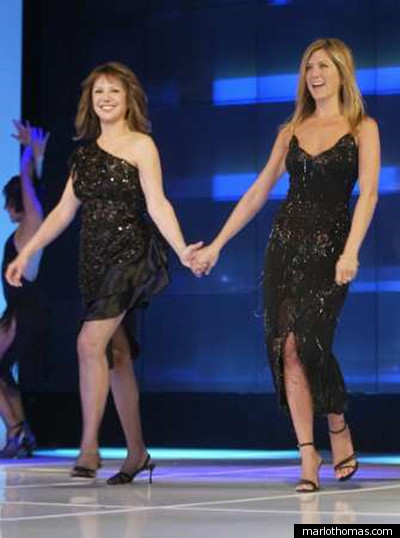 But far from a Hollywood TV studio, we forged a bond that was even more lasting for us -- by joining together to help familes who are fighting for the lives of their children.
Since 2006, Jen has donated her time and talent by filming spots for St. Jude Children's Research Hospital, sharing the screen with one or more of our adorable St. Jude kids. You've probably seen the spots on TV (or in movie theaters, or even on airplanes). One mother did, and it changed her life. She had a very sick little girl named McKenna, whose symptoms -- chronic headaches -- persisted, even after several consultations with the family doctor. Then the mom saw one of Jen's St. Jude spots, featuring a child with brain cancer, who had suffered the same symptoms. Empowered by what she saw, she rushed her daughter to St. Jude for treatment. That little girl is alive today.
McKenna's mom wrote Jennifer a touching letter, thanking her for guiding her to St. Jude -- and for Jen, the experience was profoundly moving. Can you imagine anything more rewarding than knowing that you somehow helped save a child's life? And for Marlo, seeing that little girl survive was one more more example of why she and her sister Terre and brother Tony have held fast to their lifelong commitment to St. Jude, which was founded by their dad, Danny Thomas, in 1962.
If we had to pick one part of this special collaboration that's been the most fulfilling for us, it would have to be our participation in the annual St. Jude Thanks and Giving campaign. Created in 2004, Thanks and Giving is an unprecedented coming together of the nation's leading retailers, top media and corporate partners and celebrities -- and all in an effort to raise vital funds for St. Jude, which for nearly half a century has been saving the lives of children with cancer and other catastrophic diseases.
The campaign launches Thanksgiving week, and it asks shoppers across the country to "Give Thanks for the Healthy Kids in your Life, and Give to Those Who Are Not." They they can do this by shopping at our partner stores where they see our green magnifying glass logo. This year, more than 60 brands are participating in St. Jude Thanks and Giving--from Kmart and CVS/pharmacy, to DICK'S Sporting Goods and Kay Jewelers, to Williams-Sonoma and Target--and all of these fabulous retailers will once again be asking shoppers if they'd like to add a donation to St. Jude when they're making their purchases. To date, the St. Jude Thanks and Giving campaign has raised more than $248,000,000 for the children of St. Jude. That's almost a quarter of a billion dollars. It's been an amazing and heartfelt journey.
Both of us continue to be inspired by our St. Jude Thanks and Giving work, and we hope to keep it going for many years to come. So this holiday, if you're tooling around the TV dial (or YouTube or Hulu), and catch the two of us doing our mother-daughter bit on a classic episode of Friends -- and you get a little nostalgic for our old partnership -- remember that our act is still alive and well at St. Jude Children's Research Hospital. And please join us in making this year's St. Jude Thanks and Giving campaign the best ever. That would be your single greatest gift of friendship.