My good friend, and colleague, stand-up comedian Vicky Kuperman, has been sending me emails throughout the summer, updating me on the progress of her "bucket list," to which she'd turned her complete attention back in May.
According to Vicky's regular dispatches, she's been bucketing like crazy this summer, knocking long-held dreams off her list like they were bowling pins at the end of the alley. In fact, just this morning, she let me know she'd struck three more items from the list:
-- "Playing the nickel slots at the Tropicana Hotel in Atlantic City"
-- "Eating pelmeni on Brighton Beach in Brooklyn," and
-- "Receiving at least one more spam email about a phony bank transfer from a Nigerian prince."
Vicky always makes me laugh. But she also got me to thinking about my own bucket list. And the funny thing is, I realized I've been checking items off my list my entire life.
My first bucket-list victory occurred when I was a little girl (before I even knew I had a bucket!) But in retrospect, it was getting to see the greatest comedians of our time , all in the same room, swapping jokes. That's because my dad was friends with all of them -- George Burns, Milton Berle, Sid Caesar, Jerry Lewis, you name 'em -- and they were always at our house, making each other laugh until the wee hours of the morning. So I got that one under my belt early.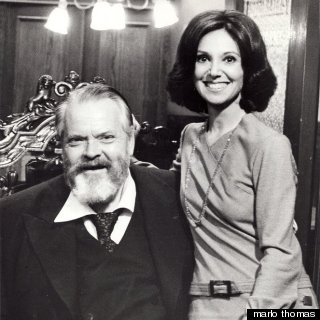 Years later, I scored another bucket list triumph, making a movie with the legendary Orson Welles. Back then, anybody whoever acted in front of a camera had that same fantasy -- and, sure enough, the day Orson walked onto the set, we all felt like royalty had just arrived. And the best part is, he lived up to that reputation: On camera, Orson was flawless, delivering his lines with authority and focus -- and in that deep, growling voice of his. And off camera? He was a great big teddy bear. A teddy bear with a trunk of great stories about his many adventures.
More recently, I notched another bucket-list win, sitting ringside for a New York City concert featuring James Taylor and Carole King. If you're a fan like I am (Fire and Rain! Natural Woman!), you know that it doesn't get much more buckety than getting up-close-and-personal with Carole and Sweet Baby James. By the time I got home, I was hoarse from singing along the entire evening!
As for this summer, I may not be able to keep up with my pal Vicky, but I did manage to pull off one major bucket bonanza: taking an acting job at the seashore, where I got to do what I love best -- while hanging out with the guy I love most. (See here for details.) And as a special bonus, we even had great boating weather!
So what about you? Did you manage to put a big, beautiful checkmark next to some exciting (or romantic or exotic or just plain strange) activity this summer? I put that very question to the bucket brigade on my Facebook page, and I just loved reading their answers. Take a look.
PHOTO GALLERY
Summer Bucket List