Is Tim Tebow a great quarterback? I have no idea, but it sure looks like it.
There is a lot of controversy over Tebow's faith and whether a divine intervention is helping him win football games. But what I think is really happening is that, like every great leader, he has instilled in each teammate a faith in himself.
After watching my husband Phil shake his head when his beloved Chicago Bears became the latest victims of Tebow and the Broncos, what I do know is that Tim Tebow is one of those rare individuals who make everyone around him better, and who inspires his teammates and fans to dream big. Whether or not he ever wins another game, this is something to celebrate.
The last time I wrote about sports, it was with sadness about the misdeeds of Joe Paterno and the culture of football at any cost at Penn State, which led to the awful sex abuse scandal that is still playing out. Every day we read about the sports world's contract fights, the big salaries, the fistfights, suspensions and steroid abuse.
Well, for these last few Sundays, we have had something refreshing and uplifting. We have seen grit, determination, joy and the simple belief, that no matter what the score -- no matter how little time is left on the clock -- there is still hope if you dream big and believe in yourself.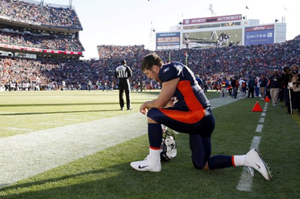 As a country, we are facing some pretty tough times. The Tim Tebow story has captured our attention because it helps us remember that, like that favorite teacher told us when we were kids, we all have the power to reach our dreams and make the people around us better.
I can't say I am a big football fan, and I can certainly tell you that I have never rooted for the Denver Broncos. But you can bet that, like a lot of other people, I will be watching to see how this turns out!
At the final whistle, the score doesn't really matter. Tim Tebow and the Broncos are already winners.