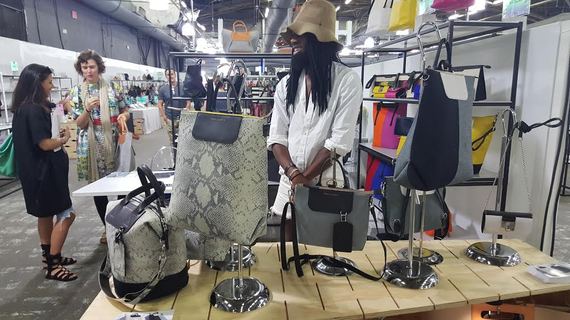 ~Creative Director (in hat), Kibwe Chase-Marshall of LA's GRAF & LANTZ in booth~
Last week, during NYFW when most of the mainstream media and high-end, luxury fashion brands
obsessed over who's who in the front rows of those runway shows
, there was something far more creative going on at Pier 94. Two trade shows, affiliated and both owned by Reed Exhibitions,
Capsule Womenswear SS16
is a curated, juried show featuring an international selection of top-tier emerging designers who want to target small boutiques, better specialty stores and high-end department stores. The price point tends to be a bit higher than the other
AXIS
, which targets a younger female, more active lifestyle, and is a bit more commercial/mainstream focused. AXIS co-located with Capsule Women's on the westside of NYC for a somewhat all-women's movement in fashion lifestyle, beauty, athleisure, swim, home and accessories, only in its 2nd run, yet highly successful and well-attended.
Founded in February 2015 in NYC, unlike the many fashion trade shows over the years in the U.S, AXIS is quite different as AXIS Show Director, Vanessa Chiu developed a platform with more of an inclusive women's approach and female story -- from each designer or showroom showcasing their unique products of course, to
tell
in three days (Sept. 17-19).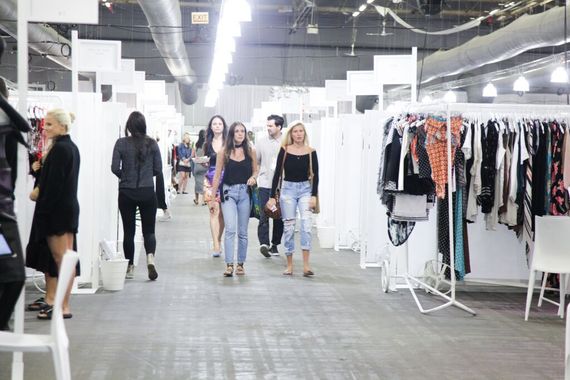 With more than 200 brands that showed to several dozens of buyers/retailers in attendance, including Amazon, Barneys New York, GILT, Nasty Gal, Nordstrom and Topshop amongst many others, I posed a couple of questions to Vanessa after snapping pics (see below) that captured why in years to come, we could see a significant shift away from the 'pop glamor' that is all too becoming of NYFW's prefered focus, rather than celebrating craftiness, originality and cross-merchandising trends that'll dictate the future.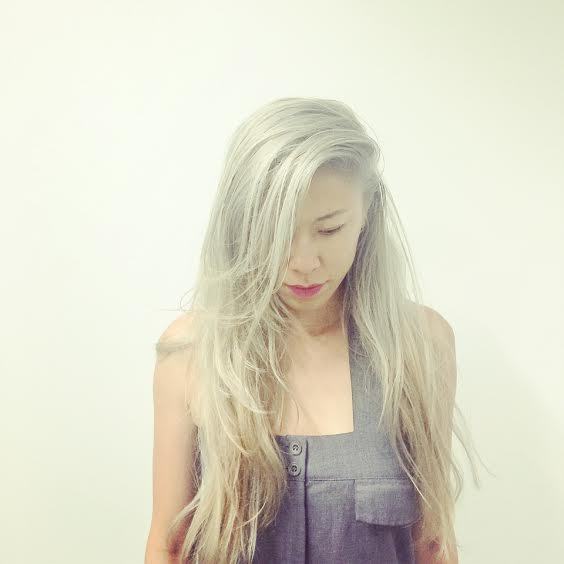 Q. How'd this AXIS trade show compare to others in the past -- what stood out as plus'es (or minus'es if so)?
Vanessa Chiu:
We've just wrapped our second edition of Axis and come off a great plus being that we had roughly 200 branded collections showing. They all come together to curate a multi-dimensional presentation in an authentic environment full of dynamic, inspiring designers who laud fashion-forward, creative, athletic lifestyles with their unique goods and creations. Also, being September in NYC, the weather was beyond gorgeous and hospitable.
Q. Was there always somewhat of a whisper in the creative/fashion world circles, for a need to have an all-female fashion trade show? How'd this come about after Agenda WMNS?
VC:
Yes, but not necessarily all female. A more accurate need would be a female-cetric show. Axis was born to fill a niche per a demand in the market where retailers, industry and media collide. Our aim is to curate an authentic and intimate grouping of collections with a bit of brand discovery while paying attention to accessibility and price points. We want to showcase and story tell on our multi-dimensional platform. Axis houses collections for the new generation spanning across fashion lifestyle, active lifestyle & swim, home & beauty, and accessories & intimates. The show is a completely different brand assortment than Agenda WMNS, with about 5% cross over. Agenda WMNS is a young contemporary section that sits within Agenda (a primarily men's trade event) giving both a platform for Women's dedicated collections and unisex brands a space. There simply was a greater need and demand for space to curate a larger representation of what the new generation wants. And then Axis was born.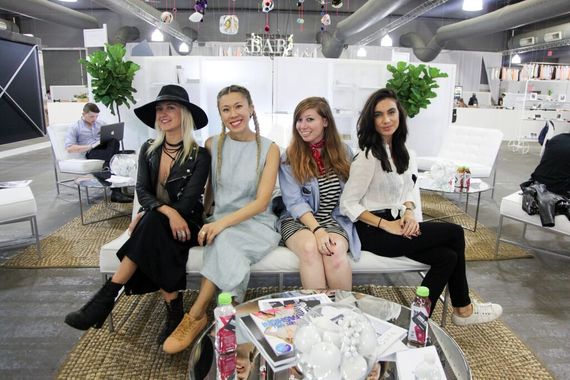 Q. What's the criteria, besides having the money to invest in registering a booth for one's showroom or designer brand, to be a part of AXIS?
VC:
We pay close attention to retailer feedback of what's working/trending in stores, whether it's category, price point, etc. The submission process is a collective one where each brand curated into the show shares both a lifestyle and aesthetic that resonates with our staff. The Axis crew embodies the new generation and are the end consumer - we are the demographic that our brands are selling to. Our team hand-picks the branded collections curated on our show floor and we shop in the stores that attend our show.
Q. How do you see these types of trade shows -- physically stationed in different cities, changing in years to come, considering technology keeps exploring ways to separate us yet with a goal to connect us?
VC:
Technology advances continue to make it easier for connectivity and evolving each brand voice to being a bit more endemic to all. Part of the mission of Axis is to help re-envision the way we shop and promote discovery surrounding what we need. We are constantly posting new brands and discoveries on our Instagram @axisshow and this has been a great tool for connecting people who then meet up on the show floor and form authentic connections. We're built on business, collaboration, community -- presenting a platform for face-to-face interaction, incubating brands, and building a community that transcends beyond the tradeshow floor. These days it all goes hand in hand. It's vital to have static locations where tradeshows can operate as an authentic meeting ground while the digital advances allows us the efficiency to discover and conduct business on all levels.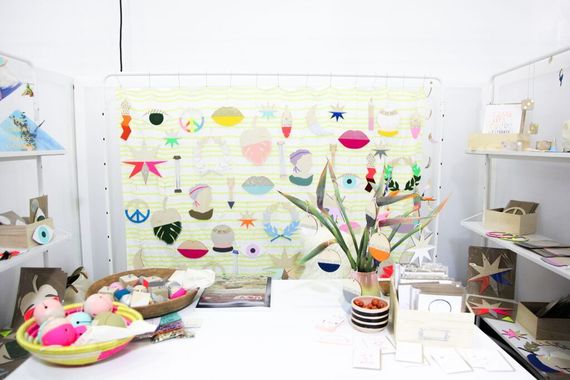 Q. "AXIS Activation" seems almost like an insert of pleasant distractions, amongst a rigorous fashion platform. Do you find within one creative industry, there's always a need to explore other creative platforms?
VC:
I find no matter what industry there is always a need to explore a multitude of creative inspiration, exploration, and think outside the box. It's the way to reinvent, rediscover and innovate. The activations of on-site pop-ups are an added extension to round out our intimate Axis Spring/Summer season's presentation. We had pop-ups ranging from Procell Vintage's hand picked nostalgia collection, The Notion curated by May Kwok mirroring her surf lifestyle boutique, and Ed. Varie's shop debuting one of kind pieces of artwork including painting, collage and sculpture, limited edition posters, prints and publications, as well as beautifully crafted home goods and accessories.

OK, time to feast your eyes on just some of the standout highlights from September's AXIS/Capsule Show that left a lasting impression on my eyes, as well as that of my partner in crime(s), NY/LA brand director, Joy Kramer (M.Z. Berger, Guess? Inc, Randa Accessories).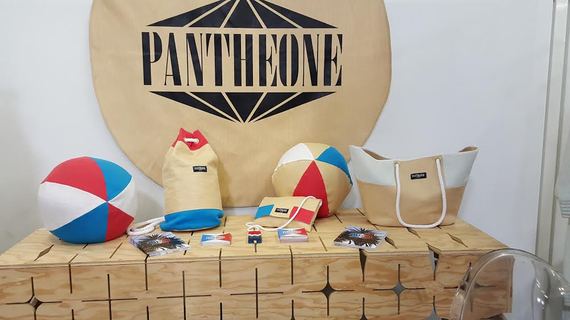 ~Parisian fashion label, Pantheone's "french lesson"~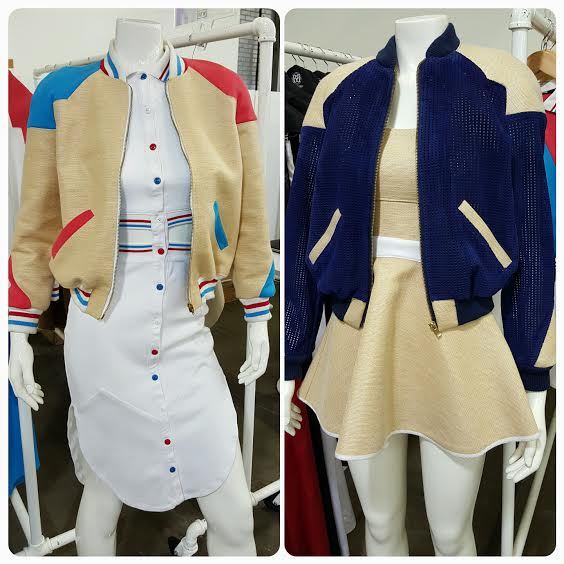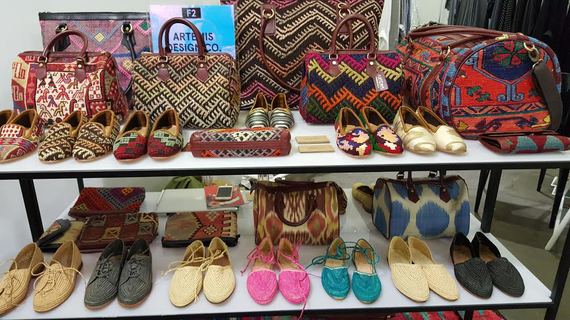 ~Collections from designer Milicent Armstrong's Artemis Design Co.~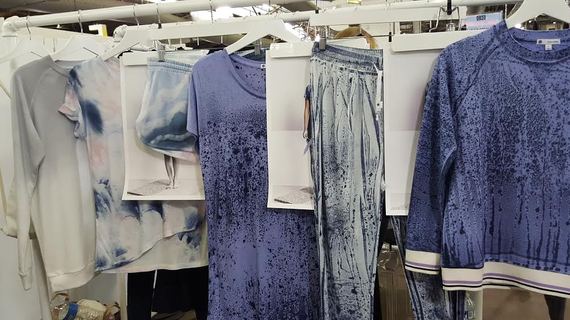 ~Designers Francesca (Peru) and Andrea's (Colombia)
butter nation
~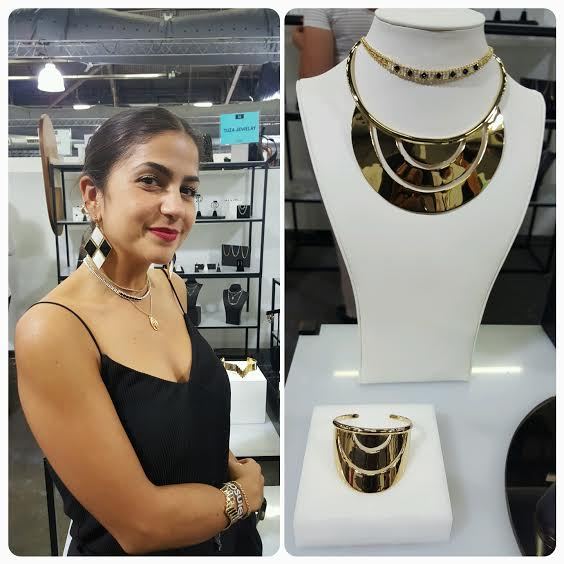 ~Sculptor and jeweler, Suzzan Atala (above) adorns her Tuza Jewelry~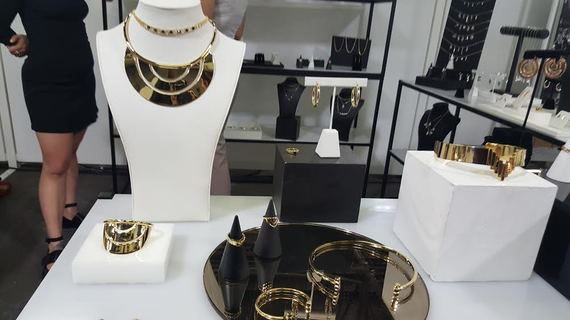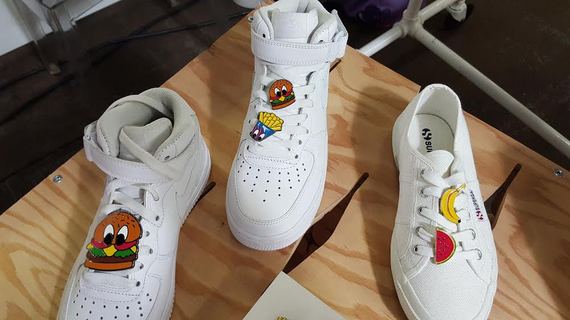 ~Lace clips, compliments London creator, Cleo B~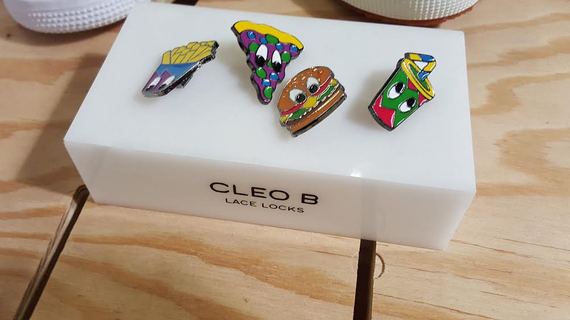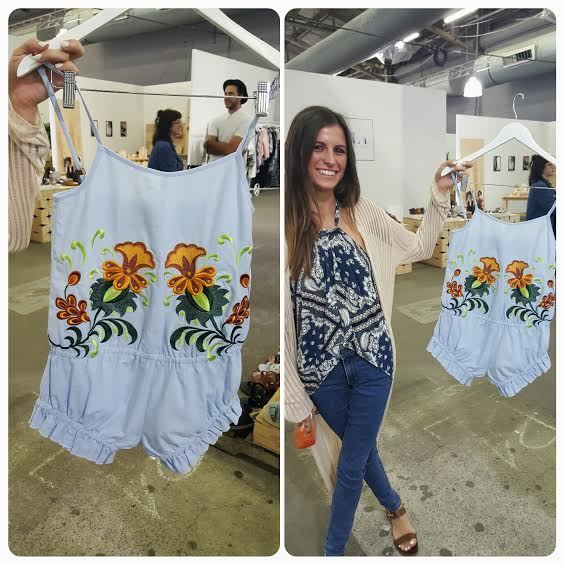 ~A cute top with a cute smile, from the Nightwalker brand~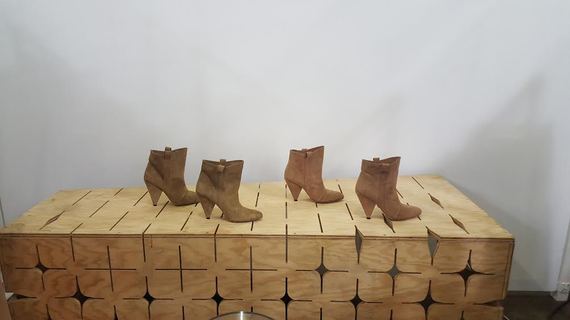 ~Owner/designer Maggy Soas' One Spirit & Soul desert-themed boots kicked~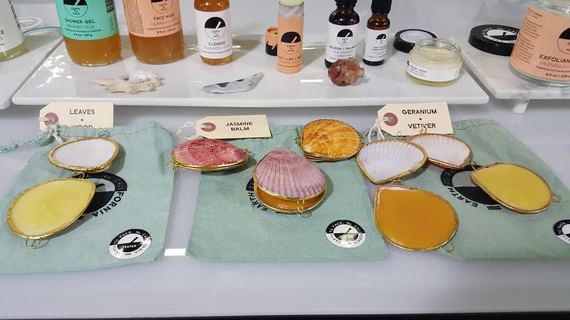 ~California represented 'well' with 100% natural skincare brand
Earth Tu Face
~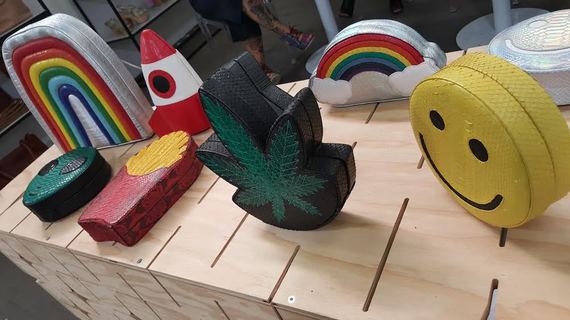 ~Designer Gelareh Mizrahi's cutest assembly of luxury, yet playful python bags~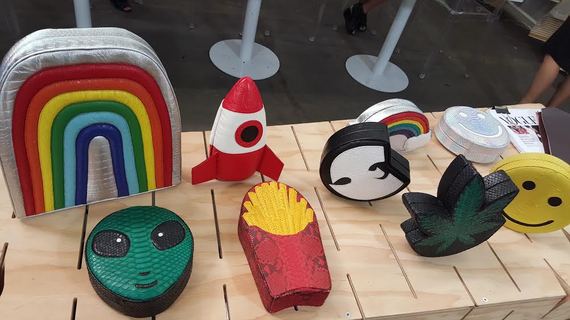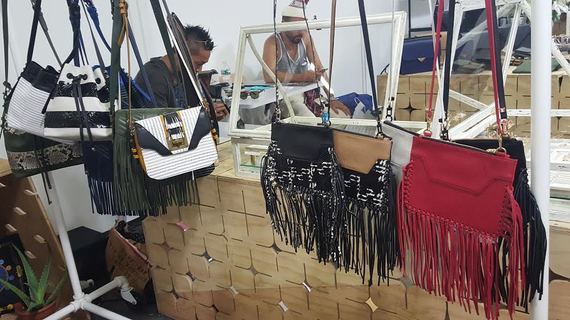 ~NY's own Emm Kuo handbags, of obvious distinction~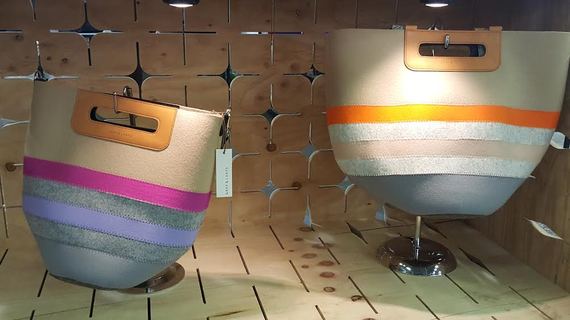 ~A closer look at LA's GRAF & LANTZ handbags~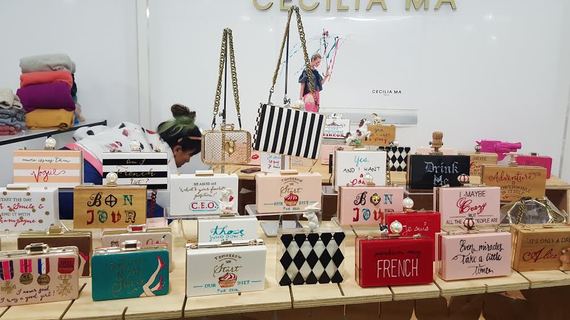 ~Probably the most memorable bags from their "Circus Collection" by Cecilia Ma~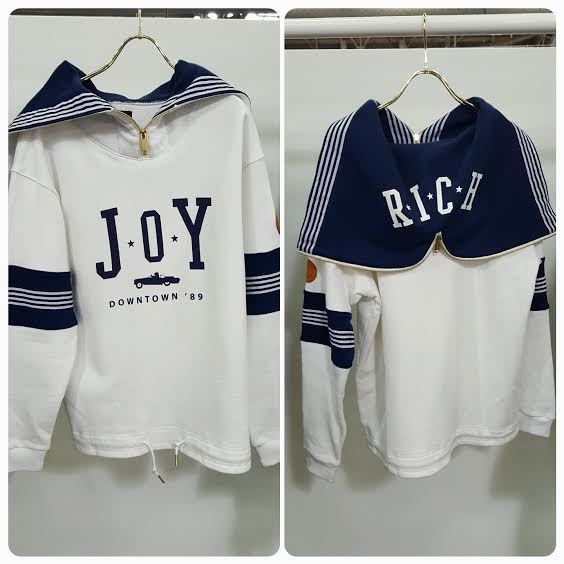 ~LA's well-known JoyRich street brand from the Melrose Ave strip, sailed well~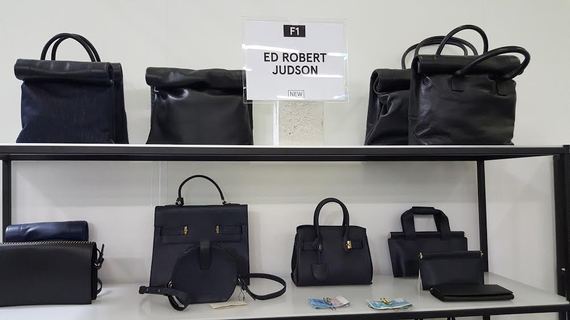 ~High end, leather pieces from UK's TOUBA LONDON's Showroom~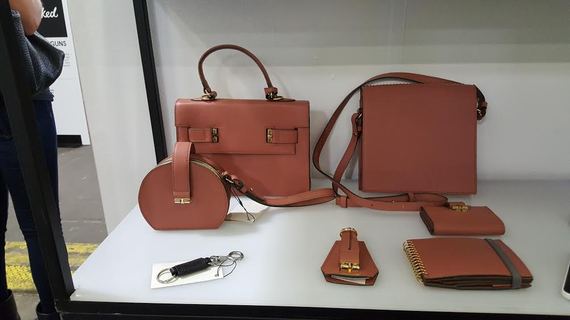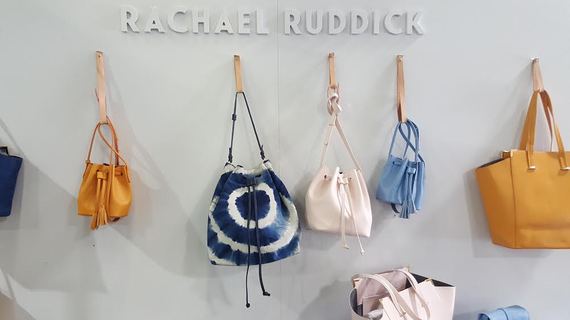 ~Australian native, designer Rachael Ruddick's beach luxury handbags~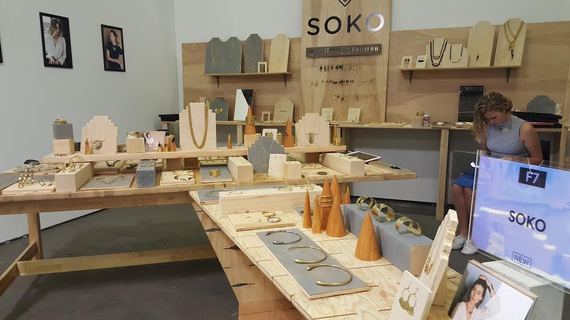 ~Socially conscious SOKO works with artisans in Kenya to redefine ethical jewelry~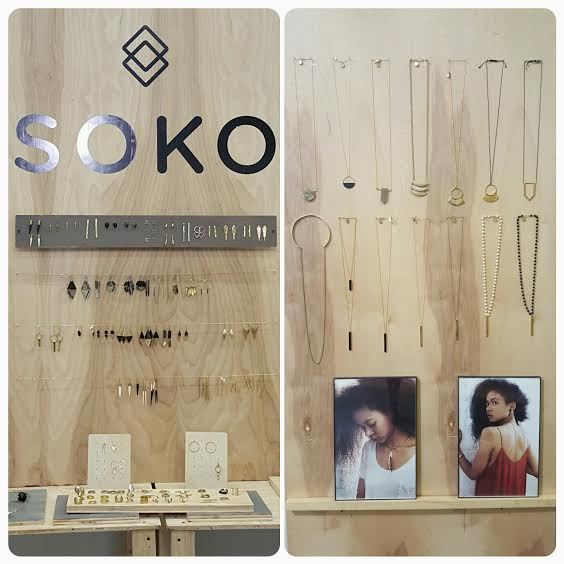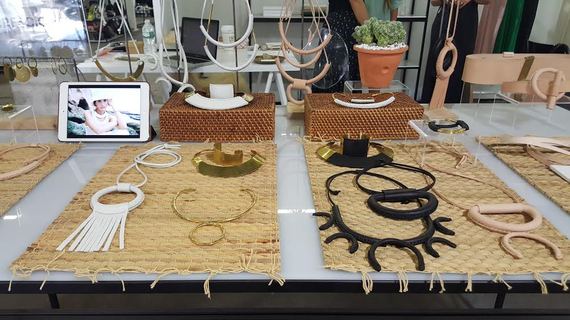 ~Pieces from the
Crescioni
collection, inspired from the American West~
Photos, video + instagram: all used by permission from AXIS/EIE PR, and otherwise taken by yours truly.