DAY 3
~Thursday, November 21~
Venue: LE SAVOY du MÉTROPLIS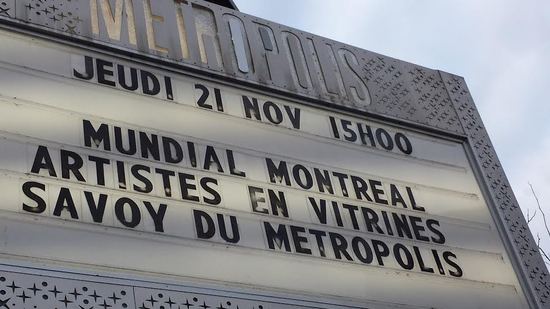 Not even close to sundown, and I'm having a rum n' coke (skipped breakfast!) inside the dark, small theater for the next showcase of international musicians as part of Mundial Montreal #3. Who'd be worth booking across the globe? First up, Vietnam-born/Montréal-based Huu Bac Quach, a musician versed in using MANY instruments -- including jazz guitar, quena and charango, just to name a few, was backed by his Jazz band. Impressive was Huu's dexterity using varying instruments, but honestly, I'd rather be sight-seeing. Interestingly enough, I'd met lead musician Aaron Lightstone of the next group, Jaffa Road, Canadian Folk Music Awards' winners for "World Music Group of the Year" and a 2 X Juno Nominee. So I was looking forward to their sound, as lead singer Aviva Chernick commenced their set by speaking to the audience to explain their blend of Jewish, jazz, Indian, Arabic and reggae music.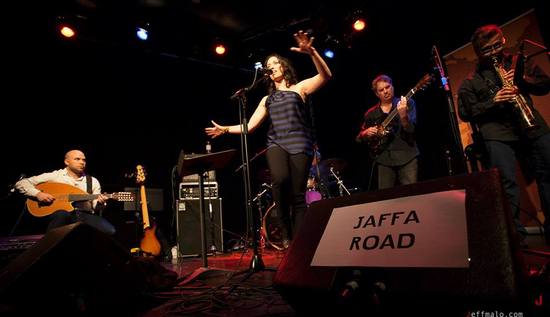 Most of these musicians had been circulating around the conference/festival as networkers, fans, supporters of other local Montréal artists and sometimes as dining partners. So, much to my surprise seeing them actually take stage, playing and singing. The verdict? Jaffa Road was worth every minute of their short 25-minute window! La Mandragore was up next, a Montréal-based band specializing in ancient melodies, even medieval almost. The lead singer, Ingried Boussarouque, was strikingly pale in complexion as well as in her awkward interaction with the audience. She reminded me of actress, Tilda Swinton and her stoic roles, though a bit more pleasant. She just seemed a bit naive and not the best person to introduce a band, but in an odd way, this is what held our attention, because when she actually sang, her vocals pierced the ceiling like a completely different person, as her band members on a multitude of interesting-looking instruments banged rhythms forcing subconscious movements from many bearing witness. Like a set-up, it worked. Closing the afternoon showcase was Sagapool, again from Montréal. And outside of their pure instrumental improvisational style, in between songs they offered ticklish dialogue interacting with the audience. No I mean, really odd ball funny! If their set sucked, which it didn't, they would've made up for it with their honest, quirky charm and humor.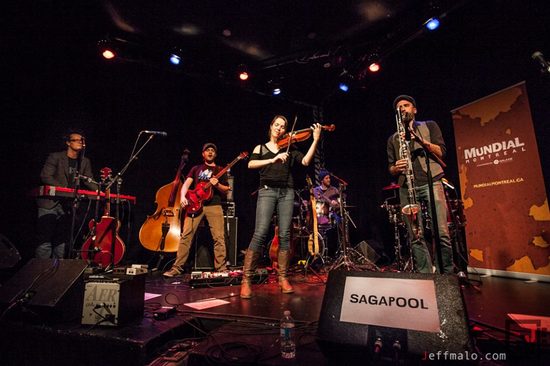 Their chemistry -- maybe because the keyboardist and bassist are brothers, while the sole female member, violinist Zoe, is the bassist's wife, was convincing enough to show that they've been playing together for years. However, it wasn't the slight standup comedy, but indeed their original compositions of jovial melodies -- gypsy-like and groovy, that remained the most memorable of the afternoon, as they continued jamming on clarinets, upright bass, two sets of drum/percussions, violin and accordion!
Venue: 'SAT'
Off to not just another dinner, but a joint dinner between Mundial Montréal folks as well as M for Montréal (another simultaneous conference/festival of indie rock + pop) happening at the same time. Before many of us -- about a cool 200 or so sat down, their was a cocktail reception (open bar baby!) to let's say, relax our supposedly odd encounter of crossing paths in these quite different musical worlds we're both a part of.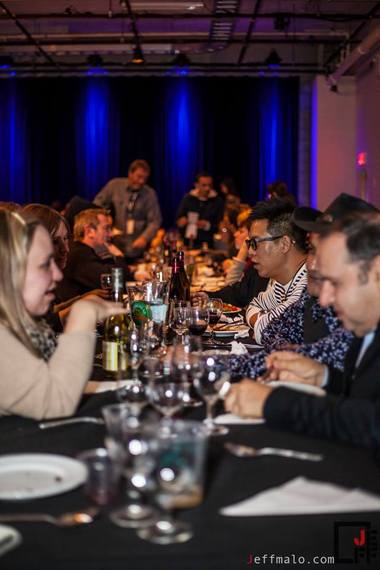 The idea for dinner too, was to sort of compel you to be OUT of your comfort zone. So, of course while lining up at the buffet, eyeing your potential seat to select, possibly next to that 'strange' person you're supposed to meet from another world, who do we sit next to? Yep, you guessed it - 'Bonsoir, nice to meet you, I'm at Mundial too!' Well, it wasn't a bad idea in theory, besides I got to meet a wonderful manager, Hélene Beaulieu of Algerian artist, Karim Saada, grab a couple new releases of his and also meet Frédéric Kervadec from France, now based in Montréal, who's the international program director for Nuits D'Afrique Festival, one of Montréal's biggest summer festivals, now in its 28th year and usually booking about 80 artists per year for a 2-week long list of concerts, club nights and shows. Sometimes your comfort zone is cool too.
Venue: L'ASTRAL - "Femmes du Monde/Women of the World"
On my walk to the venue, L'Astral, bearing off St-Laurent for the first time onto Ste-Catherine ouest, I stumbled upon quite an instagram-ready image of jazz legends plastered onto and glowing from the windows on the side of the building L'Astral was housed in. It's not hard to fall in love with this city, even in below zero temperatures.
But inside we go, where opening act Mary Jane Lamond & Wendy Macisaac, joined up their Celtic roots, starting things off. After a douse of Gaelic vocals by Mary Jane and Wendy fiddling away on the fiddle, perfect to open the night -- Leela Gilday was up next. Leela's from the Dene Nation, one of the Aboriginal peoples from the First Nations located in the arctic regions of Northern Canada. What appears as a bubbly and cheerful demeanor towards the audience, was quite contrary when it came to her powerful, aggressive vocals that stunned onlookers, including me. Toronto-based singer/songwriter Amanda Martinez, one of those artists constantly visible throughout the week at previous showcases, night or day, took the stage after.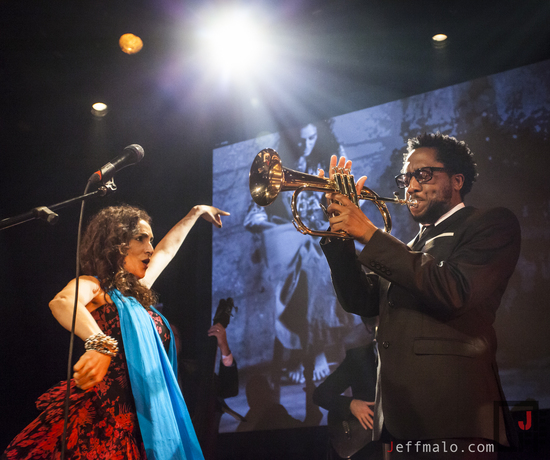 Candles lit in 3-feet tall glass holders decorated the stage floor, setting the atmosphere for the flamenco soul of Mexican and South African influences Amanda's background reflects. Always pleasantly smiling, on or off stage, she's not hard on the eyes either. Her performance left you wondering what other fusions of ethnic, native cultures --besides her blending of South African and Mexican sounds, one's yet to hear that'll possibly sound so fitting like exotic chocolate? With video projection rolling footage captured from the streets, fields and outskirts of both South Africa and Mexico, her presentation, not to mention her musicians, were tops, as in world class tops! The grand finale, Tanya Tagaq, a throat-singer of the Inuit people or as most refer to as Eskimos, is an artist that many attendees talked-up during the entire week leading up to this performance. After all, this was the same artist, back in 2004, that Bjork featured on her 2004 LP, Medúlla and hand-picked her to tour with the same year. I had no idea what was about to take place. Not only did she NOT sing, she probably moved less than a foot either way to her standing position, mostly planted in the same spot, 90% of the time! Her first grunting notes -- making me alongside a few others jump, sounded like an angry bear got loose in L'Astral!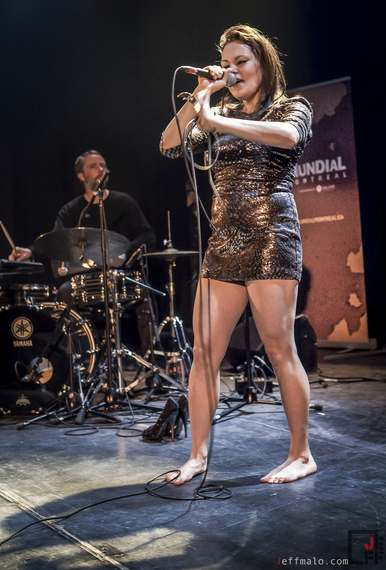 Her steady, yet varying pitches of howls and squeals in unison is what's called, "throat singing". In the background, old black & white silent video footage kept rolling a documentary of the lives of her Eskimo people, suggesting while we watched, that she was telling a story through those horrorful sounds she made. Indeed she was. Just via a language maybe animals such as seals, whales, snow dogs, wolves (and her Inuit people) might better understand. For a straight 25-minutes, she continuously gave it her all, belting-out howls and seldomly opening her eyes to connect with the audience. Everyone was frozen, ice quiet. The combination of the film rolling in the background and those alarming cries of hers, set to music resembling a dramatic score to a movie, redefined our musical entertainment tonight. Immediately after receiving the night's only standing ovation, there was a line to buy some of her CD releases, Sinaa and Auk/Blood, which she stood up to sign copies of, somewhat awkwardly. No wonder a day after, a panel gave her this year's Mundial Montréal "Galaxie Rising Stars Award".
Venue: 'SAT'
Walking back to SAT for, not so much another showcase, but a publicly advertised party honoring conference/festival goers from both M for Montréal + Mundial Montréal all-access, my newfound festival friends couldn't stop mimicking Tanya Tagaq's performance. Time had lapsed, so we missed Haitian/Montréal-based emcee Vox Sambou, but we caught DJ Tommy Kruise in his full flight of TRAP, cloud rap and booty breaks, where the crowd of 50% young, energetic Montréal kids and 50% industry types from both festivals had enough of the conference schmoozing, schooling and small-talking. Folks were now getting 'dirty' down!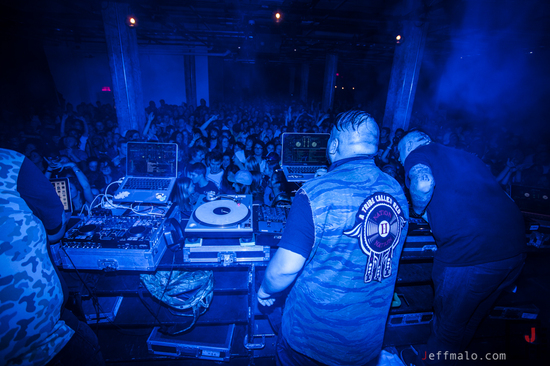 A Tribe Called Red - 3 DJs on stage behind CDJs, laptops and of course that ever-entertaining visual projection, took stage next and Native American chants sometimes underscored or overwhelmed the plethora of beats diving from dancehall, dub and dub step, to EDM and even a mash-up of Bobby McFerrin's "Don't Worry, Be Happy" sending the crowd into a frenzy! Oh moi? Yea, when in Rome, uhh ummm, Montréal, this was time to get on down too!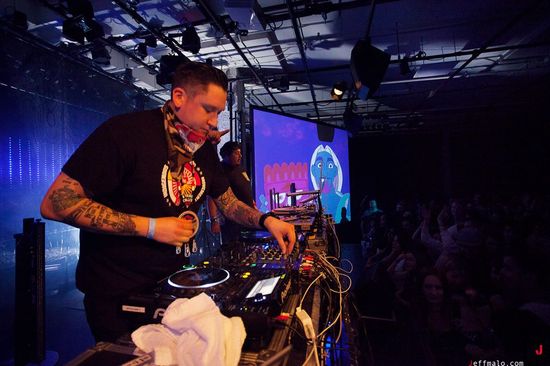 I'd always read of this group on upcoming festival fliers, concert listings and music download offers, most times at a glimpse mistakenly getting excited thinking it was A Tribe Called Quest, but never really knew what they were about. I guess, except that there was some sort of a Native American element to their music. But after their performance tonight, like many others, I sure was seeing red!
DAY 4
~Friday, November 22~
Venue: CAFÉ/PETIT CAMPUS
It's the last day of this 4-day conference/festival, sad to say. No panels for this attendee, but as early as 2p, not the best time after seeing RED until 3a last night and now raining outside in the steady cold, the first of two showcases promptly kicked off inside a new venue with Toronto-based, African-traditionalists Okavango African Orchestra crowding the stage in a darkly-lit room upstairs. It took me a few days to realize something. Unlike most established festivals or conferences, where the talent/artists fly in from various parts of the planet to entertain locals and nearby fans of that particular city, Mundial Montréal was sort of the reverse. Despite Mundial's incredible display of diversity in Latin American, Aboriginal, Native North American, African, Middle Eastern, European and Asian artists, most of the talent -- with a few exceptions of course, were already based in Montréal or nearby. While many of the Mundial attendees, including myself, weren't necessarily.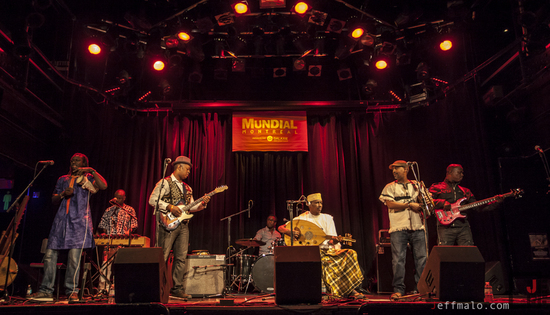 So for the level of talent offered by, a city of roughly 2 million, acts such as the above seem even more fascinating for retaining its musical roots, as well as merging varying forms of African music so masterfully. Next up, or I should say, downstairs in another darkly-lit room as part of the same venue, was Surkalén, an 'ethno-fusion' group that blends their musical inheritance of South America (Chile to be exact) with many other forms of music from around the world. Lead singer, Sandra Ulloa sat in the center of the stage on top her marímbula, which seemed like a reoccurring theme-instrument throughout this entire festival. Now instigating one of the most infamous Mundial attendees, Alfredo Caxaj, programmer of Sunfest in London, Ontario into a dancing craze, Surkalén proved that it doesn't take much effort to put the vibe of 'dance' in a room. But back to Alfredo. If someone wasn't tired from last night, it'd be this dude who'd be the perfect mascot for Mundial Montréal! Calling him a "character" would be an understatement. If half of the globe had Alfredo's personality, we'd still be looking for a World War I, or 9/11 would just be a date we all commerated for acting EXTRA festive. He embodied what world music festivals should be all about: the honest beauty and freeness of expression. Did I mention it wasn't even 3p yet in the afternoon? Back upstairs, we absorbed ambassadors of Sicilian culture, the Sicilian Jazz Project, a rare outfit of Sicilian folk music blended with jazz, chamber music and of course, global reggae. I don't know what it was about lead singer Dominc Mancuso's vox of Italian/Sicilian song, but I started to get hungry. Their sound was like a soundtrack to the marketing campaigns for the likes of Barilla, San Pellegrino, Mulino Bianco or for Sicily's tourism board, don't forget the Caponata! By the time the last act for the afternoon, Saltarello appeared, a band from out of the vastness of Abitibi, Quebec, I'd forgotten it wasn't even 4p yet. Once again, like the trendy ghetto blaster of the 80s, lead Luc Lafreniére sat on his bass box or marímbula, surrounded by some ageless instruments such as djembe, bender and darbuka.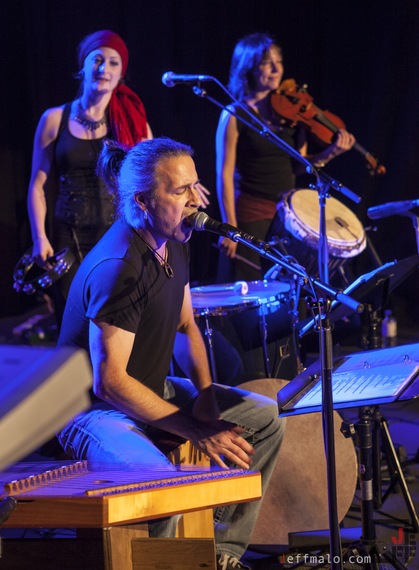 What I especially enjoyed about bands such as Saltarello, was the fact that world music cannot be pigeoned into JUST thinking of music from tropical areas of the world or where brown people originate. The sounds of the world are just that, and Saltarello's haunting harmonies from the Middle-Ages crossing into contemporary compositions, threw us into their Northern French Canadian region of Abitibi, cold and far, far away!
Venue: L'ASTRAL
This would be the last showcase at 8p, featuring only two full bands -- Colectivo and closing the night would be, The Souljazz Orchestra. It was cold and even raining heavier outside, so inside L'Astral was perfect. But first up, a light dinner and a drink next door at Bistro Le Balmoral marking the near end of the conference/festival: 'à la vôtre santé! Next door for some music now, I'll be straight-up honest, I wasn't feeling Montréal's Colectivo AT ALL. Every song seemed like the next, and their brand of tropical funk and brass was very watered-down relative to countless, similar bands I've heard recordings of, or seen live. But in contrast, getting almost everyone off their seats, was Ottawa-based multi-genre ensemble, The SoulJazz Orchestra -- comprised of six band members tonight, who started off with a cover song of Hugh Masekela's "Grazing in the Grass" that literally lured us from standing by the bar, to right infront of the stage.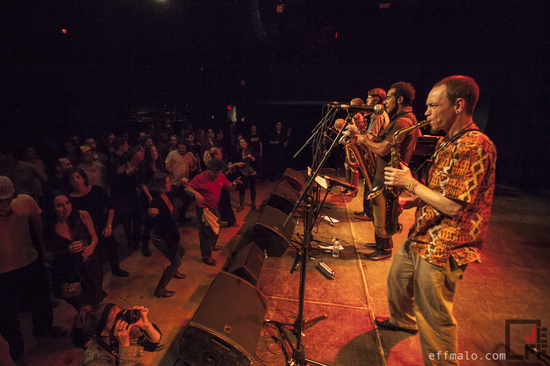 Dancing 'til the last note was the only option, as TSO grooved afrobeat style, in slow tempo and heated it up funkier and faster, even sending the Mundial staff -- namely Derek, Marigny, Sebastién, Déborah and even Eli into a dancing stupor, begging for more than 3 encores! Of course, Alfredo too, never to be forgotten for a good dance!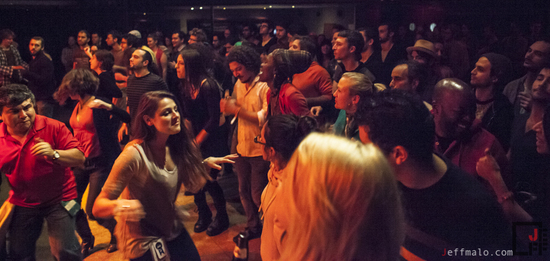 But tonight, this last dance was for the staff's hard work, countless hours of planning, coordinating and sleepless nights prior and during Mundial, all exhaled onto what they turned into a dance floor! World music, for lack of a better term, was tonight's drug gaining the highest high, but hopefully lasting 'til next year's Mundial Montréal #4. Aurevoir!
Photo Credit (approved): Jeff Malo