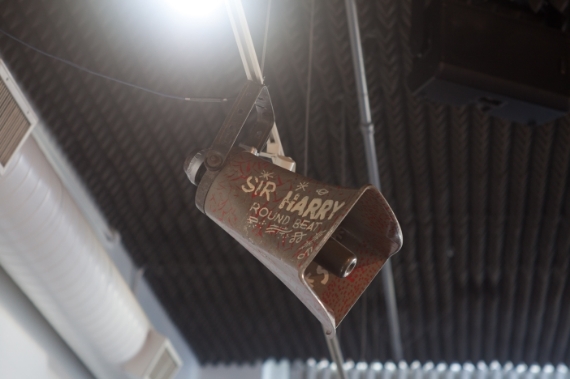 It's been just over a year since I -- amongst many other insiders, fans and lovers of music in L.A., have been witness to some of the most magnificent, intimate live shows by a variety of musical acts displaying their talents at Sonos Studio. Located in the heart of the city, with a close-to-perfect surround sound, once inside the Sonos venue, the multiple of music genres represented by the different artists at Sonos' twice-monthly opening parties is what draws me and others back for more. And who am I kidding? Their mandatory open (yes, alcoholic!) sponsored bar -- every outing, also never deterred anyone either. Present your ID, even leave your wallet/purse in the car if you prefer, but don't forget to bring your ability to listen to some of the world's freshest pop, indie, acoustic, soulful, global, electronic, underground and cinematic sounds.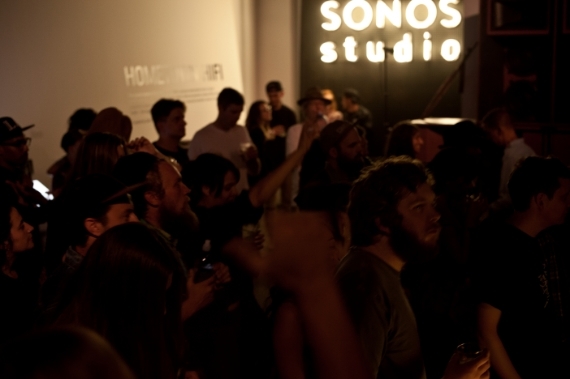 For my first visit, Denmark's The Raveonettes spoke, then rocked it. My next visit, UK's Gilles Peterson guest-starred snippets of his record collection. Times after those, there was a Pretty Lights listening party; rapper Future almost tore it all down; can't forget Diplo's "Blow Your Head" exhibit, or Moby going acoustic; Robert Glasper Experiment jazzin' up Sonos' own "Play -- A Visual Music Experience"; and many other live performances by Hiatus Kaiyote, Glitch Mob, Yuna, St. Lucia, Mayer Hawthorne (DJ-set), a workshop with Audiojack and the list of music events, exhibits or showcases kept unfolding as an exquisite display of education in sound.
The Sonos Studio is, no doubt, a space to explore, and this past Thursday there was yet another opening of -- "Hometown HiFi Exhibition" -- curated by French journalist/documentary director and Dub culture expert, Seb Carayol. This is a special exhibit to me, not only because it deals with one of the most underrated, under-the-radar genres or movements -- unless you're talking about Bob Marley. Nooo, nooo, nooo... it's because I'm always curious and questioning -- even if held inwardly in thought -- the reason behind the result of anything so special by using these simple adverbs: why or how? So, call me your "musical therapist."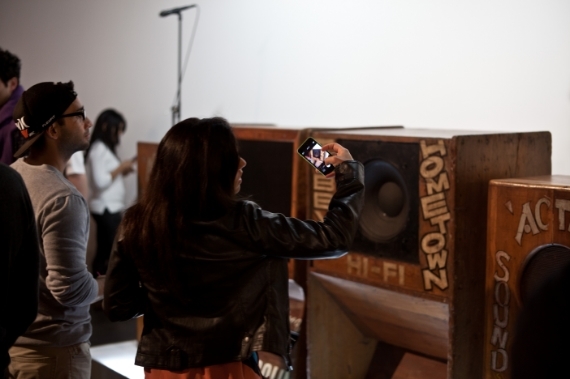 In this case, here's an exhibit who's sole purpose is to unravel and help today's youth broaden their knowledge in rediscovering why or how the pioneering Jamaican dancehall sound systems from the 1960s into the early 1980s, helped shape and revolutionize global music culture, electronic or computerized productions, and DJs as we know it as today. Why or how was/is there even such a thing as an "instrumental" to songs through 45s or 12" singles put out? Originally, an idea birthed in this very same sound system culture of yesteryear, known as a "version."
"This one is a real celebration of a historical movement that came from Jamaican dub culture and changed the global musical landscape, from the birth of hip hop, to European techno," said Nu Goteh, Marketing Manager at Sonos.
"It's about music listening technology bringing people together, something close to Sonos' heart. It's also the first time people can see King Tubby's original sound system in the U.S. In general, this exhibition shows a connection between the ingenious technology forged with limited means, and the inspired technological innovations happening today with software."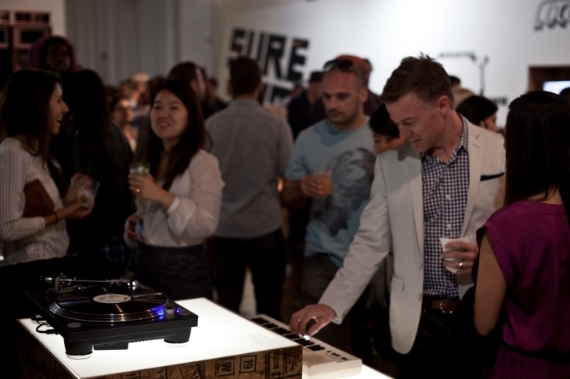 By using three classic films for each installation -- Deep Roots Music (1980), Babylon (1981) and Musically Mad (2006), rare artifacts, plus a collage of footage from sound systems, such as King Jammys, Stone Love, Metromedia, Volcano and others, the gallery will also display -- a first ever in the U.S as Nu (Sonos) said, King Tubby's original sound system, fully restored. If his name doesn't ring a bell, he's only been credited as the most influential in the development of dub and the concept inventor of what you know today as, the "remix."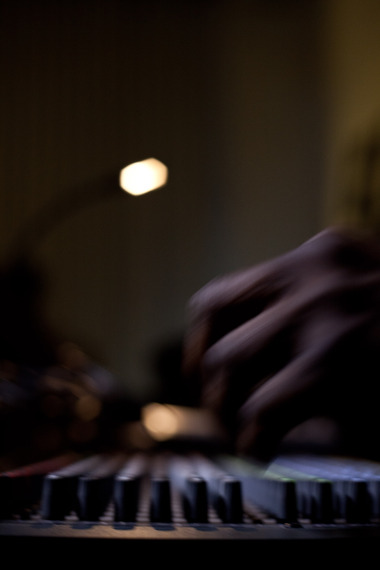 With a magnificent closing performance by UK's Mad Professor spinning classics such as "Welcome To Jamrock," "No No No (You Don't Love Me)" and big tunes by Bob Marley, Tippa Irie and others, who dropped-out many of the song's vocals or added reverb using his magical sound board to rearrange or highlight the sweltering bass at times, he then invited a special surprise guest: Scientist. A shy, but pioneering figure in the history of dub's creation, it didn't take him long to learn the complex knob-pattern on the sound board, creating audio illusions beyond our ear's comprehension! Tonight's global presence was felt even more as Japanese female deejay, or emcee/MC, Ryo Vibes jumped on the mic, spitting in Jamaican patois, naturally of course. After all, what good is a real sound system without an emcee?
"The role of the MC in the presentation of the music is important too," said Gabriel of UK's The Heatwave. "For us, one of the key things about sound system culture as pioneered in Jamaica in the 60s, 70s and 80s, is that the music is not divorced from the social/cultural/political context in which it's played. We love the fact we can use the lyrics and messages in tunes to comment on what is happening in the world outside the party and that we can commentate over the microphone on the meaning of the music we play. The interaction between the MC and the crowd also simply heightens the enjoyment of partying: the noise of people calling for rewinds or blowing whistles and horns amps up the atmosphere."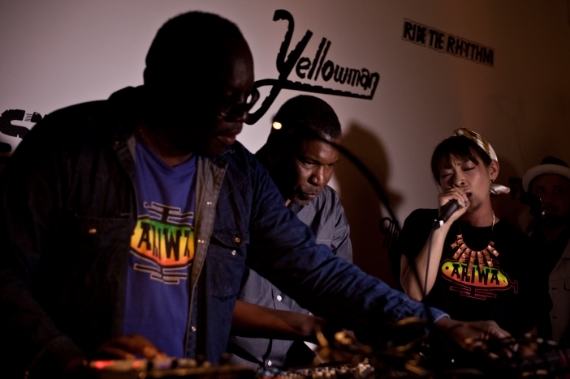 Other DJs (Jeremy Sole, Damon Aaron and Jeremy Collingwood), spinning earlier on tonight's opening, surely didn't disappoint with their new school vs old school playlists all fitting into the dub-wise soundscape. Many fans got a taste of how DJ culture once took shape in the earlier days -- way before Pretty Lights was born, or even before Kool Herc packed his bags for the Bronx, NY.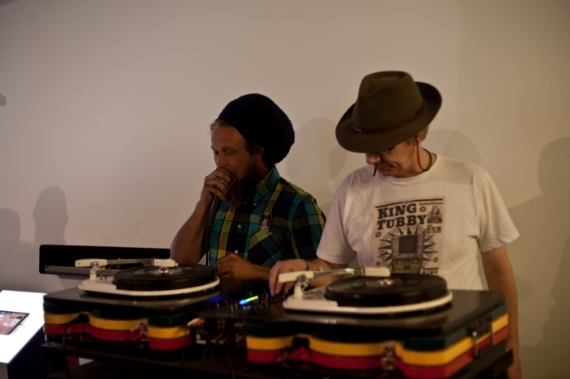 "I think the biggest part of being on a sound system is wanting to always be the best," said Jillionaire (of Major Lazer fame).
"Whether it's cutting dubs, selecting the newest and the biggest tunes, or working on your stage presence and live show production. The whole DJ as a rockstar thing is brand new but some DJs are still working on creating stage presence, on being able to relate to the crowd. That's definitely one of the things that puts us over the top, that we are constantly interacting with and engaging our audience."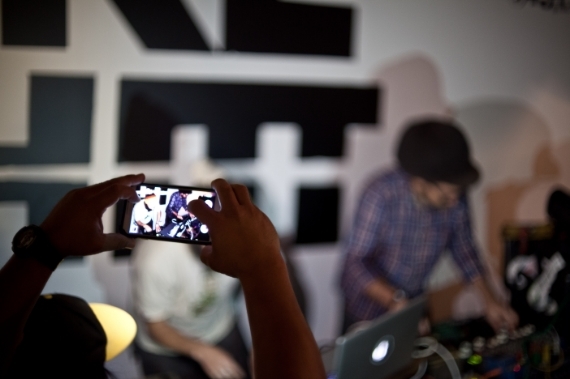 "Being part of a modern sound system today is not just about deejaying and spinnin' music," said Aurelito of L.A.'s own I&I Sound System.
"First and foremost, it means owning and operating an actual physical sound system. One of the main advantages for I&I Sound System is that we're fully mobile. We get to drive the sound truck through so many L.A. neighborhoods and beyond. We can literally set up and spin music almost anywhere. I wouldn't trade deejaying out of a converted classic red, gold and green ice cream truck for anything."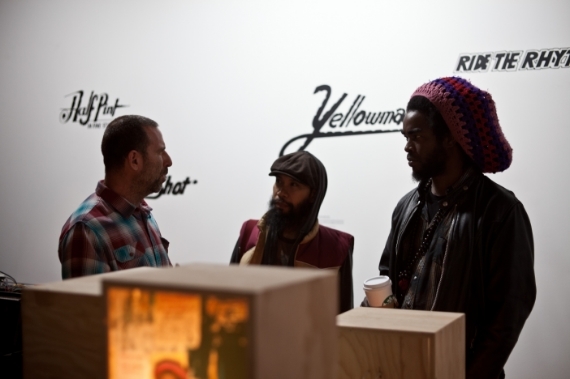 Curator of this exhibit, Seb Carayol of France, is no stranger to reggae, dub or Jamaican sound system culture. But, he also has no shame in exposing how out of the know he is on current music terminology, after I hit him with my first dub-plate in our toe-for-toe sound clash!
Q. What do you think this generation of EDM, hip-hop, chill wave, rock n' dubstep listeners/fans will get n' learn from visiting this collaborative Sonos/"Hometown HiFi" exhibit? What ideally would you want them to take away from it?

Seb Carayol:
"Chill wave"? Wow, I must be old. The ideal thing would be, some sort of impossible goal, would be that anybody who ever listens to any DJ-based, urban music knows where a huge chunk of any of these styles comes from: a tiny island in the Caribbean. It would be the best way to give Jamaican sound system culture the respect it's owed, and would contribute to answer the question that singer Dennis Brown once asked: "What about the half that's never been told?" That's why I'm really excited that Sonos was enthusiastic on this project: because, while part of it is a business, they are outside of the traditional, underground, unknown, sound system circuits. The problem with "our" culture is that everybody involved in it knows that history, but people who are not total reggae diggers rarely have access to this culture.
Q. I think keen music fans kinda know the story of hip-hop, having its roots in the Jamaican sound system culture before it birthed in the Bronx, NY. But outside of the emcee, is this exhibit going to bridge the relationship between electronic music or techniques used today, but originally grown in the early stages of sound systems via dub/reggae/versions?
Seb:
I hope it does! There's only so much you can do in a limited space so I had to proceed through evocations: for instance, with three items (a keyboard, a record, and a record player), we get people to re-create the biggest dancehall anthem of all times ("Under Me Sleng Teng" by Wayne Smith, who just passed away last month) themselves: the rhythm track for that song came from a preset, built-in, in the casiotone Mt-40 keyboard, that people can trigger. They can then compare with the actual song by listening to its vinyl on the turntable. This song launched the digital revolution in urban music at large... Just a playful way to explain this kind of bridge.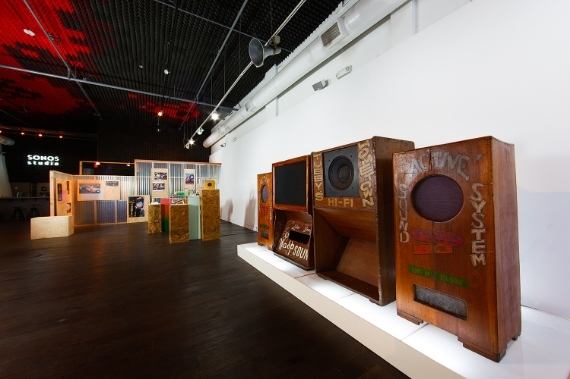 Q. If you had a chance to give an example to show a direct correlation of the pioneering Jamaican sound systems of yesteryear being responsible for something used in music today, what will your example be?

Seb:
It will be hard to boil it down to just a few, actually: Jamaican sound systems largely contributed to inventing the rap flow, for instance: at first, the "dee jay" (then called "MC" in hip hop) would just be the guy chatting and jiving between tracks. Some of them were so good at it (Count Machuki, U Roy, etc) that they ended up being recorded. Besides that: the art of remixing, with techniques from people like King Tubby, Lee Perry or the very underrated sound engineer Scientist all invented out of DIY, tricked-out consoles, and still marveled at by modern-day producers outside of the reggae field. One example: Tubby "hacked" a hi-pass filter from the movie industry to create his own sound effect... GENIUS! The Jamaican sound system also built upon the ability to create trance-inducing instrumentals meant to be played in dance halls -- that is very much one of the characteristics of modern-day electro artists.
Q. Bob Marley is such an iconic figure in music, understandably so - yet the root of electronic music seems so obviously tied to a lot you're trying to show in this exhibit, but only a small minority of people know this. What's hopefully going to change that going forward?

Seb:
I would say, grabbing any chance of exposure outside of the strict reggae world -- provided that people "in the know" get to express this history freely, which is exactly what happened with Sonos. This show is very important for this culture.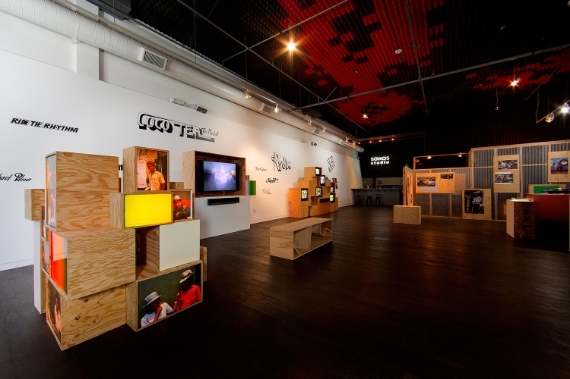 Q. What are some of the reasonings behind the choices of film, art and artifacts placed in this exhibit?

Seb:
For the films, the idea was to show different levels of film making: raw dancehall footage, documentaries, full-length features. And while there are a lot of things about the history of reggae, there are less choices when you want to focus on the "musical instrument" invented by reggae music: the sound system. The only scripted full-length feature about the topic, beautifully shot in 16mm in 1981, is called "Babylon" and was barely ever seen in the US. It doubles as a nice social commentary about the Thatcher years in the UK for young Jamaicans, and climaxes with a "sound clash" for ages!
Q. I hear a fully restored King Tubby's sound system is being displayed for the first time in the U.S.?

Seb:
Yes, King Tubby's original bass bin, used from 1958 to the mid-70s. It was salvaged from a Jamaican backyard where it had been rotting away for decades, by a record hunter, who sold it to English reggae collector Jeremy Collingwood. From acquiring this one, Collingwood went on and hunted quite a few vintage speakers to preserve and restore them. I have seen people kneel down in front of this Tubby's speaker! It's our Dead Sea scroll.

Q. Finally, how long have you and others been targeting the creation of such an exhibit as this in the U.S. -- especially collaborating w/ Sonos? And has it been done elsewhere before, or a first here in the U.S.A.?

Seb:
I have been talking with Sonos for about a solid year about the exhibition. They became interested after hearing of "Say Watt? Le culte du sound system," a show I put together in 2013 for la Gaité Lyrique in Paris. This one was a bit different, with a smaller Jamaican component -- its intent was to start from these Jamaican roots and show how the sound system was borrowed in other countries, musical styles, all the way to the higher end contemporary arts, resonating with conceptual artists that have nothing to do with reggae or music. There have been a few meaningful exhibitions about reggae music in the US, the biggest that I heard of being the "Island Revolution" one in 2001, at the EMP (Seattle), but most of them focus on Jamaican music at large and/or Bob Marley -which is absolutely great, because there are many, many angles to approach the richness of the music that was born in Jamaica. For instance, reggae historian Roger Steffens got an excellent touring one about Bob Marley... The closest thing to what I'm trying to say was the mini-exhibition Art in The Dancehall last year in L.A., curated by DJ Al Fingers. It focused on the graphic design and illustration inspired by the dancehalls, mainly. Hopefully there are many more in the future. Jamaican sound system needs the recognition it deserves!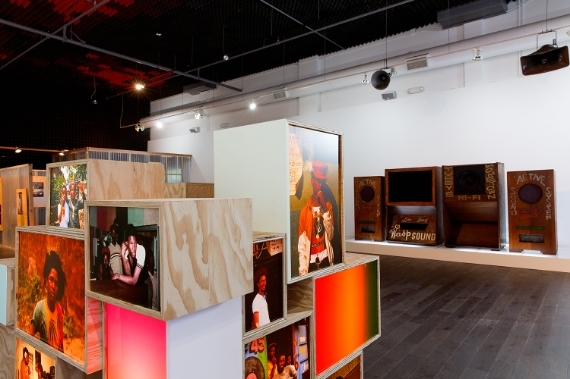 Tonight, there wouldn't be any complaining about the sound being too loud (or ice cream soft), or being too "dibby dibby!" No sah, not at Sonos Studio...never. Running through April 24, "Hometown HiFi" is open to the public who can now witness a taste of dub greatness, 12-6p from Wednesday to Sunday. "Sonos Studio's goal is to be a space for real creative musical experiences," said Nu (Sonos). "In addition to this exhibition we will be hosting a free public workshop with Jamaican dub pioneer Scientist around the art of dub remixing. Sonos Studio is the only art gallery (around) devoted to: listening."
Photo Credit: Ralf Strathmann and Stephen Paul (used by permission from Sonos).