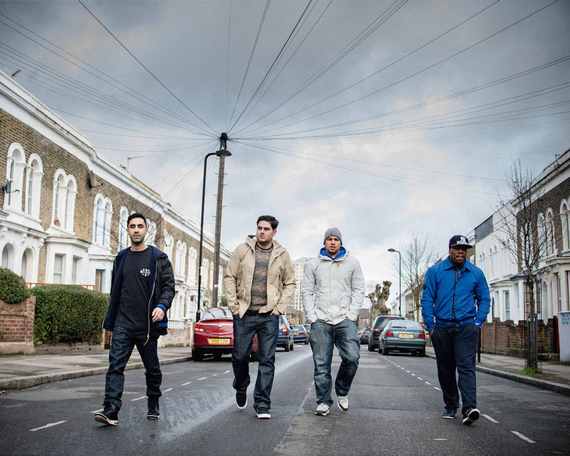 While we flip our radio dial here in NYC, or walk the streets entering countless stores or barbershops hearing the constant, heavy and highly repeated rotation of Drake, Jeremih & YG, Iggy Azalea, Drake again, of course Nico & Vinz and you get the point, it makes me wonder why aren't some truly inspirational and clearly soulful music -- like that of UK's Rudimental, only 'subjected' to SOLD OUT shows touring the nation? Ironic isn't it. Makes you wonder why, or who and what runs our radio today! While you'd probably have to depend on the internet radio, or hearing snippets of their song "Not Giving In" introduce a couple sports-action clips on ESPN's SportsCenter or catch a live performance, their debut LP HOME has enough potential hit songs to last us into 2016! Luckily we won't have to wait that long, because even as they've just finished-up 'officially' touring various cities throughout the U.S. for the first time, there's an untitled album in the works, slated with a Feb. 2015 release date.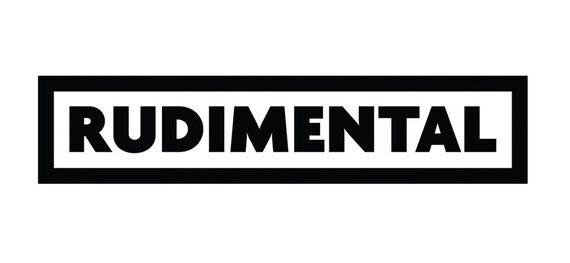 Rudimental are four close friends from Hackney -- Amir Amor, Piers Aggett, Kesi Dryden and Leon Rolle, all having different ethnic backgrounds, yet similar musical tastes ranging from UK Grime, Hip-Hop, American Soul, House, Drum + Bass, Reggae influences and more, all encompassing UK rave culture of the early 2000s. "It's not just about one person on stage, it's a family," says Amir who was born in Iran, but grew up in the UK during the 90s. "That's why people are drawn to us 'cause we have so much fun up there. We're lucky to be with friends that grew up with each other; we've known each other for such a long time," he laughs! Somehow, through songs such as "Feel The Love" feat. John Newman, "Hell Could Freeze" feat. Angel Haze and "More Than Anything" feat. Emeli Sandé, they've found the key with the right chemistry to unlock the limited boundaries of (NOT just using) one genre, yet drawing in a fanbase the world over that's as massive as ever. Hence, their sold out shows and YouTube videos with views into the tens of millions! U.S. radio, are you listening? Clear-ly not. A few hours before another SOLD OUT show -- this time at Terminal 5 on Manhattan's westside, I had a very engaging conversation backstage with half of Rudimental's foursome -- Amir and Piers, who were casually kicking back in their dressing room. Discover how UK's biggest electronic music buzz since Massive Attack, creates and blends such a universal sound, leaving listeners: 'SOULED'.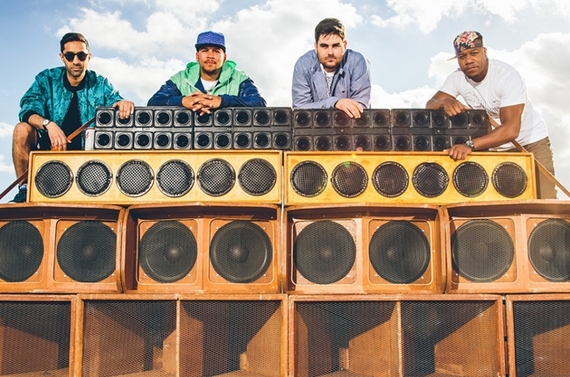 Q. So, are you familiar w/New York enough to say, both NY and London have similar styles or international influences that shape such great music?

Rudimental (Amir): Yes, I think there's definitely a resemblance between the two. We grew up in East London, which is a very mixed area. We grew up with a lot of cultures, dance music, rave culture and with soul music we got from America. We bring it all together. I think the difference here is you guys have massive areas which is one race and other areas which is like another race (he smirked). In the UK, it's more like you got ONE STREET which is Asian, another street which is black. It's a lot MORE mixed. It's a lot more condensed. This has a lot to do with Rudimental, our music - ah mean look at us, it's all four different guys (he laughs out)! We grew up together, we played football together, did pirate radio together.
Q. I'll admit, there's a lot of music out there nowadays. When I first came across your songs, style + video for "Feel The Love", something hit me. It hit all of us. I think it's how you bridge so many genres in a melting-pot style. What's the key?
R (Amir): I think it's how we grew up. We're quite individual people and we brought a different ingredient into Rudimental. For me, I came from listening to hip-hop, to then, getting into the guitar music and brought that to the live side of it. Piers again, he's a keys player. He's got the Blues influence, the really Bluesy type of music. Leon is a DJ -- DJ Locksmith, came from pirate radio, which was something that all of us were involved in setting up. DIY or illegal radio. Getting ya records taken, ya equipment taken! It happened all the time. Kesi, especially I think has the hip-hop influence as well, talks about Lauryn Hill being his biggest musical influence. That (pirate radio) was a big part of our culture actually. Early 2000s. It was around the time of grime music, garage music. There was a real culture there (in pirate radio), which influenced us because it felt it was away from your parents, away from school (he laughs). Pirate culture in the UK was really cool. I've written a documentary script about it, so I'd like to make something about it.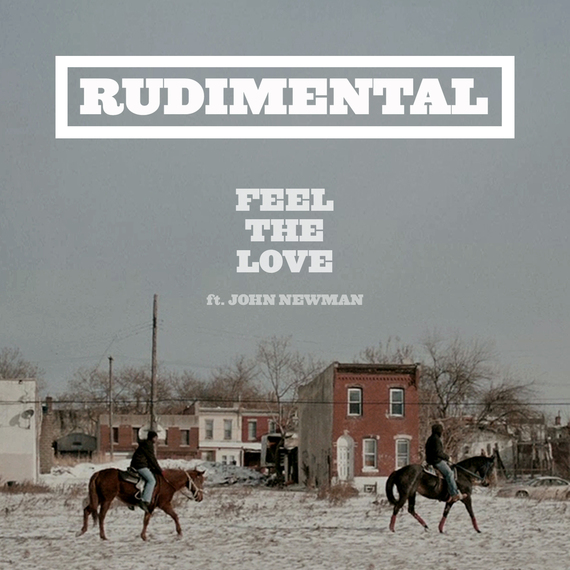 Q. The USA isn't so up on y'all as the UK n' Europe is. Maybe that's gonna change but selfishly, I wouldn't even care. Your music is mind-blowing. What influences from U.S. artists -- of yesteryear and today, give Rudimental that edge?
R (Amir): Influences, ah mean, Miseducation of Lauryn Hill is an album that we'd still go back to. We listen to a lot of soul music from America, really. We go back to Sly & The Family Stone, P-Funk.
Q. Soul always seems to be an integral part of UK artist's appetite, whether they're punk rock or pop or electronic, right?
R (Amir): For some reason it seems to be a big part of the culture, especially up north, up north of England. (Piers has just walked in): Yea, Sly & The Family Stone...Marvin Gaye, Otis Redding, I love Otis Redding, Ray Charles. (Amir): Also, a lot of modern soul and music too like I was saying, Lauryn Hill and hip-hop music, Wu Tang, newer cats like Schoolboy Q, Kendrick Lamar. America's definitely influenced us, hip-hop and soul. (Piers): Also the 90s era of hip-hop, Nas, Dre. West coast hip-hop. (Amir): When all this came over to England, we all bought the albums. We already did one song with Nas. We can't wait for that one to release. We get to work with our heroes. We've worked with Steely Dan, and George Clinton. He's been switched on to us man. He came to the UK and we got two songs on our new upcoming album. (Piers): Musicians attract each other. It's great to have that ability these days where legends that we grew up with are checking our music too. Like, I was emailing DJ Premier. I had to pinch myself and be like, 'I'm casually emailing DJ Premier!' (he laughs)! He's a lovely guy as well, he's cool. (Amir): We're also hoping to work with The Specials as well, 'cause they influenced us big time!

Q. In such a hectic schedule as yours, how has it affected your ability to create? Because your songs seem to absorb such richness, soul and meaningfulness w/a story. How do you draw on life to create, when life's so non-stop w/touring on the road?
R (Piers): You don't get to see your family much and that's something that, whenever you go back to, they bring you back down to earth. (Amir): Your friends -- true friends, don't give a shit about what you've been doing, basically (he laughs)! (Piers): Yea (laughs) and that's one of the experiences that our emotions get drawn from, especially on this new album, of missing home and family. (Amir): The first album as you know is called Home obviously as you know, and we were writing that at a time where we were half at home, the other half once things blew up, we were writing away from home. I think with this new one, we've been traveling so much and met so many people, we miss our families, there's a different tone to it, it feels a bit more deep to me. (Piers): I think before it all, we were always conscious people, we try to stay away from the obvious obnoxiousness in front of you. It's about, it's about, for us -- it's about spreading positivity and spreading love. Love is the most powerful tool. There's so much going on in the world right now, and when you're on tour, for a week, you can not have a clue on what's going on. (Amir): The theme of this new album is also a bit more worldly.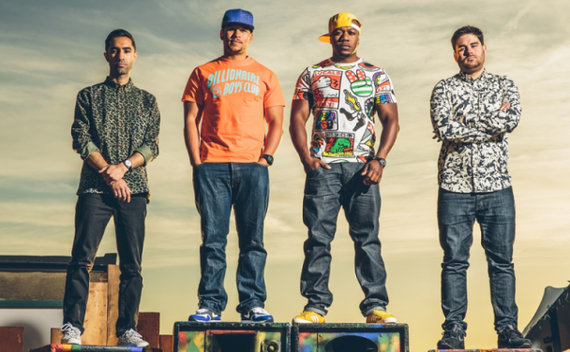 Q. OK, so here are some fun, hypothetical questions to tap into your psyche: what would you eradicate from the earth, if you had the magial powers to, especially if it'd make more people aware of your music and sound?
R (Amir): Wow. Damn. I mean I'm gonna be a little trivial about it, not too serious about it but, I wish people would stop looking at their bloody mobile phone all the time (he laughs out loud)! I mean I could ask for world peace but just stop looking at your bloody phone man (laughter fills the dressing room backstage area)! I mean when you're doing a gig and everyone's phone is in the air it's cool, but it's like, take it in but you're really not taking it in 'cause you're just looking at it through just this little square. Pay attention to the things and people around you. Social media is making people LESS social. (Piers): Ahmm...ummm...(thinks for a long time) it'd be great to, it'd be great to...take away money. See what happens, see what happens if money is not there anymore. (Amir): Money is the biggest fucking religion now, bigger than Jesus (he laughs)! If people stopped having faith in money for one minute and we realized the value of it is nothing, then things would be quite different. (Piers): It'll be worth a lot less than things you can't see, or hear, like music. For me, music is worth so much more, the value of it. (Amir): That's a deep one (everyone pauses and breaks into a relief of laughter)!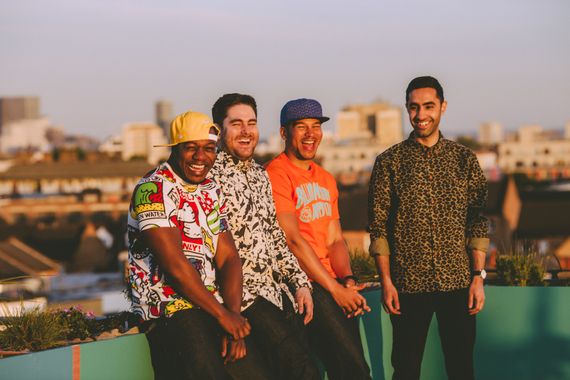 Q. Lastly, and this is tough -- since you're a result of such a melting pot of music. Name the one ONLY genre you'd be satisfied listening to, if stuck on an island for God knows how long!?
R (Amir): Genres are a big pop of so many different things so you can't have one genre in there without really having other different genres in there, you know what I mean? Cause they're all influenced by each other. But if I chose one though, it'll be SOUL. And soul's such a wide thing, but...
Q. That's a great way to wiggle your way out of this one (I jab).
R (Amir): Soul man, so it could be anything (he laughs)! (Piers): Soul too (he bursts out laughing)! Any type of soul music, it could be old, modern. Yep, soul.
(Photos used by permission from Big Beat/Atlantic | photo credit: Danny North)