Nothing beats seeing a brand-new artist emerge from the shadows to find acceptance and notoriety for their art, especially in today's fractured and intensely competitive music business. Such is the case with British singer-songwriter Emeli Sandé. Although the industry has gone through epic shifts, both financially and creatively, making it harder than ever for a neophyte to break through, Sandé is proof positive that it is still possible for real talent and perseverance to win.
Although Sandé's debut CD, Our Version of Events (which entered the UK album charts at number one in February), was only released stateside on June 5th, I have been living with the record for a while. As the buzz in Europe was reaching its peak, a good friend slipped me a copy of the advance CD, which, truth be told, I couldn't put down.
At first listen, Sandé's voice is stark and urgent, especially in uptempo tracks like the hypnotic, prayer-like lead track "Heaven" and the emotion-filled "Daddy." Her distinctive voice can rattle the senses and, in the very next breath, soothe any emotion. She also delivers a number of stunning ballads on this record, most notably the heartbreaking "Clown" and the moving, gorgeous "Breaking the Law" (written for her sister). The catchy, pop-leaning "Next to Me" is the current focus track.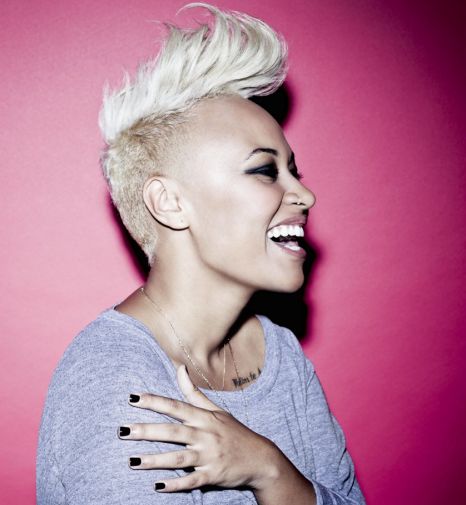 Emeli Sandé - Photo courtesy of EMI Music
The product of an African father and Scottish mother, Sandé won a BBC talent contest as a teenager, but went on to study medicine, training to become a neurologist in her native Scotland. With a year left of study, she decided to transition back to her music when she was offered a record deal.
I have had the distinct pleasure of witnessing Sandé in live performance twice, both times at Brooklyn's intimate Music Hall of Williamsburg, a perfect spot from which to soak up her depth and raw emotion. On June 5th, I really appreciated her pared-down approach; other than Sandé and her electric piano, there were only three other musicians on stage -- a guitarist/bassist, a keyboardist and a brilliant percussionist. Her artful way of stripping down most of the songs to their musical foundations, for me, only gave them more power ("Suitcase," a tale of a broken romance, was a particular standout).
"Usually my songs are inspired by personal experiences," Sandé told me earlier. "I love great conversation that makes you see things in a whole new way."
Our Version of Events marks the arrival of a major new talent. Not only is Sandé's voice steeped in passion and conviction, but she is most certainly a songwriter of great depth and clarity. Her particular knack for memorable choruses pops up throughout the record: "And when you're crying out/ When you've fallen and can't pick your happy off the ground/ When the friends you thought you had haven't stuck around/ That's when you feel my kind of love" (from "My Kind of Love"). A special love indeed.
Emeli Sandé's debut CD, Our Version of Events, is now available at record shops and online.