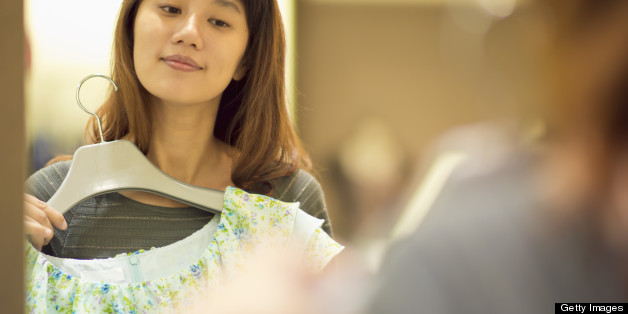 The biggest battle that a girl in North America faces is the battle against different menacing numbers in their lives that leads them to a life of self-defiance. The most recent issue regarding retailer Abercrombie & Fitch refusing to stock larger sizes due to not wanting larger women wearing the brand, demonstrates this excluding capacity.
Suddenly, weighing yourself is not for monitoring your health and growth, but more for judging your level of attractiveness and acceptance. Girls get caught up in how others rate them and often lose their own selves in an obsession for perfection. A simple number on a scale can automatically categorize a girl into large vs. petite or cool vs. uncool, but do these numbers really tell you who you are?
Do body size numbers determine your ability? Do girls need to be considered worthy of wearing a brand? Who is it who coined the numbers that define a perfect body for a girl and what were these numbers based upon? In a liberated world which every modern girl seeks, is appeal to the opposite sex the item of prime priority?
Often intelligence is measured by the numbers on test reports or GPAs. These scores play a big part in college admissions, which in turn affect planned career choices. There's an automatic prestige that comes with getting accepted in an Ivy league or being the smartest in your class, but do these numbers really and completely define who you are and what you are capable of?
Today's top colleges set the bar higher each year and take in only the cream of students with the highest scores. But do the numbers that make these scores represent all that is needed to make that individual a success story in that college? Could the number be awarded for just their cramming capability or is it truly representative of their intelligence, common sense, innovation and judgment?
So many talented and aspiring girls fall short of reaching their dreams, simply because their bank balance number is not large enough. There are always going to be those who are born to success never having to work for it, but it's always the ones who struggle that make the best stories. There are so many rags to riches stories. Yet, why does it take the world so long to realize that zero is not a number with no value, but a number that can add value, depending on where you pad it?
Girls in North America are blessed with opportunities, freedom and great potential that many girls in other countries can only dream of. These blessings that are often overlooked and it is organizations like Girls Inc. that uncover the hidden potential inside every girl encouraging them to be courageous leaders that bring forth a better tomorrow. A better tomorrow in which retailers do not practice outdated standards. During the month of April, Girls Inc. teamed up with JCPenney to raise money for girls who cannot afford a college education. Through their local stations across North America, Girls Inc. provides a foundation of support to girls at a time in their lives when they need it the most.
Through their message of being bold, smart, and strong, Girls Inc. brings out the power in girls. In our capitalist society, where numbers are quantifiable entities of self-worth. Girls Inc. and JCPenney assure girls that they are valued beyond the numbers and that life's best moments are lived not measured.