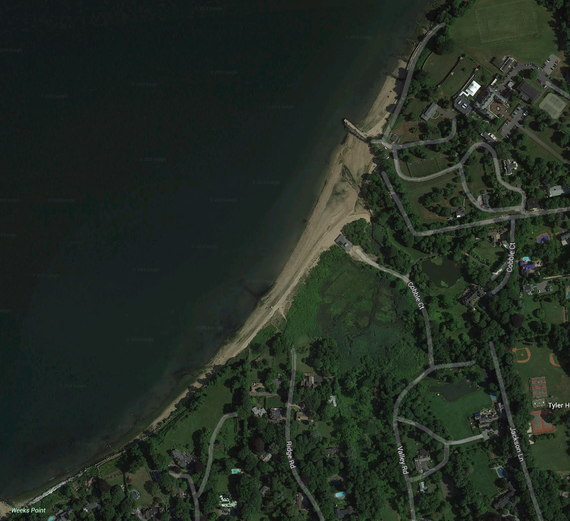 Crescent Beach. Unless you live in or near Glen Cove Long Island, you probably never heard of it. It's been mostly closed since 2011. It continually fails water tests; the bacteria levels are too high. The culprit? Some 85 cesspools sitting in low lying ground around it. A stream that washes that polluted ground water right into The Long Island Sound.
Consider Crescent Beach a microcosm, an all too familiar story. There are 500,000 septic systems and cesspools in Nassau (140K) and Suffolk (360K). Along the North Shore of Nassau County, in places like Manhasset, Bayville, Glen Cove, and Oyster Bay, in Kings Point, in thirty communities total, marshland has all but vanished and the waters become unswimmable because of the nitrogen and bacteria leeching from these low lying tanks and cesspools. These days, a heavy rain is virtually guaranteed to close many of those beaches still open because the groundwater flushes through the tanks and out to the Sound. Here are 19 Nassau County beaches that have been closed repeatedly after a heavy rain: Centre Island Sound, Creek Club, Lattingtown Beach, Laurel Hollow Beach, Morgan Sound, North Hempstead Beach Park, Piping Rock Beach Club, Prybil Beach, Ransom Beach, Roosevelt Beach, Sea Cliff Village Beach, Soundside Beach, Stehli Beach, Tappen Beach, Biltmore Beach Club, Hewlett Point Beach, Island Park Beach, Merrick Estates Civic Association, and Philip Healey Beach. It's a simple matter of cause (lots of low lying septic tanks and cesspools) and effect (a burst of bacteria washing into The Sound.
Here is a map of northern Nassau County showing where the sewer systems stop and the septic tanks and cesspools begin: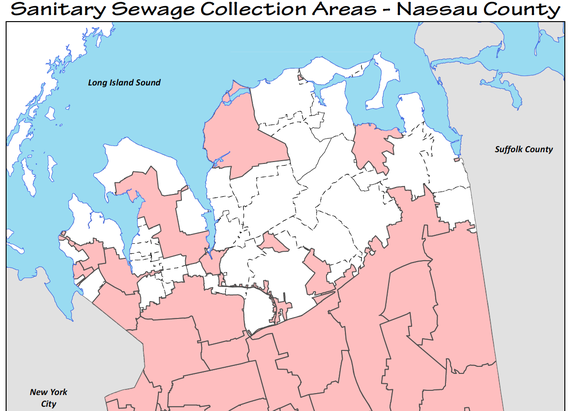 Here is a chart showing the percent of marshes that have been lost on Long Island since 1974. It correlates nicely -- if you can say that -- with those towns that decided not to put in a sewer system: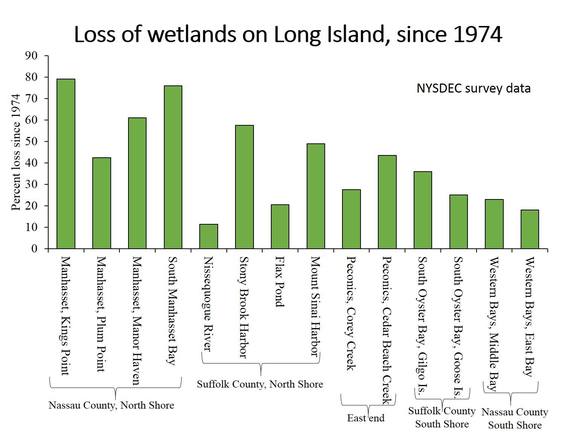 So then, what is to be done? Local environmental groups in communities on The Sound are banding together to find ways of addressing the problem. On May 14th, The Hempstead Harbor Protection Committee, The Oyster Bay / Glen Cove Protection Committee, The City of Glen Cove and The Manhasset Bay Protection Committee met in Roslyn to go over the science so that they could begin to chart a course that would result in the reopening of Crescent Beach. Some residents living near Crescent Beach have been reluctant to have their cesspools inspected, as they would have to bear the responsibility should they be in some way faulty. The economic argument that their homes would be worth more with swimmable water nearby, and without their cesspools overflowing needs to be made. The costs to extend the sewer lines north into this area needs to be estimated. Here was a community trying to solve a local infrastructure issue, addressing the many challenges, logistical and financial, while seeking to educate the local public on what is at the root of their water problems.
For someone deeply committed to the notion that all environmental politics is local, the belief that every community can and must address its local environmental issues, it was both a moving and validating experience. The insight and passion this meeting of 25 people showed told me that ultimately Crescent Beach will be reopened, that these 85 cesspools at the root of the problem will be dealt with, whether through extending the current sewer infrastructure, or by some state-of-the-art septic tank / cesspool replacement technology or both.
Again, Crescent Beach is a microcosm. I believe that Long Islanders will prevail as we seek to address the largest challenge we've faced in many decades -- How does Long Island become sustainable? Who do generations to come also enjoy the wondrous beauty of some endless summer day on our waters?
Something very large is afoot here on our island, but it will happen in many many places at once, at places like Crescent Beach.