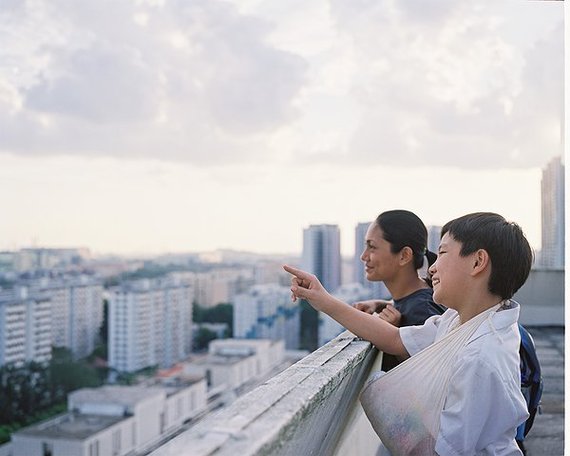 Anthony Chen's Ilo Ilo, which goes into limited theatrical release today, has been riding the international film festival circuit for the better part of the past year, reaping armloads of awards as it goes.
Not bad for an arthouse movie from a country that has no real arthouse-film industry.
The cinematic landscape in Chen's native Singapore, he says, is something of a vacuum, dominated by genre films: "Nine out of 10 films are either slapstick or horror or comedy -- and the industry in Singapore only produces 10 to 15 films a year," the London-based Chen says.
"A lot of them will be quite brash, with crass humor, or they'll be gimmicky. About 80 percent of the filmmakers come from a TV background. Our TV shows mostly look like daytime soaps from the '70s and '80s. And there's only one broadcast network to begin with. That's the mainstream sensibility."
Chen, however, went in the opposite direction, crafting a personal drama in Ilo Ilo. The film, set in late 1990s Singapore, looks at a family where both parents work, so they hire an au pair to look after their pre-adolescent son, Jiale. The maid, a Filipino named Therese (Angela Bayani), at first struggles with the undisciplined boy, who is frequently in trouble at school and resists her authority. But when they eventually bond, it causes friction with the boy's controlling mother (Yann Yann Yeo), who is stressed out by a new pregnancy, tension at her job and, finally, by the revelation that her husband has been fired, as the Asian economic crisis spirals toward disaster.
A 2010 graduate of the National Film and Television School in London, Chen had made several shorts and decided it was time to try a feature. He wrote the script, based on his own memories of a Filipino nanny he had as a child.
"When I thought of her, a lot of childhood memories started sliding back - because we're all haunted by our childhood," Chen says. "You look at it in a different way when you're an adult. As I looked back from my 20s, I started to see that the relationships between the adults were not as simple as I thought."
This interview continues on my website.