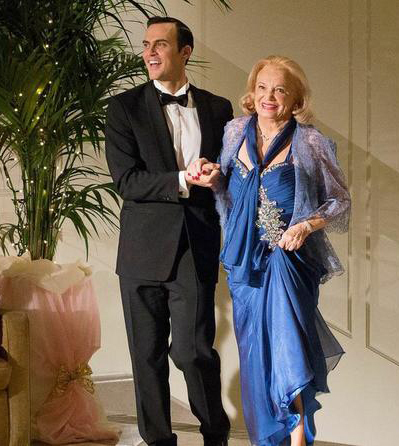 Impeccably turned out for a day of meeting the press, Gena Rowlands smiles when asked how old she feels.
Then she says, "I feel 84, which is my age. And I'm very happy to have made it to this age."
She pauses, then looks amused again: "It seems very old when I say it out loud. And it is. But there's still a great deal of fun to be had."
So she's got a new film coming out, playing a widow whose life is enlivened by a gay dance instructor. The film, Six Dance Lessons in Six Weeks,, opens in limited release December 12. Based on a short-lived Broadway play, it's set in a Florida retirement community -- but, as Rowlands notes with amusement, was actually shot in Budapest, Hungary.
"A lot of pictures shoot there now," she marvels. "We didn't have that ocean in Budapest, so we did shoot a little in Florida. The Hungarians were very generous with us. They're fun; they have a good sense of humor. Although the food's a little heavy in that part of the world.
"Did you know that, on one side of the Danube, it's Buda and, on the other side, it's Pest? I marvel that, after all these years, I didn't know that."
Rowlands plays Lily Harrison, who signs up for dance lessons -- and is affronted by the flamboyant, TMI style of the instructor (played by Cheyenne Jackson) who shows up at her door.
This interview continues on my website.