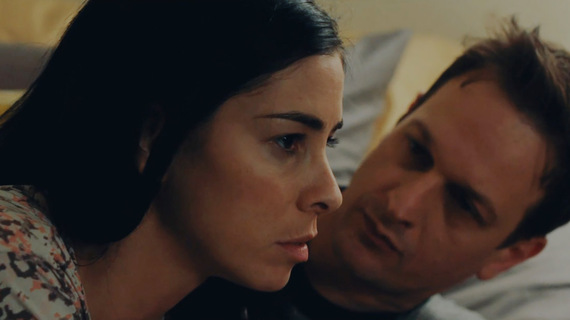 I make a point of knowing as little as possible about the films I see at the Sundance Film Festival (or any other film festival -- or just films in general, for that matter) before I see them because I want to see them with a blank slate.
As I set up my schedule for my days at the festival roughly a week before I leave (in long hand, on a legal pad), I'll skim the synopsis and credits in the catalog online deeply enough to decide whether to add the film to my schedule. Often as not, by the time I actually get to Park City, I couldn't tell you what any of the titles on my list are actually about.
Which, combined with the occasional audible at the line of scrimmage -- such as an added press screening of a movie I knew nothing about today and a paucity of anything else -- leads to some interesting scheduling surprises.
Such as today, my final day at Sundance: I wound up hitting the trifecta of addiction movies, with a side order of depression.
I also managed to miss the final film on my schedule when I went to the wrong theater at the wrong time. Hey, it's been a long week; the three films I saw today brought my total to 17 films in four days.
The least compelling of my addiction ménage a trois was Zipper, a film by Mora Stephens that starred Patrick Wilson. He plays Sam Ellis, the righteous, even self-righteous assistant state's attorney in an unspecified Southern city who is being mentioned for higher office. Just one problem: His frequent forays into Internet porn suddenly escalate to an insatiable appetite for high-priced escorts. And this guy is married to Lena Headey.
But the script by Stephens and Joel Viertel is overheated melodrama, aided and abetted by an incredibly on-the-nose score that feels like something out of a Douglas Sirk movie. Wilson, usually a nuanced actor, darts his eyes, wipes his anxious brow and does everything except pull at his collar ala Rodney Dangerfield, when the FBI turns out to be running an investigation into the escort services. Their sting seems bound to expose him, even as he's being mentioned seriously for a run at the U.S. Senate.
Wilson is wormy, and Headey ravenously eats him alive in every scene they share as his angry, smarter wife. Ray Winstone shows up as a national journalist who happens to be friends with Headey, and Richard Dreyfuss is on hand as a political fixer who bears more than a passing resemblance to Roger Ailes.
Eventually, Zipper cools down and gets to the point (about the hypocrisy that's frequently a part of holding public office), but that's long after the whole thing boils over into a sticky mess.
I Smile Back is a movie with the courage of its convictions -- and what darkly pessimistic convictions those are about the nature of addiction. They're embodied by Sarah Silverman as Laney, a Long Island housewife with two kids and bipolar disorder, which she self-medicates with liquor, cocaine, downers and men.
This commentary continues on my website.