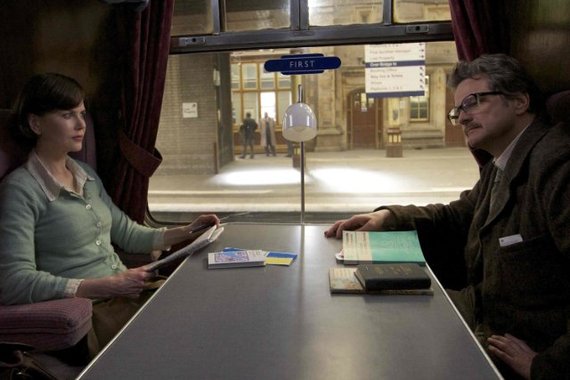 As a critic who regularly attends a couple of film festivals a year -- i.e., Toronto and Sundance -- I average seeing four films a day and have been known to see as many as six in one day (always early in the festival, while I still have stamina).
So I have to admit I appreciate the more casual approach to scheduling at the Dubai International Film Festival. The movies get shown and seen -- but unlike Sundance or Toronto, where press screenings can start at 8:30 a.m. (and public screenings shortly after that), DIFF rarely starts its daily schedule before noon.
As I look at the schedule I've assembled here in Dubai, my busiest days will include four films. But, given the relaxed approach to scheduling, I find that I can see almost everything I want to without a strain.
Indeed, the Sunday schedule was so light that I played hooky from the festival for the whole day and took a bus tour of Abu Dhabi.
Which brings up the other thing I like so much about this festival: It's all set in the midst of a culture that is almost as old as time -- and yet rocketing directly into the future. It's startling to realize that, just 60 years ago, none of the skyscrapers even existed. Dubai and Abu Dhabi were essentially small ports, a step above villages full of Bedouins and tribesmen.
That all changed, of course, with the discover of oil in Abu Dhabi in the late 1950s and in Dubai in the mid-1960s. The United Arab Emirates only came into being in 1971; the country celebrated its 42nd anniversary a few days ago and the country is still festooned with the black/red/white/green UAE flags in honor of the day. Along various streets in both towns, there are large "42"s hanging from the lampposts - and they aren't there to honor Jackie Robinson.
My tour of Abu Dhabi included a stop at the Sheik Zayed Grand Mosque, an astonishing bit of architecture that can accommodate 40,000 worshippers during Eid. And yet, if you stand outside the mosque and do a 360 turn, you see all sorts of modern-looking buildings that contrast with the almost glowing white classical structure.
About that architecture: The skylines of both Abu Dhabi and Dubai are rife with the most modern-looking buildings you're likely to see, structures that routinely defy convention in striking and beautiful ways. The New York skyline is massive, but the distinctiveness of the buildings in Dubai puts the Big Apple to shame.
The designers of these buildings here on the Persian Gulf rarely think in squares and rectangles - at least not exclusively. If there is a rectangular building, it's got a swooping design on the side, where a cylindrical section of building suddenly shoots up.
But they also think in other shapes (and colors). There are buildings that resemble cones, ones that look like corkscrews, buildings that are designed to look like an uneven stack of Jenga blocks.
This commentary continues on my website.