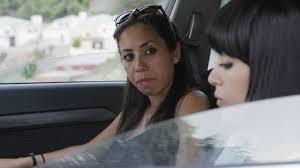 How bad can a film-festival day be when you see four movies - and only one of them is terrible? And the best one is the last one of the day?
That was my Monday at the Dubai International Film Festival.
The best film of the day was a joint production from Morocco, the United Arab Emirates and the USA: Traitors, a film by American filmmaker Sean Gullette (who was the star of Darren Aronofsky's breakthrough debut, Pi).
Starring newcomer Chaimae Ben Acha as a would-be punk-rocker in Tangier named Malika, the film starts with her meeting with a producer, who tells Malika she likes her songs on the rough demo she sent her. So she's willing to produce a real demo for Malika and her band, Traitors, and try to get them signed.
One catch: Malika has to come up with the money for the recording studio time, a fairly princely sum for an unemployed singer. "I'm a producer, not an ATM," the producer notes.
Desperate, Malika takes a job that will earn her all the cash - but which could cost her more. She agrees to help a drug smuggler by driving an SUV into the mountains, where the car's cavities will be filled with drugs. Then she and another young woman, Amal (Soufia Issami), will drive it back to Tangiers - through the various drug-interdiction roadblocks along the way. But the farther into the job Malika gets, the less she wants to do it.
There are not a lot of actual incidents in the film: no chases or shootouts. Yet Gullette creates real tension, through silences, quiet encounters with the drug lord and the extremely expressive face of Ben Acha. She looks like a cross between Rashida Jones and a young Joan Jett and has the tough swagger of Lisbeth Salander from the Girl with the Dragon Tattoo books. Issami also brings a blend of the callous and the vulnerable as her new acquaintance and partner in crime. It's a strong, gripping film from start to finish.
This commentary continues on my website.