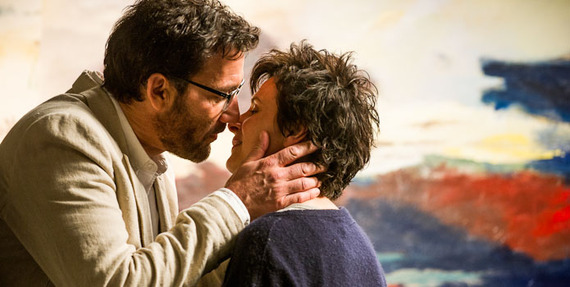 When you stay at a film festival for more than three or four days, the law of diminishing returns usually catches up with you.
Yet here I was on my seventh day of movie-going at the Dubai International Film Festival -- my last day here -- and I still managed to see some pretty good films in a four-movie day.
My favorite was Words and Pictures from director Fred Schepisi, a romantic comedy-drama starring Clive Owen and Juliette Binoche that I missed at Toronto. Owen and Binoche play teachers at a prestigious private school in Maine; he teaches honors English, she teaches honors art.
Both carry their own emotional baggage: He's a published author who has stopped writing and developed a serious vodka habit. She's a well-regarded painter whose ability to work is now hindered by a progressively debilitating disease.
He's the charismatic teacher that all the kids love -- but she wins their respect as well. The two face off when she tells her class that art is truth, while words are "lies and traps." The fact that they share the same students means that news of her attitude gets back to him, the lover of the written word. He promptly declares war: a showdown to let the students decide which is more important -- words or pictures.
Gerald Di Pego's script goes on a bit too long, letting each of these characters' struggles become too maudlin (particularly a subplot involving the son who worries about but is embarrassed by his alcoholic dad). Fortunately, Owen is a charmer -- and Binoche can give as good as she gets. It's worth seeing for their give-and-take, as well as for the supporting appearances by Bruce Davison and Amy Brenneman.
I also liked Half of a Yellow Sun, a historical drama based on a novel about Nigeria in the 1960s and early 1970s. Thandie Newton and Anika Noni Rose play twin sisters of a rich man; following Nigeria's independence from Great Britain, both girls leave home to go to work elsewhere in the country than their hometown of Lagos -- and the film mainly follows Newton's character, a college professor.
She's involved with another professor (Chiwetel Ejiofor) and the first half of the film is on the soapy side, following the ups and downs of a sometimes tempestuous relationship. But the second half deals with the effects on their lives of the Nigeria-Biafra civil war, as old tribal tensions provoke secession and then armed conflict that turns the couple and their child into refugees.
It's nice to see a film about the black upper class of a modern African country and the fact that they suffer the same petty personal problems as anyone else. On the other hand, the details of the political struggle and civil war seem like so much generic plot-spinning, when those real events were, in fact, horrific. Much of the second half of the film deals the couple's perpetual journey as refugees as they face one threat after another.
The film seems to simply stop, rather than build to an ending, But it does feature central performances that are complex and involving. That's especially true of the romance between Ejiofor and Newton, as well as the sister-issues of Newton and Rose. If director Biyi Bendele can't quite corral all the moving parts into a cohesive narrative, he at least has assembled a film that offers a look inside a chapter of African history most people outside of the region were unaware of.
I was less taken with Mystery Road, an Australian film by director Ivan Sen, who also wrote, shot and edited the movie, and wrote the music.
This commentary continues on my website.