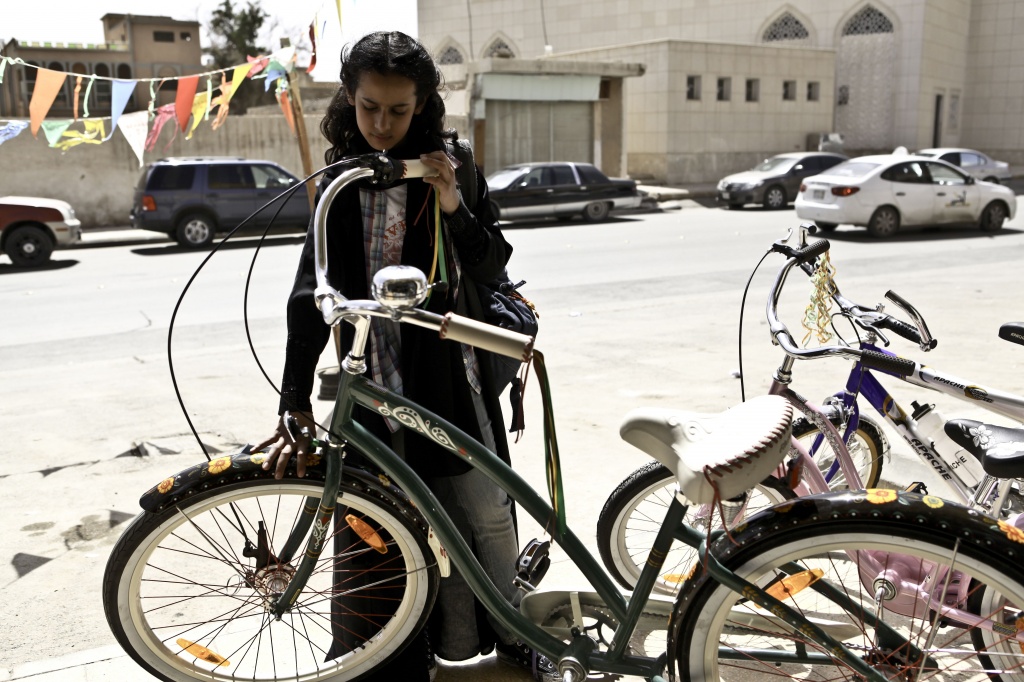 It's after midnight after a six-movie day, so I'll save my observations about the Karlovy Vary International Film Festival or Karlovy Vary itself for a later report.
But let's just say that my day at KVIFF proved that you could travel around the world in a single day without ever leaving the festival's central building. The films I saw took me to Saudi Arabia, the Czech Republic, the backwoods of Louisiana, Israel, what appeared to England (though the film itself was from Estonia), and the Appalachian Mountains in Tennessee. Talk about global whiplash.
Unfortunately, the best two films of the day were also the first two: Honeymoon, a Czech film by Jan Hrebejk, and Wadjda, the first feature from Saudi Arabian director Haifaa al Mansour (apparently Saudi Arabia's first female director).
Honeymoon deals with a couple whose wedding day is invaded by a stranger, who turns out to be part of the groom's past. Initially not recognized at the ceremony, he also crashes the reception at their family home. Even as the family assumes he must be some old friend, the groom (and bride) grow increasingly uneasy about what this stranger may or may not know.
The film packs the same sort of creepy, visceral punch as Thomas Vinterberg's The Celebration, as well as David Hare's Wetherby. With a strong, attractive cast and lush exteriors, Hrebejk keeps things intimate and low-key, right up until the explosive reveal and its even more shocking aftermath. It's the perfect movie for people who hate big family events because of people's tendency to get loose-lipped about the past while under the influence.
In Wadjda, al Mansour uses the story of a spirited young girl to explore the cruel reality of life for women in the society of this repressive Islamic culture. Waad Mohammad plays the title character, who looks to be about 12 and lives with her mother, a teacher. But her mother has to don a burka to leave the house -- and Wadjda herself gets in trouble at school regularly for forgetting to cover her head and for wearing sneakers under her abaya. She's smart, funny and feeling her oats, even though her teachers constantly do their best to snuff her sense of independence.
The film centers on her dream of owning and riding a bicycle, even though women are theoretically forbidden to do so (they can't drive cars in Saudi Arabia). She starts saving her money for a green bike she sees at the local toy store -- then begins studying the Koran with a new vigor when she discovers that the prize money for a Koran competition at school will be enough to pay for it.
Al Mansour is never heavy-handed in her depiction of women's second-class status in her country. Yet she makes her points, whether it's a group of schoolgirls forced to move inside from playing outdoors because workmen across the street can see them or the tentative nature of Wadjda's mother's marriage to her father, who is in the market for an additional wife. But at the center of the film is young Mohammed, who gives a natural, spunky and uplifting performance in a film that seems to hold out hope for change in this country (despite evidence to the contrary).
By contrast, another film about faith and its role in daily life, Joseph Madmony's A Place in Heaven , took an interesting idea and ran it into the ground, dragging on and on. After a disjointed but promising beginning, it settles into its story: the life of a famous Israeli soldier who, early in his career (and mostly as a joke), trades his place in heaven for his favorite meal.
This commentary continues on my website.