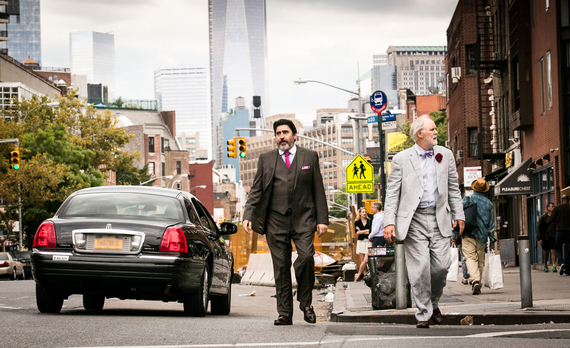 Of the five films I saw at the 2014 Sundance Film Festival on Sunday, three of them had gay themes or content.
That's one way to protest Utah's ongoing battle against marriage equality. Not that I think it was planned that way -- but it's still a nice bit of propaganda in a state that could use some.
The most intriguing of these was The Skeleton Twins, from director Craig Johnson. It starred Kristen Wiig and Bill Hader as twin siblings Milo and Maggie, who haven't spoken in 10 years. One day, just as Maggie is contemplating ending her life by swallowing a handful of pills, she gets a phone call: Milo has tried to kill himself by slashing his wrists on the opposite coast.
So Maggie flies to California and retrieves Milo, an unhappy gay man, to live with her and her husband Lance (Luke Wilson) at their house in Nyack, NY. But that brings up other issues for Milo, including the affair he had with a teacher when he was underage. Maggie, meanwhile, has her own self-destructive tendencies, including sleeping with other men.
It's a skillful balancing act of comedy and drama, with Hader and Wiig, so good for so long on Saturday Night Live" playing beautifully off each other with the kind of humor and simpatico that siblings -- particularly twins -- can have. The fact that they are dealing with a legacy of suicide (their father killed himself) and a distant mother (Joanna Gleason) only adds to the story's complexity. Both Wiig and Hader handle the transitions from silly snark to tragic truth-telling with exceptional skill.
The other film on the topic was Love Is Strange, a film by Ira Sachs about the ripples caused by the marriage of two aging gay men, George (Alfred Molina) and Ben (John Lithgow), who have been partners for almost 40 years.
Almost immediately, the Catholic prep school where George has been a music teacher for a dozen years fires him. Suddenly, George (who is jobless) and Ben (who is retired) find they can't afford their apartment and are in desperate need of a place to stay until they can find a new one they can afford.
They're forced to split up, with George moving in with their neighbors in Greenwich Village, while Ben goes to stay with his niece, nephew and their son in a loft in Brooklyn. They are refugees in their own city, their life upended by dogmatic homophobia. And they find that they can't quite be themselves when living off the hospitality of others.
It's a lovely, if diffuse, film, one that shows the trials that this separation presents, particularly because Ben finds himself feeling like an intruder in his nephew's place. George, a lover of classical music, is staying with two young gay men - and finds that he has aged out of that particular mindset. Molina and Lithgow give touchingly real performances, find the creaks in their relationship as well as the affection.
The final film wasn't really about gay subject matter as such: Remembering the Artist: Robert de Niro, Sr., by Perri Peltz, tells the story of the actor's father, a painter who achieved a measure of fame in the 1950s, but nowhere near the acclaim of contemporaries such as de Kooning, Rothko and Pollack. At one point, the younger De Niro reads from his father's journals, agonizing over his own homosexuality, which eventually led to his separation from the actor's mother and, 10 years later, divorce.
This commentary continues on my website.