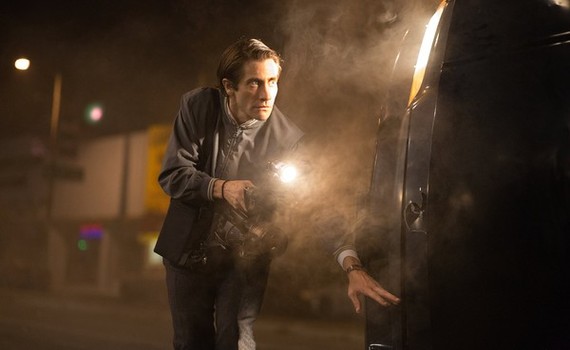 When I started attending the Toronto International Film Festival in 1984, no one had yet thought to position this festival as an awards-season launchpad. While there were a handful of big studio movies from Hollywood (filling a gala slot each night) in Toronto each year, the majority of what was shown was undiscovered territory.
Which is what I value most about the film festival experience in general: the chance it offers to discover a film, a filmmaker, an actor - the operative word being discover. That's less and less of a factor at this particular festival these days; instead, it seems stacked with pre-sold titles.
Not pre-sold in the sense that they're based on familiar work (remakes, comic-book movies, sequels). Rather, because awards pundits are clocking these things all year 'round, there are few surprises in the awards race, come year's end. Films like The Theory of Everything (about Stephen Hawking) and The Imitation Game (about Alan Turing) arrive at this festival with anticipation racing and awards' buzz already in high gear.
Still, there remain opportunities to walk into a movie knowing virtually nothing about it. That happened four times to me on Tuesday, although none provided the chance to have the hair-raising sensation of realizing you're seeing something new and great.
Indeed, two of them failed to pass the 15-minute test. My first film of the day, David Gordon Green's Manglehorn, starred Al Pacino as a lonely, aging locksmith in a small Texas town. When nothing happened in the first 20 minutes - beyond an extended look at one of Mr. Manglehorn's typical days - I exercised my option and bolted, to catch an early show of The Theory of Everything.
My fifth film of the day provoked a similar response: Shelter, directed by Paul Bettany, stars Bettany's wife, Jennifer Connelly, and the reliable Anthony Mackie. It's a film about a romance among the homeless in New York. Sorry, no sale. And so, on to the bigger titles.
The Theory of Everything is directed by James Marsh and stars Eddie Redmayne as Hawking. The film starts with Hawking as a an able-bodied graduate student at Cambridge, who meets the girl of his dreams (Felicity Jones) and marries her, despite his diagnosis of a neuromuscular disease very near to ALS. He has, he is told, two years to live - which doesn't give him much time to finish that unified-field theory before he loses the ability to communicate (and then breathe).
This is, of course, the story of the triumph of the will and the intellect over the weakening flesh. It's also about an actor's ability to transform himself into a motionless heap of a man in a wheelchair without losing the ability to communicate his feelings. The movie goes nowhere you don't expect, but Redmayne and Jones give the kind of performances which (rightly or wrongly) serve as award-nomination magnets.
Acting-wise, I was much more impressed with Jake Gyllenhaal in Dan Gilroy's energetically twisted Nightcrawler. A small-time thief with a gift for insistently ingratiating gab that can be deceptively malign, his character is a sociopath who stumbles on to the perfect career: trolling the police scanner at night to find accidents and crime he can videotape and sell to local TV.
Before long, his relentlessness and complete lack of empathy turn him into a star shooter, who can name his own price at the bargain-basement local-news program he sells to (and can even lure the news director, played by Rene Russo, into a relationship). Gyllenhaal's cheeks are sunken, his hair lank, his eyes burning with a strange feverishness that always seems just an inch from violence. Gilroy's script gives him a series of motor-mouthed but highly formal speeches. He spews Gilroy's dialogue with an urgency - and a cunning - that makes him impossible to take your eyes off in a movie that grabs you and never lets you go.
This review continues on my website.