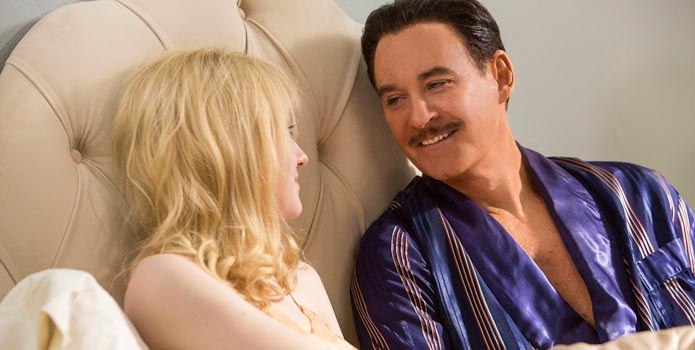 It was an unfortunate case of quantity over quality during my first day at the 2013 Toronto International Film Festival.
While I saw six films, there were only a couple I could heartily recommend.
I pulled out of my house in the northern suburbs of New York at 4:15 Sunday morning and, by 9:05 a.m., I was in Toronto, in a seat for a 9:15 screening of The Last of Robin Hood, which was one of the few films during the day that I enjoyed.
Not that it's a great film -- but it's an entertaining one, in a pervy kind of way. It features the absolutely brilliant idea of casting Kevin Kline as the late Errol Flynn, captured in the final two years of his life, when he fell madly in love with a would-be starlet named Beverly Aadland (Dakota Fanning).
Just one problem: The first time Flynn bedded her, Beverly was all of 15. As the story unfolds, Flynn ostensibly has the approval of Beverly's star-struck mother, Flo (Susan Sarandon). She turns a blind eye to Flynn's real intentions, though Flo's husband screams at her, "Errol Flynn? Errol Flynn is a walking penis!"
Flo Aadland eventually sold a tell-all book about her daughter and Flynn, which serves as part of the framing device of this film. Though it's got the Lifetime Film label on it, this film is a cut far above the usual Lifetime fare, thanks to the Oscar-winning Kline, who captures Flynn's pathos and intelligence, as well as his anti-authority streak. Sarandon, another Oscar recipient, perfectly embodies the perpetual small-timer who thinks she's struck it lucky. Fanning is just as good, convincingly keeping Flynn at arm's length and teasing him with an affect that is alternately girlish and steely.
I also enjoyed John Turturro's Fading Gigolo, an unlikely romantic comedy with an emphasis on the romance. Turturro plays Fioravante, an aging jack-of-all-trades currently working in a flower shop making arrangements. His oldest friend, Murray (a very witty Woody Allen), comes to him with a proposition: Murray's dermatologist has admitted to Murray that she's always wanted to try a ménage a trois -- and Murray has offered Fioravante's services, at a price.
That sounds like the set-up for one of Allen's screwball comedies; the idea of the male hooker servicing lonely females was also at the center of the HBO sitcom, Hung. Instead, Turturro has made a lovely little film about loneliness and connection, one that celebrates sensuality without being particularly explicit about it.
So, while the newly minted stud (whose "ho" name is Virgil) gains in popularity, he's more interested in the emotional service he provides: of paying attention to women who obviously don't get enough -- or at least the right kind -- from the men in their lives.
This commentary continues on my website.