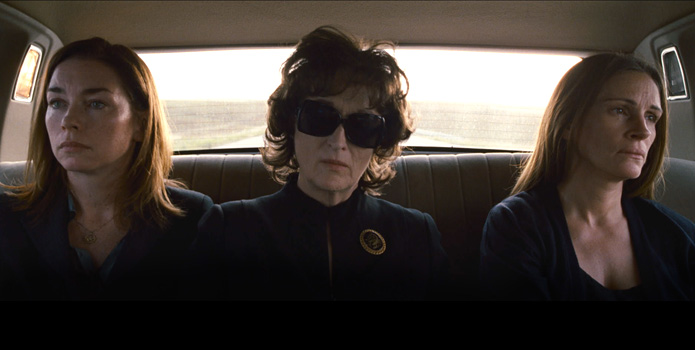 Secrets and lies carried the day in most of the five films I saw Monday at the Toronto International Film Festival. But then, aren't the most interesting movies built around them? It's so obvious that Mike Leigh used the idea as the title of one of his finest efforts.
The best film Monday - and perhaps one of the most anticipated - was John Wells' screen adaptation of August Osage County, based on the Pulitzer and Tony Award-winning play by Tracy Letts. Letts' original was a sprawling tale of family dysfunction and recrimination, built around the funeral of a family patriarch in a parched Oklahoma farmhouse.
Letts himself has trimmed the three-hour-plus play - which was as monumental in its way as the best of O'Neill or Miller - into a slightly less discursive but no less compelling family drama that offers a showcase for a whole roster of actors - starting with Meryl Streep and Julia Roberts.
Streep plays Vi, the pain-killer-addled mother of the brood, whose husband one day disappears without warning. So she circles the wagons, bringing in long-absent oldest daughter Barbara (Roberts) and her other two daughters (Julianne Nicholson, Juliette Lewis) for support (and vituperation). When Dad turns up dead, everyone else arrives as well, including Vi's sister Matty Fae (Margo Martindale), her husband (Chris Cooper) and son (Benedict Cumberbatch).
What follows is a blend of family reunion and blood-letting, driven by Vi's incredibly poisonous tongue. Luckily for the family, Barb can give as good as she gets - she's the only one who stands up to Vi, leading to a colossal funeral-dinner blowout that turns out to be just the beginning. As tragic as it can be, it is also just that funny.
Wells doesn't gloss it over, nor does he try to add stylistic filigree to what is already sharp, incredibly strong writing. This superb ensemble cast - which also includes Ewan McGregor, Abigail Breslin, Dermot Mulroney and Sam Shepard - comes out swinging and scores knockout punches from start to finish. You walk out feeling breathless (both from shock and laughter) and wrung out, as though you've gone several rounds with this family yourself.
Secrets are also what seems to drive Paul Haggis' mysterious new film, Third Person. Like Crash and others of Haggis' films, this movie intertwines several narratives, slowly teasing out their connection as more of the story is revealed.
At its core is a writer, Michael (Liam Neeson), ensconced in a Paris hotel, trying to hammer out a new novel, when his mistress Anna (Olivia Wilde) shows up. Even as she alternately teases him and succumbs to him, you get the sense that there are other parts of their story that we're not seeing.
That's also true of the storyline of Julia (Mila Kunis), battling for custody of her small son with a vindictive ex-husband (James Franco). There are a lot of unanswered questions about the story of Scott (Adrien Brody), an industrial spy working in Rome, who meets a gorgeous woman (Moran Atias) in a bar and winds up involved in a scheme to smuggle her young daughter across the border from Romania.
Not all of these threads weave together neatly; nor do many of them build to happy conclusions. But they are never less than compelling and Haggis is a skilled enough storyteller to string you along until his final reveal - which itself may be another layer to be pulled back and examined. It's a complex film for people who enjoy being compelled to pay close attention to what they're seeing.
This commentary continues on my website.