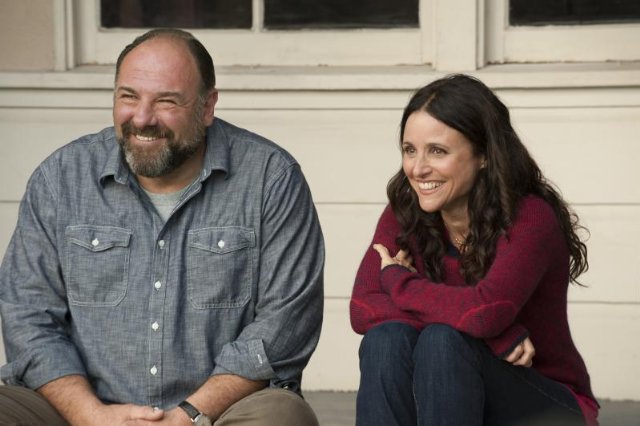 The Toronto Film Festival is where I first saw the films of the Coen brothers, Michael Moore, Quentin Tarantino and numerous others.
I haven't made that kind of discovery at the 2013 edition, so far. But Tuesday I did see a couple of the most enjoyable films I've found at this year's festival: Nicole Holofcener's Enough Said and John Butler's The Stag.
Actually, it's Butler's writing partner (and star) Peter McDonald I'm more interested in. McDonald wrote what should be a formula comedy and found all sorts of new energy and twists - and then injected them himself with his performance as a madman known simply as The Machine. Or maybe I'm just a sucker for that brash Irish charm.
The Stag revolves around the impending marriage of a metrosexual named Fionan (Hugh O'Conor), whose best friend Davin (Andrew Scott) proposes to throw him a stag weekend with their pals in the Irish countryside. A couple of hitches: None of the crew involved is remotely outdoorsy, though the weekend entails hiking and camping - and Davin and Fionan are forced to invite Fionan's soon-to-be brother-in-law, The Machine.
Though they make their best effort to avoid the latter, The Machine is a force of nature, who not only finds them after they leave him behind but immediately takes over the weekend in ways none of them could have imagined (including setting their tent afire while they're all in it). By the time it's over, they've all learned things about what they are and aren't capable of - and made the audience howl with laughter in the bargain.
Is it a great movie? Not really; visually, it looks like a TV show most of the time. Yet the dialogue crackles and the comic action escalates in unexpected ways that will surprise you into escalating guffaws, assuming it finds its way to American screens. It should.
With Enough Said, Julia Louis-Dreyfus, one of TV's funniest women ever, has finally been given a perfect film vehicle. Louis-Dreyfus plays Eva, a masseuse whose daughter is a few months away from leaving for college. At a party, she meets Albert (the late James Gandolfini) and the two of them - both divorced and painfully single - click in ways neither of them expect.
But there's a problem: Eva has made a new friend, a massage client named Marianne (Catherine Keener) who is a poet. Eva listens to Marianne spout off about her ex-husband - until she realizes that Marianne was married to Albert. Suddenly she's seeing Albert in a new (and unflattering) light, one that threatens to undermine what they're building.
Holofcener is a smart, incisive writer about human foibles and weakness of mind when it comes to love and romance. She makes loneliness poignantly funny and finds comedy in the most painful sort of self-sabotage, even as she explores the way we keep ourselves from being happy. She's built a tasty little oeuvre, a list of films that are exceptional character-study comedies built around superb casts.

This commentary continues on my website.