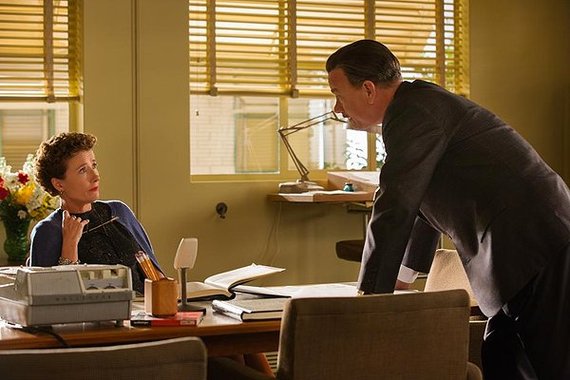 I was surprised at how emotional my reaction was in the first scenes in Saving Mr. Banks between Emma Thompson (as author Pamela L. Travers) and Tom Hanks, who plays Walt Disney.
It's not just that Hanks finds the Kansas City boy still very much alive in Disney, or that he understands just how much a part of Disney that avuncular persona really was, and how much of it was the character he played on TV.
No, it's that Hanks IS Disney in these scenes, as we've never seen him before. But alive nonetheless, a human being with the imagination to launch a million childhoods. Disney was such an everpresent figure in the childhoods of baby boomers that it's hard to remember he's been dead almost 50 years.
Hanks brings him to life and gives him depth, wit and, above all, feeling in John Lee Hancock's film. He's a formidable character and yet this is a story about how he almost met his match in Travers, as he tried to convince her to sell him the rights to make her book, Mary Poppins, into a movie.
Travers' personality, as imagined in the script by Kelly Marcel and Sue Smith, is persnickety as a finishing-school matron. It seems extreme until, as the final credits roll, you hear audiotape recordings - a form of documentation Travers insisted on - of the real Travers' meetings with the writing team working on the Mary Poppins script. Thompson's portrait isn't that much of an exaggeration.
The script finds the cash-poor Travers forced to seriously consider Disney's rich offer for her books. She must go to Hollywood to sign the final contract, but intends to wring all sorts of concessions from Disney about what the movie can and can't be.
This review continues on my website.