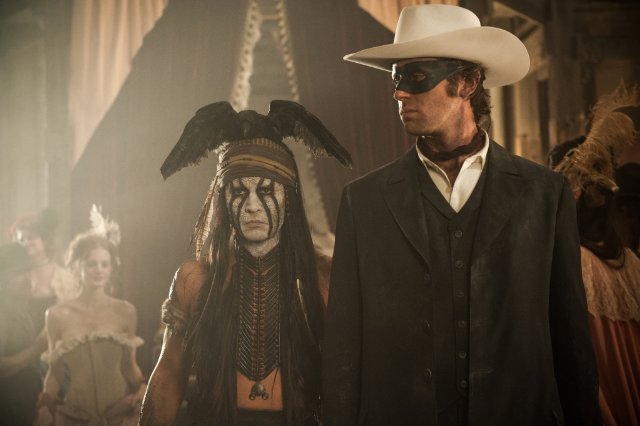 Because I'm spending this week attending and covering the Karlovy Vary International Film Festival in the Czech Republic, I gave myself permission not to review any of the films that are opening this week.
Then I saw The Lone Ranger because I had to write a review for my weekly outlet. And it was so pointlessly awful that I wrote a review before I left. Because, as a mentor of mine once said, there's no point in patting idiots on the head.
Everything you need to know about this movie can be found in four little words: Pirates of the Caribbean. Everything that was wrong with that series of films (and that includes the first one, the only watchable movie in the bunch) is amplified in Lone Ranger. Combine the visual excess of director Gore Verbinski with producer Jerry Bruckheimer's addiction to spectacle and Johnny Depp's mugging and, well, you can do the math.
The script is credited to Justin Haythe (who wrote the criminally underrated Revolutionary Road) but also to Terry Rossio and Ted Elliott -- again, the Pirates brain trust. It's a mish-mash of too-hip one-liners, cowboy-and-Indian clichés and a plot that would have barely powered a half-hour episode of the beloved TV series from the 1950s. There are no surprises in it, only plot twists that announce themselves far in advance.
The story, such as it is: John Reid (Armie Hammer), just out of an Eastern law school, is headed back to the small town in Texas he calls home, to be the district attorney in 1869. But he's on the same train as the vicious criminal Butch Cavendish, who is headed for the same town to be hung. Chained up next to him: a Comanche warrior named Tonto, played with crusty face paint by Johnny Depp, who proves that it's possible to overact without ever changing your expression.
This review continues on my website.