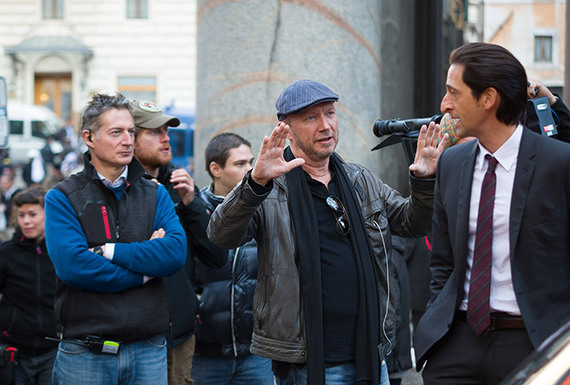 Geez, you make one little movie about multiple characters with intersecting storylines -- and you're tagged as the multiple-character guy.
"Someone said to me, 'Oh, you made another one of those?' and I had to point out that I'd made two other films since Crash that weren't multiple-character stories," Paul Haggis says, sitting in a cafe in Pelham, NY, prior to a preview screening of his newest film, Third Person, at the Picture House.
Third Person, which stars Liam Neeson, Olivia Wilde, Adrien Brody and Mila Kunis, among others, is yet another attempt by writer-director Haggis to subvert the expectations of the people who come to see his films. He relishes the chance to pull the rug out from under the viewer, turning the film from one thing into another.
Third Person, for example, seems to be a simple set of three love stories: a writer in Rome (Neeson) struggling with a new novel while having a rendezvous with a lover (Wilde); a corporate climber (Brody) on business in Rome who becomes involved with a woman (Moran Atias) who may or may not be conning him; and a New York hotel maid (Kunis) battling her ex-husband (James Franco), a successful artist who is keeping her from seeing their son.
But then ... things change. That's the point, Haggis says. If Crash assembled an enigmatic puzzle in a way that ultimately showed you the whole picture, Third Person offers viewers a similar jigsaw experience - but (to extend the puzzle metaphor) with a few missing pieces.
"At some point, I decided I wanted to do a film where an audience would have an emotional response - but not get all the answers," Haggis says. "They don't make movies like this anymore. I wanted to do a film like the films I grew up on in the 1960s and 1970s. When I discovered European filmmakers, it affected me so deeply. It redefined what cinema could be. I mean, Blow-Up ends with a dead body and mimes playing tennis. What?
"There are things in this movie that you might only see on a second or third viewing. I wanted people to be thinking, 'Wait - that can't be happening. But if it IS happening, then what's really happening?' It pisses some people off."
This interview continues on my website.