(Yes, you, Tina Fey, Alan Gilbert, Wynton Marsalis, Alex Rodriguez, Alec Baldwin, and all the rest of you.)
Ms. Fey, we need your wit and warmth to woo the Mayor. Mr. Rodriguez, we need your muscle and flash, go to bat for us, man! Mr. Gilbert, please orchestrate some community support here. Mr. Marsalis, trumpet a filigree of sound to ensnare our politicians' thoughts. Mr. Alec Baldwin, fellow HuffPoster, we need your brains and brash mouth to defend the Upper West Side.
We need your help. We're a bunch of unorganized dweebs, Upper West Siders who didn't get it together (like the High Line folks) to contact your agents or neighbors and ask you to attend fundraisers and publicity meetings decrying the massive Extell development in your backyard, called Riverside Center. Our plebeian noses were tight to the grindstone all winter, I guess. But we need you, big time, to be our champions at the next Community Board 7 meeting, a la Anna Wintour.
The issue is this: as Mel Wymore, the chair of Community Board 7, put it recently, "the biggest development on the Upper West Side since Lincoln Center" -- called Riverside Center -- is now coming before the City Planning Commission to be voted up or down. We need you to weigh in with Councilwoman Gale Brewer, Community Board 7 and the CPC to make sure they modify it hugely or vote it down.
What is it? It's a request for a variance to build 2,500 more apartments on the last open space not just in the Upper West Side, but in midtown Manhattan (two blocks between 59th & 61st, West End Ave. and Riverside Boulevard). It's owned by Extell Development and the Carlyle group, who knew when they bought it there was a 1992 Restrictive Declaration hammered out with the City that limited the density of the site. Now Extell wants to junk the Restrictive Dec and build 5 massive apartment/mixed use buildings -- on the last open space in midtown Manhattan, where we should have instead a true, blockwide park -- it's our last, best chance for that in this city. We don't need 2,500 additional apartments spread out over the land (let them go vertical), another car dealership, and another hotel in a now predominately residential neighborhood. But we do need the park, new schools and affordable housing in the development -- concessions it is reasonable to ask Extell to provide. (They can afford to follow the standard practice in this city of making major neighborhood concessions in exchange for the right to build. Despite his recent, shameful poor-mouthing, Gary Barnett, the head of Extell, and his partners stand to make, conservatively, a billion dollar profit on the site, even under the Restrictive Dec and with today's market conditions).
Let's go backwards. We need affordable housing so that the actors, musicians, singers and ballerinas who work at Lincoln Center and all along Broadway, and who delight our eyes and ears and hearts, can live near where they work. We need affordable housing so that cops and teachers, who pour out their life's energies to keep the fabric of NYC together, can afford to live where they work. Extell is offering 12% of its new apartments as affordable housing -- CB7 wants 20%.
You know that we need more schools. I know that we need more schools. God knows that we need more schools. Everyone with a pulse who lives on the Upper West Side knows that we need more schools -- especially if we're adding more apartments. Demand that Extell builds 2 or 3 in Riverside Center, not just a tiny one as they propose. We need a new school seat for each new apartment.
And then there's the park.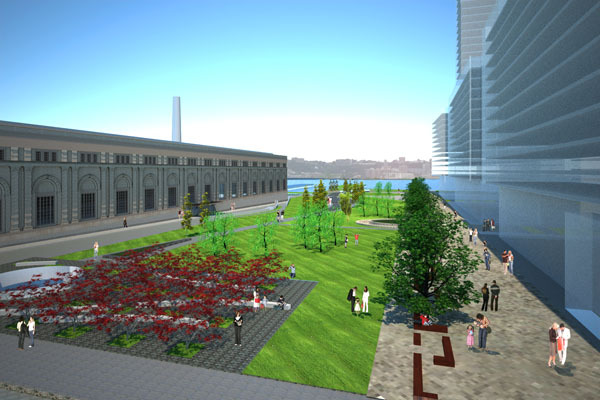 Take a look at the park proposed by the Riverside South Planning Corporation -- that's what we need. A park that stretches between nature and culture. A park that provides a natural conduit between Columbus Circle and the Hudson River, a green jewel in a city that's the jewel of the planet and the navel of the universe, as far as we're concerned. It would give shade and solace to the hundreds of students in the neighborhood (in the fabulous new John Jay building, In the Heschel School, the Lander College for Women, PS 191 or the Beacon School, all either across the street or within a block of the site). It would give a place to throw a baseball, walk the dog and meet the neighbors to the thousands of families who have already settled in this previously barren area (in buildings such as the Element, the Helena, 10 West End Ave, the Sessana, the Adagio, not to mention the Amsterdam Houses, and all of the buildings Extell has already built). We need to preserve open green space not just for ourselves, now, but for future waves of New Yorkers who will enjoy it and praise your foresight in speaking out for it. Extell's proposed "park" would be 5 feet above the sidewalk, only reachable by 10 or 12 steps, and would sit directly across from - the elevated West Side Highway. It's not enough. They count the sidewalks and pavement as "open space." It's not enough.
We need you, our city's most prominent citizens, to speak for this park. We hope that you will contact our City Councilwoman, Gale Brewer, and let her know that you support a real park, the schools and the affordable housing. We hope that you'll advocate for it with the Mayor and the City Council. We hope that you'll attend the next Community Board 7 meeting on July 6th and speak publicly, going on record with your support. Together, we can make our voices heard.
A critical vote will take place at a full Community Board 7 meeting to be held at: Congregation Rodeph Sholom, 7 W. 83rd St., (CPW), on July 6th at 6:30 p.m.

For more information see:
Riverside South Planning Corporation
Community Board 7's documents and alternative proposals
West Side Independent articles
Extell's Riverside Center website
Riverside Center Community Response blog