For the first time in history, women outnumbered men on the 2012 U.S. Olympic team, and even bested the men in gold medals. This year in Sochi the gender ratio has slipped a little. With 105 women and 125 men, women make up 45 percent of the team, even though ski jumping is open to females for the first time.
While women have indeed come a long way in the Olympics since they were first allowed to compete in 1900, at times it's been a tough fight. For much of its history, the International Olympic Committee (IOC) has ignored its own charter when it comes to gender discrimination.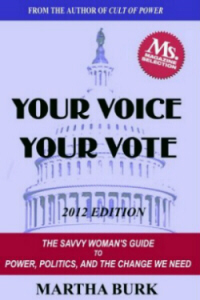 Even though that document says sex discrimination is "incompatible with belonging to the Olympic movement," the IOC looked the other way for years when muslim countries refused to allow women to compete, until Saudi Arabia voluntarily sent women in 2012.
Why? If you peek behind the numbers for women athletes, you see that the Olympics are still very much an old boys club when it comes to the ruling bodies that control the games. The IOC has only 21 percent female representation among its membership. The other National Olympic Committees, which actually choose which athletes can participate, struggle or fail outright to meet the IOC's 14-year-old request that women make up at least 20 percent of the leadership. As for the U.S. Olympic Committee, women hold 37 percent of board seats, putting us ahead of the world pack. But there's no reason we shouldn't be setting a stronger example with half.
Maybe because so few women are in the Olympic leadership club, sexism is still rampant. In the old days, harm to the uterus was openly cited as a reason to keep women out of competition. The language has changed, but the intent has not. As recently as 2005, the president of the International Ski Federation said ski jumping would harm women "from a medical point of view." Four years ago the International Boxing Association suggested women should wear skirts to help "distinguish" them from the males.
If women ever reach parity with men on Olympic committees, then our female athletes can not only command 50 percent of the team slots, they can command 50 percent of the respect. In the meanwhile, maybe the male skiers should have to prove their external organs won't be harmed, as Lindsay Van suggested in talking about the ridiculous justification for keeping women out of ski jumping for so long. As for boxing, why not ask male boxers to wear jock straps outside their shorts? You know -- to "distinguish" them from the girls.
Listen to the two minute radio commentary here: