It's been a rough couple of years for reproductive rights - not only with the Supreme Court's Hobby Lobby decision enshrining corporate control of contraception, but in Congress and statehouses around the country. Women's private health decisions and medical privacy are at greater risk now than at any time in recent history. That's why women -- and the men who care about them - must turn out at the polls on Tuesday before their rights are turned back altogether.
We don't vote for members of the Supreme Court, but we do vote for the senators who put them in their black robes. The president nominates, but the Senate says yes or no to his pick. And if one of the pro-women judges should leave the Court in the next couple of years, you can bet a Republican majority would never confirm a justice they think would support women's reproductive choices over their own private prejudices.
Even more restrictions will be coming our way if the GOP takes the Senate. Republican Senator Roy Blunt (MO) did the Court one better with a bill that would allow employers and insurance companies to deny coverage for any health service they object to, including mammograms and cancer treatment. Democrats staved off passage by a mere 3 votes.
The House passed a bill that would not only defund Planned Parenthood, but also eliminate Title X, the country's main family planning program for poor women. Once again, it was blocked by Democrats in the Senate.
Moving down to the states, the picture gets darker. Abortion is all but unattainable in Texas, thanks to restrictions passed by the state legislature. So-called personhood bills, declaring fertilized eggs as full citizens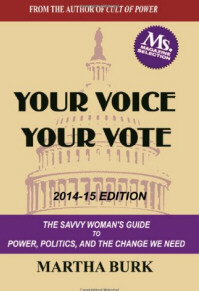 whose rights trump those of women, will be on the ballots in Colorado and North Dakota, and if they're successful more states are sure to follow. According to the Guttmacher Institute, in 2013 alone, 22 states enacted 70 antiabortion measures, on top of the 135 adopted in the previous two years.
Even cities have been under seige. Albuquerque activists had to fight like hell last year to stave off a first-in-the-nation city abortion ban. The measure was obviously crafted as a template for other towns had it been successful.
Females are the majority of voters, and they're a super-majority when they're joined by men who care about them. Women can control any election, and we'd better make it happen. If not, super-conservative legislative majorities will control our most private decisions.
Less government? Not when it comes to your bedroom.
Listen to the 2 minute radio commentary here: