The same people who heckled relatives of slain gun victims at a January town hall meeting in Illinois will soon have guns on their hips as the ban against concealed weapons is repealed.

Anti-gun control activists "laughed and joked about the terminology used by Linda Jenkins as she described the cold-blooded murder of her pregnant sister," at the Guns and Public Safety meeting recently held in the Chicago suburb of Glenview, reported Marjorie Fujara, a participant. Anti-gun control activists turned the event into a "raucous afternoon of... heckling and jeering at panelists," photographing the crowd and speakers with phones and cameras and yelling about abortion, reported the Chicago Sun-Times. They booed and screamed "liar" and "loser" at speakers from the Stop Concealed Carry Coalition and other anti-gun violence groups, reported the Glenview Patch. Let's arm these people!
A mass email from the Illinois State Rifle Association urged anti-gun control activists to pack the event to "ensure that there are more of OUR people there than THEIR people," reported the Patch. "Remember, this is our Lexington, this is our Concord," cajoled the email. "Be prepared to teach the gun controllers a lesson in liberty."
When asked to move from front row seats reserved for the elderly at the event, activist Steven Zahareas posted that he replied, "My name is not Rosa Parks and I am not going to the back of the bus," according to the Guns Save Life website. (See: the NRA's self-characterization as the "oldest civil rights organization in the United States.")
NRA lobbyists too are, if anything, emboldened by the new debate about gun laws and Illinois' impending repeal of a concealed weapon ban. "We went to court and we prevailed," bellowed Illinois lobbyist Todd Vandermyde at a Chicago town hall meeting this week, even taunting alderman over how much they spent and lost in legal fees. The U.S. Seventh Circuit Court of Appeals said Illinois' ban on carrying a concealed weapon in public was unconstitutional on the same day a gunman killed two at an Oregon mall, two days before Sandy Hook. The ruling gave Illinois 180 days to revise the carry law; Illinois Attorney General Lisa Madigan has asked for a second hearing.
If no law is passed by the Illinois legislature to restrict the right to carry in the weeks to come, "We get what we want!" thundered Vandermyde to legislators: if you have a Firearm Owner's Identification Card, you can "have a gun on your hip" he thundered to the cheering audience. No one should be a "second class citizen based on the zip code they live in," he proclaimed. (See Rosa Parks.)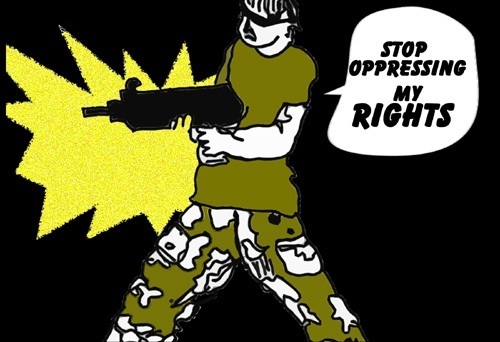 Other Illinois gun lobbyists are sounding a similar note of victimhood. "They will never stop asking for more," said Richard Pearson, the Illinois State Rifle Association's executive director on a Chicago radio station recently, about people seeking new gun laws. "Gun owners are always the ones asked to compromise. It will never end!"
Of course, anti-gun control activists calling themselves civil rights victims while heckling families bereaved by gun deaths is like the boy who killed his parents and asked for pity because he was an orphan. And, as Illinois prepares to allow guns in movie theatres, malls, parks, churches, schools, offices, stores, bars, industrial parks, restaurants and other pubic places, it is not the people seeking gun laws who will "never stop asking for more."