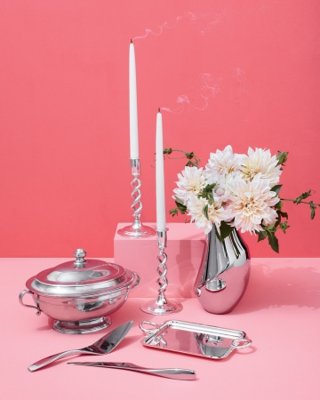 Don't Go Overboard
When registering, stick to two or three stores you love. Choose a national department store or chain that has lots of household basics; and you may also want a local specialty store to add to your registry. Think of your guests -- you may want to choose stores that are low-, medium-, and high-end, so guests have gifts in a variety of price ranges to choose from.
Do Register Ahead of Time
Complete your registry four to six months before the wedding. This will give guests time to purchase gifts for the big day, but also for your engagement and a shower.
Don't Tell Guests Where You're Registered in Your Invitation
Once you have registered, give the information to immediate family and the wedding party, and let them spread the word. If you are asked where you have registered, it is fine for you to tell, but it is not proper to include registry information in a wedding invitation. Registry information can be included on a wedding website, as long as the actual name of the store is not included on the same layer; organize your website so that guests must click down one level to find the details.
Do Register for Enough Gifts
Register for more gifts than you have guests, so there will be plenty of items to choose from. Think about who your guests are, and register for gifts in a wide range of prices, or choose individual items rather than sets, as with pots and pans, for instance. It is fine to put a few expensive items on your registry, but balance them with equally lovely options that are more affordable.
Don't Ask for Money
While it's still taboo to ask for money directly, financial registries try to make this less awkward; for example, couples can now register for stocks via a website such as GiftsofStock.com, or for their honeymoon through a travel agency or an online service such as TheHoneymoon.com. Saving up for a house? Some banks have programs that let brides and grooms establish a special account to which guests can give money earmarked for a down payment.
Do Review Your Registry
If your registry doesn't automatically notify you when a gift has been purchased, review your registry every few weeks, and more frequently as the wedding approaches. Use your updated registry to help you keep up with writing thank-you notes.
Don't Limit Your Registry
Don't think just about your lifestyle as it is today. You'll be entertaining more in the years to come, so create a wish list of items: a platter for your first Thanksgiving dinner or champagne glasses for a New Year's toast. Keep those special occasions in mind; it's a wonderful way to include loved ones in those important milestones.
Do Write Thank-You Notes Right Away
Ideally, you should acknowledge every present immediately; writing a note the day you receive it is best, but sending it within two weeks is also acceptable. Of course, the period surrounding your wedding is a busy time; if you fall behind, just make every effort to send a thank you as soon as you can -- but no later than three months after the event.
Don't Worry if You Don't Get Everything on Your Registry
If you don't receive everything you registered for, don't fret. Many stores have a completion program, which offers a discount on remaining items, or will keep the registry active for anywhere from a few months to a few years, so friends and relatives can continue to purchase gifts from it as other joyous occasions arise.
More From Martha Stewart Weddings Magazine:
Wedding Budget Dos and Don'ts
Double-Duty Centerpieces
Wedding Registry Dos and Don'ts
Unexpected Bridal Shower Themes