We always remember the firsts.
Orville and Wilbur, the first airplane flight.
Neil Armstrong, the first to walk on the moon.
On July 21, Zoë Romano will accomplish another first, as she runs the entire course of the Tour de France to support the World Pediatric Project, an international humanitarian organization that provides access to surgical and diagnostic medical care for children in Central America and the Caribbean.
Over a grueling nine-week period, Zoë plans to tackle a remarkable 2,087 miles. She's running approximately 30 miles per day; more than a marathon. To put this in perspective, the average American commutes 33 miles per day. Imagine trading your driver's seat for a pair of running shoes.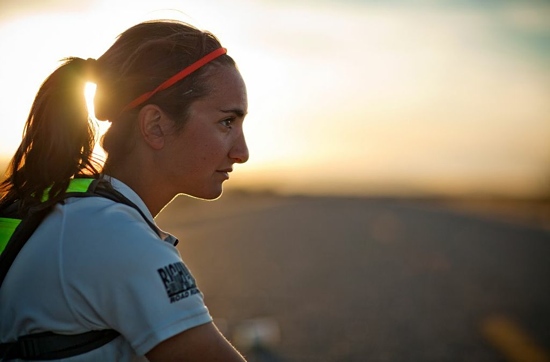 I met Zoë earlier this year at TEDxRVA, Richmond, Virginia's independently organized TED event. Both of our talks focused on the idea of creativity and innovation, the event's themes. I highlighted how everyone in their community has the opportunity within themselves to create significant impact. Zoë reflected on her 2011 run across the United States and how vulnerability, a trait that many see as a weakness, motivated her to accomplish her goal. Her enthusiasm radiated around the 500-person room.
As she explained her goal to run the Tour de France and the challenges ahead, including an ascent equal to 3 ½ Mount Everest climbs, it struck me that Zoë's run was a global example of how one person can affect widespread change.
As grand as it sounds, Zoë isn't just running 2,087 miles, she's also bringing awareness to the challenges children face more than 5,000 miles away in Central America and the Caribbean. While her historic run is a once-in-a-lifetime challenge, she'll be the first to admit it's nothing compared to the challenges thousands of kids living in poverty face every day.
As she runs, Zoë is attempting to raise $100,000 for World Pediatric Project. If Zoë is successful, World Pediatric Project will send four medical teams to developing countries on week-long surgery missions. In a single trip, more than 50 children will be treated with conditions ranging from clef lips to congenital heart defects. The money will also allow World Pediatric Project to bring four children to the U.S. in need of more complex care.
Zoë's challenge is just getting started and only two weeks and 282 miles into her journey, she has experienced a few obstacles of her own including unexpected run-ins with wild boars, a mountain avalanche taking out a portion of the road and even lost luggage.
Whether it's a trek across the U.S. or the staggering hills in France, Zoë is taking it all in stride. One thing is for certain, Zoë's run tells us that anything is possible. We all look forward to cheering Zoë on from afar as she finishes in Paris on July 21, one day ahead of the Tour de France cyclists.
I hope you will join me in following Zoë's historic journey at www.zoegoesrunning.com.