I'm Danish, and I'm an artist. I live somewhere between the 405 and the beach in Venice, Calif. I shop at IKEA sometimes (it's sort of the Scandinavian Walmart), I'm on the fence about ABBA, and I grew up loving Lego. (Yes, these bold and brightly colored interlocking bricks that fueled hours of imagination, inspiration and fantasy were first manufactured in the Danish city of Billund, about 160 miles from my hometown of Copenhagen.) I have lived in many places -- Zimbabwe, Greenland, Spain, London and Greece -- and whenever I made new gay and lesbian friends, or when the topic of equality came up, I was proud to say, almost dismissively, "In Denmark nobody really cares about your orientation or who you're with or anything like that. Danes are super-progressive."
Since moving to the United States in 2003 and becoming more acclimated to its social and political climate, I've realized that it's not that we Danes care too little; rather, we care very much! In Denmark the rights of lesbians and gays are a very high priority. In fact, Denmark was the first country in the world to grant legal recognition of same-sex unions, in 1989. Denmark has never banned gays and lesbians from serving openly in the military, it allows same-sex couples to adopt, and there are protections in place against discrimination and very tough penalties for hate crimes. Admittedly, the country has work to do in its treatment of transgender people (and there is movement and political will on this front), but overall, the Danish LGBT community enjoys one of the highest levels of equality in the world. What a wonderful society for me to grow up in as a straight guy.
You can imagine my anger and utter frustration that my gay and lesbian friends here do not have the same rights that I, a foreigner, have. It is mind-boggling, actually, and incredibly illogical, and even more pronounced with Election Day just a few weeks away. Fortunately, I'm an artist, and artists are generally able to find inspiration in almost anything and take action almost anywhere. For my friend Manny Castro, also an artist, this meant spray painting a cow and the words "Tastes Like Hate" on the side of a Chick-fil-A, in response to its loathsome stance against same-sex marriage. For me, it meant simply painting crosswalks the colors of the rainbow flag.
Even though the first rule of being an artist is to color outside the lines, I thought crosswalks were untapped canvasses just begging to be used for a social statement. Having just had lunch in West Hollywood when the inspiration hit, I thought, "Where better to paint rainbow crosswalks than in this 1.9-square-mile mecca of equality and LGBT pride?"
In mid-April, two months before the L.A. LGBT Pride celebration, which takes place in WeHo, I wrote to Mayor Jeffrey Prang about this crazy idea to "make Gay Pride a little more colorful by painting the crosswalks." This would give visibility to gay rights, I wrote. About a month after that, in a publicity stunt meant to generate buzz ahead of their own Pride celebration, city officials in Tel Aviv painted a crosswalk the rainbow colors, but after snapping a few pictures they quickly painted them white again, which angered many people. I knew that like equality, the rainbow crosswalks in West Hollywood had to be permanent.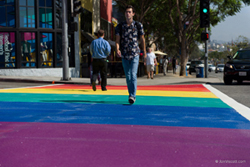 A few weeks after this, with the support of the West Hollywood City Council and lobbying from others in the LGBT community and residents of West Hollywood, the rainbow crosswalks sailed through and became a reality, complete with a little glitter mixed into the paint for extra West Hollywood sparkle, and installed just in time for L.A. Pride. The paint was still wet just a few hours before the Dyke March kicked things off. Bold and brightly colored interlocking bricks were again fueling hours of imagination, inspiration and fantasy, but this time for everyone, not just for me. As Mayor Prang said, "In parts of the world and even in this country where being gay or lesbian has to be repressed for mere survival, our rainbow crosswalks signify that in West Hollywood, LGBT people can be proud to be themselves."
My involvement in the rainbow crosswalks inspired my art and led me down a path I wasn't expecting. Although I know my LGBT friends here have a long way to go until they have full and unabashed equality, I see West Hollywood's rainbow crosswalks as a milestone in this movement, and I hope they do, too. The sheer impact and the enormous visibility of the global message they send are truly immeasurable. The rainbow crosswalks have become so popular that those ubiquitous Hollywood Tour buses now actually leave Sunset Boulevard to allow their riders rainbow crosswalk photo ops at San Vicente and Santa Monica Boulevard. They go from the boulevard of broken dreams to the one where new dreams are being realized and tweeted every single day. And with this milestone firmly and permanently in place, I decided to look back at the LGBT equality movement and its luminaries and create the art exhibition "Rainbow Crosswalks."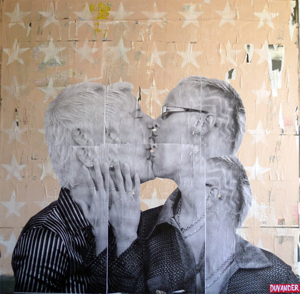 With mixed-media paintings of Oscar Wilde, who wrote the play The Importance of Being Earnest and was imprisoned for being gay and died destitute at 46; poet Allen Ginsberg, a leader of the Beat Generation who, in 1943, lit the fire of marriage equality by listing his lifelong partner as his spouse in his Who's Who entry; actress and singer Marlene Dietrich, an all-time great who was bisexual and enjoyed the thriving gay scene and drag balls of 1920s Berlin; and many others (there are over 60 pieces in all), I hope the imagery of the equality movement I have created honors my LGBT friends and the many who came before them, on whose shoulders they -- all of us, really -- stand.
I am overjoyed that the prestigious James Gray Gallery of Santa Monica has invited me to show this work there. James Gray Gallery is a real institution in the West Coast arts community, and "Rainbow Crosswalks" marks the first time in its 20-year history that it has ever hosted an LGBT-themed exhibition. This means that the message of equality behind the rainbow crosswalks will continue to resonate and make waves, both around the world and even just eight miles down Santa Monica Boulevard.
The opening reception for "Rainbow Crosswalks" takes place Friday, Oct. 19, from 7 to 10 p.m., and this special show runs through Sunday, Oct. 21. I hope to see you there, and, more importantly, I hope the rainbow crosswalks in West Hollywood inspire you as much as they've inspired me.
West Hollywood rainbow crosswalk photo by Jon Viscott