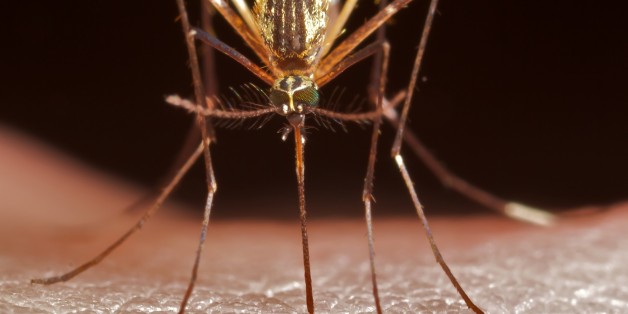 In the immortal words of Mary Poppins, a spoonful of sugar helps the medicine go down. But can a sugary orange lollipop treat a million kids for malaria? To understand what makes a piece of candy so special, I need to give you some background on the problem we're trying to solve first.
It may surprise you to learn that mosquitoes are the deadliest creatures on the planet -- responsible for killing a child every minute of every day, primarily in Africa. That's because they carry malaria, a blood-borne parasite that threatens more than half of the world's population. If that's news to you, you've got a good excuse: We eliminated malaria in the U.S. more than half a century ago, so chances are you haven't had to worry about it in a while. Yet, for hundreds of millions of kids and their parents around the world, dying from a mosquito bite is still a very real threat.
The good news is we're closer to writing malaria into the history books than ever before. Thanks to a concerted global effort -- largely being led by the U.S. government -- the most recent World Health Organization report shows that from 2000-2012, the rate of deaths from malaria among children under five dropped an astounding 54 percent in Africa. While this is a major victory, it still leaves us only halfway to our goal.
The thing about great achievements is that they take a lot of work. They require the commitment and will of global leaders, innovators and philanthropists. And -- perhaps most important of all -- they need the interest, support and engagement of an informed and passionate public. That's where the lollipop comes in.
Our new campaign, MalariaSUCKS, aims to harness the power we all have to create change. We're using the symbol of an orange lollipop to highlight what children in Africa are missing out on due to malaria -- their childhoods. We want supporters to take the simple, everyday act of posting on social media and turn it into a fun and engaging way to spread awareness about a major humanitarian issue. It's our pink ribbon, only sweeter!
Starting today, which is World Malaria Day, we're asking you to help us reach our goal of preserving childhoods and securing futures by providing three million life-saving malaria treatments to children in Zambia. Through our Power of One campaign launched last September, we've already mobilized a million rapid diagnostic tests and two million treatments for children in Zambia. We're one million treatments away from ensuring every child has the life-saving treatment they need, and have set the ambitious goal of reaching the finish line in just one month.
We've done our very best to make it as simple as possible for people to help us save lives from malaria. It's as easy as a few swipes on your smartphone. You can learn more on our mobile-friendly website, which gives you the tools to seamlessly track your impact and see how your treatments are changing lives on-the-ground in Africa.
So here's how you can get started -- every dollar will provide a malaria test and treatment that can save a child's life, and you can amplify your impact by getting your friends involved through social media. Take a picture of yourself with a lollipop, then share it on social media using #MalariaSUCKS and a link encouraging your friends to learn more at malarianomore.org/MalariaSUCKS. So every time you see the lollipop, it means lives are being saved from malaria.
Don't have a lollipop? No problem, just use our online lollipop generator to add one to a regular photo of yourself.
Armed with lollipops and your social media popularity, you can help us reach our goal of testing and treating one million kids -- putting us even closer to our ultimate goal of ensuring no child dies from a mosquito bite again. Sweet indeed.